By MARGIE O'LOUGHLIN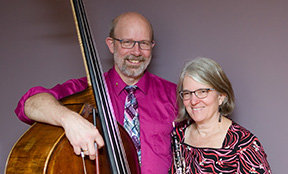 Rolf Erdahl (double bass) and Carrie Vecchione (oboe and English horn) make up the musical duo OboeBass! Erdahl said, "By returning to Lyngblomsten nearly every month, we've gotten to know people and hear their music stories. One woman told us, 'I wish I'd listened to classical music before I was 80!' We hope our programs inspire people to expand their own musical experiences, because it's never too late to learn." (Photo by Margie O'Loughlin)[/caption]
Carrie Vecchione and Rolf Erdahl just finished their first year of monthly music education programs at the Lyngblomsten Care Center, and they will be back in 2020. Performing as the duo Oboebass!, their series explored composers, ensembles, instruments, conductors, ideas, and compositions that make up the multi-faceted world of classical music.
Barbara McClelan is a Falcon Heights resident who didn't miss a first Friday performances all year. She said, "I like how well thought out the programs are, and how much fun Carrie and Rolf have playing music together." McClelan is a member of the Lyngblomsten Community Sage Singers: a group made up of resident and non-resident singers and directed by Macphail Center for Music faculty.
On the first Friday of November, the duo introduced Igor Stravinsky's piece "The Rite of Spring," which premiered in Paris in 1913. Vecchione and Erdahl called their presentation, "The Riot of Spring." They explained that the public had reacted to the Paris debut with an actual riot. Members of the audience heard the first strange, uneven bars of music and began to fight, shout, and throw things at the conductor. Was the piece a reckless abomination, or a work of genius? It's a matter of personal taste, but "The Rite of Spring" became the most talked about musical composition of the 20th century.
Vecchione and Erdahl approach each session this way. They offer a piece of music or a composer for consideration, tell stories, play selections, and sometimes invite audience participation. They also provide resources for further study, in the form of suggested readings and supplemental listening. OboeBass! presentations are engaging and educational, and give listeners the rare opportunity to hear classical music played just a few feet away.
Both members of OboeBass! earned doctoral degrees in music performance: Vecchione on the oboe and English horn, and Erdahl on the double bass. Former professors at Ball State University in Indiana, they moved to the Twin Cities in 2006. They have been tenure track music professors, and professional orchestra musicians. At this point in their long careers, they are focused on performing and teaching as a duo – and they keep finding new ways to make that happen.
Erdahl said, "We started as a married couple looking for repertoire written for our instruments, and quickly learned that there wasn't much. Fortunately, we have composer friends, and continue to find new composers and performance opportunities. The wide range of styles and expression, and the high quality and appeal of the music written for us, convinced us that we could pursue a career as a duo specializing in new music for oboe and double bass."
Since 2008, OboeBass! has received several grants from the Minnesota State Arts Board and the Metropolitan Regional Arts Council. They first started doing music education programs for elementary schools, but have since developed programming appropriate for all ages and life stages. Vecchione said, "We've had a lot of success doing our programs inter-generationally, as well."
"We value the bridge that OboeBass! provides

for young and old to come together

to enjoy and appreciate the power

of music in all of our lives!"

~ Andrew Lewandowski, Lyngblomsten
Listen on the first Friday
The year-long series at Lyngblomsten will be offered again in 2020. Toward the goal of building an intergenerational audience, community members are encouraged to attend. Neighbors, families, homeschool groups, and music classes are all welcome to join the residents of Lyngblomsten for these lively presentations. The recommended minimum age for participation is upper elementary school.
Vecchione explained, "Our ultimate goal is to keep live music performance alive. We've travelled to more than 100 senior care facilities across the state. We've particularly enjoyed the year-long series at Lyngblomsten, because it gives us a chance to get to know the people who attend regularly. We are not just providing entertainment here; we are providing an opportunity for active listening. Some people may not appear to be actively engaged because of mobility issues or health conditions, but that doesn't mean they aren't listening."
OboeBass! is on an exciting trajectory, inspired by their love of lifelong learning. While both Vecchione and Erdahl still aspire to play with orchestras at a high level, they are involved in creating a rich repertoire of their own chamber music to perform.
Erdahl said, "We received a grant from Chamber Music America, and were able to commission a piece by Valerie Coleman. She's a very 'in' composer, and we should be receiving the piece any day now. We had three amazing pieces written for us this year."
OboeBass! performs in the Nelson Benson Chapel at the Lyngblomsten Care Center, 1415 Almond Ave. There is a small parking lot, and plenty of on-street parking. The performances are free and open to the public. Carrie Vecchione and Rolf Erdahl will present their programs at 10:30 a.m. on the first Friday of each month in 2020, except February and April.
Mary Ann also belongs to a couple of book clubs, one in their old Longfellow neighborhood that she has attended for 40 years.
"One of the things that has helped both of us," said Mary Ann, "is that we really like to keep learning, and we are involved with things that help us keep learning new things all the time."
Lowery also noted that their spiritual life is important to them. They belong to Bethlehem Covenant Church, and over the years have gone on six mission trips to Chile.
Lowery said he also believes strongly in family, and hosting family celebrations over the years as well as adventurous trips to the Grand Canyon, Switzerland and other destinations has been something he really enjoys.
Enjoy the view
And then there is the view. The Smiths live on the 20th floor of an apartment in St. Paul that overlooks the Mississippi, and the city. Every room of their apartment has a large window that lets the light in.
"The other morning, when I was going to Toastmaster's, it was still dark out when I was getting ready. We could see the rowboats down on the river, from the rowing clubs. There were lights on the ends of the boats; I hadn't noticed that before," Lowery said.
"In the fall, the river turns crimson," he added.
"One of our hardest years was when we decided to move out of our house, but every day we are glad we chose this place," said Mary Ann. "It's refreshing to wake up to these views every morning."
"The weather is amazing up here," she added. "You can see the storms coming in."
In addition to the EP, KFC recently released a music video filmed and directed by Keegan Burckhard. Vagle acknowledges that being in a band (and doing the communications/marketing piece) is challenging as a fulltime student, but that it's what she wants to pour her energy into.
Here are the links to the EP "Get Along" online:
• Bandcamp: https://keepforcheap.bandcamp.com/album/get-along-2
• Spotify: https://open.spotify.com/album/3QffWplEQYSkoMviShc9r7?si=sUlVzPmtR-S5t7vN3IRkkQ
• Apple Music: https://music.apple.com/us/album/get-along-ep/1483261945
For more information about KFC, email Autumn Vagle at info@keepforcheap@gmail.com.