By Kate Mudge
kate@hamlinemidway.org
The Hamline Park play area will be renovated in 2020-2021, and we need community feedback to help guide t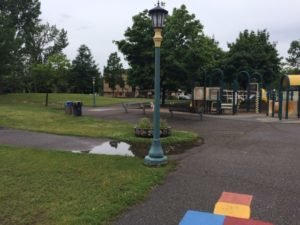 Next year, the play area at Hamline Park will be redone. Give your input on what you'd like to see.[/caption]
he design process over the next several months. Online and in-person surveys in August will be followed by up to three community meetings, during which time a Community Advisory Committee will work with St. Paul Parks and Recreation to develop a final design.
Proposed work includes removal and replacement of existing play equipment and new surfacing. Other enhancements may include new walks, site furnishings, signage, and landscaping. The most recent improvements to the play area were 28 years ago, in 1992.
Located alongside Snelling Ave., Hamline Park contains a variety of amenities for visitors to use across four sections divided by trails. The northern section features a spacious playground, the eastern quarter features a recently-renovated futsal court, to the south is a basketball court as well as bike racks and additional fitness equipment, and adjacent to Snelling Avenue is open green space.
The community feedback survey can be found https://www.surveymonkey.com/r/HamlinePark
Please email Kate Mudge at kate@hamlinemidway.org or Jonathan Oppenheimer at oppenhooha@gmail.com with any questions.