By JESSICA KOPP
On any given day, the new Hamline Elementary Family Room, just steps from the main entrance on Englewood Ave., is a hub of activity. You'll find families waiting to drop off or pick up their kids, gathering with friends, catching up on work, meeting with Hamline staff, or taking a few minutes to enjoy a cup of coffee. Designed to be a place for families to learn, share, and connect, the Family Room is quickly becoming the heartbeat of the Hamline community.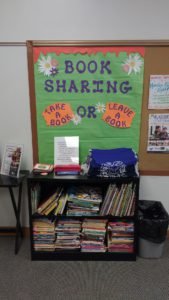 The development of this sunny, south-facing room is the centerpiece of the school's 2016 Minnesota Department of Education Full Service Community Schools grant award. This new space is large enough for a kid's play area, two workstations equipped with laptops and office supplies, two comfortable conversation areas, and cupboards and shelves full of shared supplies and resources including a community closet and community pantry.
Hamline families use the room throughout the day, and Hamline staff use the space for morning mindfulness exercises, staff meetings, and monthly "Coffee with the Principal" sessions. Community posting boards keep people connected to what's happening at the school and in the community and are always filled with employment and continuing education opportunities, family-friendly activities, nutrition, and housing support information, and so much more.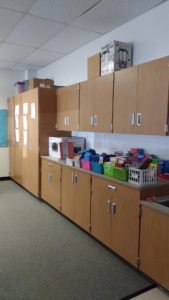 The Family Room is also the perfect space to help our community partners feel welcome. The Sheridan Story delivers weekend meals for distribution by volunteers from Central Baptist Church, and Children's Dental Services sets up their mobile clinic. Mobile Menders collects and mends items there, and it is the place to find one of our Children's Book Express book-sharing shelves. It is where we welcome the Hamline Midway Elders who volunteer in Hamline's bi-monthly Reading Buddy program.
As the school continues to build and expand its wrap-around services and improve access to resources, we're always looking to work with community organizations who would like to provide family-supporting services on site for the Hamline community. Contact the school at 651-293-8715 or the Hamline PTA at hamlineelementarypta@gmail.com to learn more and get connected to the Hamline Family Room Resource Coordinator.