Photos by MARGIE O'LOUGHLIN
The 2018 Spring Saint Paul Art Crawl took place throughout the city on the last weekend of April. This was the 27th year for the art crawl, and over 400 artists showed their work in 34 different locations—more than 70 of those artists were in the Hamline Midway and Como neighborhoods alone.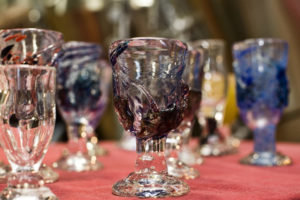 Photo left: Burning Brothers Brewing at 1750 Thomas Ave. was a first time participating venue. In the shadow of their brew kettles, Goblets of Fire showed their hand-blown glass art in the form of platters, vessels, and collectible animals.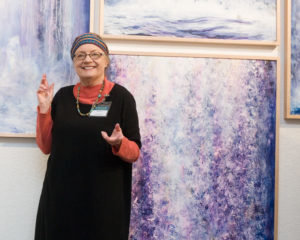 Photo right: Artist Marcia Soderman makes paintings in acrylic, watercolor, and digital media. She has had a varied career as a studio artist, WARM mentor (Women's Art Resources of Minnesota), and professor of art history at the University of Minnesota and Hamline University.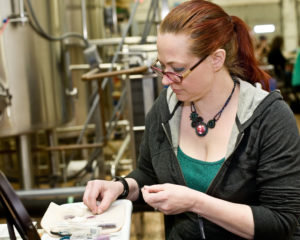 Photo left: Designer Amy Mills of Kasasagi Designs, worked on-site on her beaded jewelry and accessories. She creates custom jewelry with seed and crystal beads, specializing in commissioned pieces that can't be found in a store.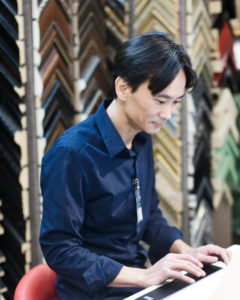 Photo right: Khanh Tran is the owner of the Dow Art Gallery, and a master framer. "We moved in three years ago, right after the Green Line opened," he said. "There are 35 independent artists who exhibit their work in this space. They're an eclectic group of artists, and their work is available for purchase six days/week.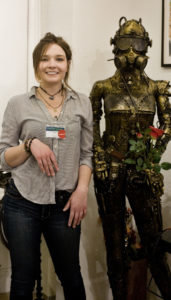 Photo left: At the Dow Building, 2242 University Ave., multi-media artist Mary Gross explained her suit of armor, saying, "I believe we all wear a suit of armor, of sorts. We're armored with the skills we need to cope and survive." Gross exhibits her mixed media sculpture, pencil drawings, and paintings at the Dow Art Gallery year round.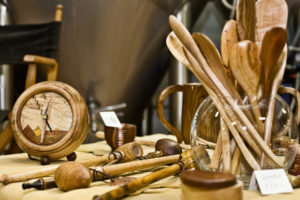 Photo right: Wood turner Mark Reshke brought an assortment of hand-turned wood accessories to the art crawl. He said, "The process of woodturning starts with a raw log and a chainsaw. I've been lucky to be able to do this work for 35+ years. "On hand were his lefse turning sticks, dipping cups, and flawlessly carved spoons of different sizes. 
Photo below: Ceramic artist Michael Egan has been throwing pots for a remarkably short time—only eight years. Outside of a handful of community education and Northern Clay Center classes, he has taught himself the craft of making functional stoneware that is as beautiful as it is durable. 

Fall Saint Paul Art Crawl planned Oct. 11-14
For more information, email info@saintpaulartcrawl.org.
The Saint Paul Art Crawl is a program of the Saint Paul Art Collective. The art crawl dates back to 1977 when the founding artists of the Saint Paul Art Collective had their first group exhibition at the Union Depot. In the 15 years that followed, the artists of the collective continued to hold loosely organized group events in and around downtown St. Paul. In 1991, the collective decided to coordinate a multiple building, weekend long, open studio event, and the Saint Paul Art Crawl was born.
The St. Paul Art Collective has been hosting the art crawl ever since, with the number of visitors averaging around 20,000 for each semi-annual, three-day event. The collective and its member artists receive a tremendous amount of support from residents, businesses, and local government to stage an event of this size. In return, they give St. Paul a close-knit, vibrant, and energetic art community that actively contributes to the greater Twin Cities cultural landscape.