By JANE MCCLURE
Take the bus or train, bike, walk or use a taxi or ride-share. Unless you have a reserved parking spot, don't drive to Minnesota United FC soccer games at Allianz Field.
That's the message from team and city officials as they make plans to move almost 20,000 people to and from the stadium on game days, starting with the opener Apr. 13. Basic travel, transit, and parking plans were released in March and presented to Union Park District Council and Hamline Midway Coalition (HMC).
Team and city staff and traffic study consultants say that the stadium traffic and parking plans are a work in progress, with changes possible as needed. But both district councils' members and staff said they'd like to have had more neighborhood input and inclusion on stadium planning in general, saying they were left out of major decisions.
"This has come up quickly," said HMC Community Organizer Melissa Cortez. She and others at the HMC meeting criticized the city and soccer team's lack of communication and collaboration on planning. That has forced neighbors to be in reacting mode, and not working together. "I think there's been a lot of missed opportunities … it feels like this is just happening to us."
Board members said that while they appreciated hearing the plans, they'd have liked more notice and more time to share ideas.
City and team officials said they'd like more of a partnership with the neighborhoods and would do better.
The St. Paul Planning Commission's Transportation Committee also reviewed the plans Mar. 25, the day after a stadium preseason event drew enthusiastic crowds and some neighborhood complaints about traffic and spillover parking.
Concerns were raised about spillover parking in adjacent neighborhoods, motorists using neighborhood streets to bypass University and Snelling, and the small size of the study area, which is centered on the stadium site. Some questioned why scrutiny of traffic and travel impacts weren't looked at to the north and south. City staff comments that changes can be made didn't mollify some HMC Board members.
Other issues raised by the Planning Commission committee include a need to expand on the 400 bike rack spaces on-site, and to work with adjacent property owners on parking. On Mar. 24, some stadium visitors parked at nearby Midway Marketplace. That will require the property and business owners there to police their parking.
The game day experience
The key message is plan ahead. "We don't want you to drive by yourself, and it's going to be a miserable experience if you do," said St. Paul Police Commander Kurtis Hallstrom. "If you don't have a parking space assigned, don't drive to the stadium."
Minnesota United is communicating directly to ticket holders about pre-purchasing parking spots or using other ways to get to games. The stadium site has 400 parking spaces. Maureen Smith, senior vice present for finance for Minnesota United, said that the team is preselling parking.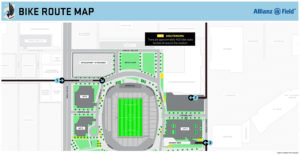 Photo right: There are approximately 400 bike racks located around the stadium—designated here in yellow. (Illustration provided)
Parking in the Midway Center block is for team staff and VIPs. Parking is also being presold at Spruce Tree Center ($40 per game) and HealthEast facilities (season-long parking packages at $20 per game) near the stadium, with about 1,200 spaces there.
Metro Transit will also operate buses to and from the Minnesota State Fair, where there will be about 2,500 parking spaces available. (Reportedly 15-game packages for this location will be available for $180.) The fairgrounds parking is the only place where pregame tailgating is allowed. Buses will travel on other routes, not yet finalized, to get to and from the stadium.
Downtown parking ramps will also be promoted as an option.
Due to scheduling conflicts, the 2,500 State Fair parking spaces will not be available for MNUFC home games on Apr. 28, Aug. 14 or Aug. 17.
Luis Pereira, planning director for the city's Department of Planning and Economic Development (PED), said the 2016 Snelling Midway Master Plan and an Alternative Urban Areawide Analysis (AUAR) study were used to plan for transportation needs. Those provided a starting point for further work with experts including staff from several city departments, the consulting firm Strgar Roscoe Fausch, the Ramsey County Department of Public Works, Metro Transit, Metropolitan Council, Minnesota Department of Transportation and the Federal Highway Administration.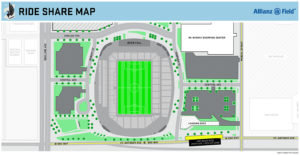 Photo left: Allianz Field has designated pick-up and drop-off points (identified in yellow) for fans planning on taking Lyft, Uber or a taxi to games. Get dropped off curbside on your way into the stadium on gameday, with easy access to your gate no matter where you're seated. (Illustration provided)
Experience with game days at Xcel Energy Center, TCF Bank Stadium at the University of Minnesota and US Bank Stadium in Minneapolis were also drawn on to make plans.
City officials are now seeking feedback to make further changes, with the public able to weigh in at www.stpaul.gov/departments/planning-economic-development/allianz-field/allianz-field-transportation-feedback.
"Having that ongoing public input is really important to us," Pereira said. Plans are being made not just for soccer game attendees but for residents, business owners and institutional groups concerned about access to their properties. Another focus is business licensing, including vendors and people wishing to lease out their parking lots. The city is already hearing concerns that some neighbors will want to sell their yard space for parking, which isn't allowed in the neighborhoods by the stadium.
One huge focus is education. "Fans from outside of our area may not know our street system. That's going to be a critical thing for us," said Pereira. Education includes information to soccer game attendees about how to get there.
Red flags raised
The 2016 AUAR raised several red flags about stadium parking demand, and transit and travel congestion. Metropolitan Council questioned the assumptions used to determine "mode split" for travel to the site, or how it was determined the number of people who would drive, take transit or shuttle buses, walk or bike. "Those assumptions appear to be tilted heavily to make the case that few if any roadway improvements are needed from this massive traffic generator," the 2016 council letter stated.
Red flags were raised about the estimated high percentage of shuttle bus and transit service usage, as Metropolitan Council stated, "Additional potential capacity on the Green Line does not automatically translate to usage."
City officials responded in 2016 that they made conservative assumptions, given the lack of off-street parking on and near the site, and indicated they believe traffic, transit use, and parking can be "effectively managed." City officials did more planning as the AUAR recommended, which is where the current recommendations stem from.
The modal split for game days is estimated to be 38.5 percent of fans using transit, with 23 percent walking, biking or taking taxis and rideshares. Off-site shuttles will bring in another 22.5 percent, with 11 percent of game attendees using private parking and another 5 percent using on-site parking.
Some streets around the stadium and Midway Center superblock of Pascal St. and St. Anthony, Snelling and University avenues will have limited access on game days. Pascal between University and St. Anthony will be local traffic only, for access to businesses and homes. One-lane restrictions will be in place on St. Anthony between Pascal and Hamline avenues and on University from Fry St. to Pascal Ave. Spruce Tree Dr., which is an anticipated transit rider route to and from the westbound Green Line platform, will have restricted access. Pickup and drop-off space for shuttles, taxis, and rideshare vehicles will be on St. Anthony west of Pascal.
St. Paul and Metro Transit police will be stationed at intersections around the stadium to manage traffic control, safety, and the flow of transit riders.
David Hanson, Metro Transit's assistant field director for operations, said the Green Line light rail and A Line rapid buses will be the workhouses for stadium arrivals. Metro Transit will have staff out on and near rail and bus platforms to provide directions. Extra trains and buses will run to get people to and from the stadium, with a goal of having everyone cleared out one hour after a game ends.
A three-car train can hold 600 people, and an articulated bus can carry 100. The train platforms can hold three times the train capacity, for waiting passengers.
"We haul masses efficiently," said Hanson. "No one can do it better than us."