First time home buyer settles into Frogtown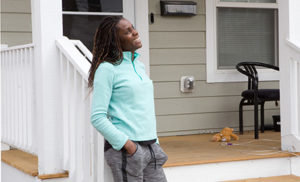 LeAndra Estis is a first time home-buyer through Twin Cities Habitat for Humanity. She said, "The one thing I asked for was a front porch. We always had a front porch growing up, and it's a sentimental thing for me. My strongest memory of childhood was that everybody sat on their front porches in Rondo." (Photo by Margie O'Loughlin)[/caption]
By MARGIE O'LOUGHLIN
LeAndra Estis knows something about being first. In her family, she was the first daughter born, the first grand-daughter, and the first niece. She was the first child to go to college, and she is the first person in her extended family to purchase a home. Thanks to Twin Cities Habitat for Humanity, and her own perseverance – Estis is a proud first time homebuyer.
She now lives in Frogtown with her two children, but their family history in St. Paul goes back four generations. Estis grew up in her grandmother's home in the Rondo neighborhood, near Victoria and Selby. She said, "I always knew I wanted to buy a house in this area because, to me, it's home."
Of her grandmother's house, Estis said, "We always thought she owned it, but it turned out she was a renter for all those years. She was never able to buy that house, or any other one. When she died, it was like our family lost its center."
It's a proven fact that creditworthy, low-income and minority families face significant barriers to sustainable homeownership, a major vehicle for building wealth and economic opportunity. Last June, Estis and her daughters busted that mold and moved into a newly constructed three-bedroom, two-bathroom home with a finished basement. It took a lot of hard work to get there.
With a college degree in human resources and 15 years experience in hospitality management, Estis thought she was a good candidate for home ownership through Twin Cities Habitat for Humanity. She met with a Homeownership Advisor to review her credit report two years ago. Her work history and income made home ownership look within reach.
Estis said, "I set a savings goal, and I stuck to it. I learned that $6,300 would be needed for closing costs, and as a cushion for unexpected emergencies. I had to be financially straight for anything that might happen. I started saying 'no' to going out, and cut way back on unnecessary expenses."
Habitat requires all prospective homeowners to complete an eight-hour First-time Home Buyer Class. Applicants learn how to connect with city and county services, their city council member, how to settle incidents with their neighbors, and practical things like how to repair a hole in sheetrock, or unplug a toilet. Estis said, "I felt like I really got the facts. They gave me the largest three-ring binder there is, and now it's completely full."
Applicants are also required to complete service hours at one of Habitat's home build sites or at one of two ReStore Home Improvement Outlets. Once matched to a home, applicants begin their service hours.
Estis said, "Every month there's a different list of available homes to choose from including location, nearby shopping, freeway, public transportation, and schools. You're not guaranteed your selection, but you throw your name in with other interested applicants. It was about six weeks from the time I made my selection until I learned we had been chosen for this location. And then they still had to build the house!"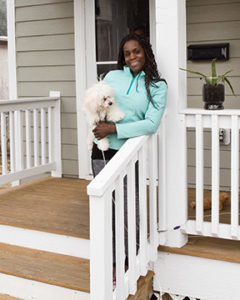 Construction began and ended, and moving day came. Then just two months later, Estis lost her full-time job. That cushion she had saved for unexpected emergencies was soon put to use. It took five months of searching, but she was offered a job with the state of Minnesota. Estis said, "I took my time finding the right job. I was consumed with getting settled in the house, and being a first-time homeowner. I was learning so much that the waiting wasn't unbearable for me."
In the last 30 years, Twin Cities Habitat has helped more than 1,300 families buy affordable homes across the metro area. They offer mortgages with monthly payments set at 30% of household income, homebuyer education classes that prepare applicants for the responsibilities of owning a home, and post-purchase support on maintenance, upkeep, and ways to connect with new neighbors.
It will soon be the first anniversary of Estis and her family holding the keys to their own home. With her oldest daughter finishing her first year of college soon, the circle of firsts keeps growing.
Add to that list, the current Covid 19 health crisis. Estis said, "This really is a tough time we're in. I've had a few family members reach out to me and say, 'You're the one who's in the safest place right now. You have shelter for your children, and that's important.'"
For more information on home ownership with Twin Cities Habitat for Humanity, go to www.tchabitat.org.