Compiled by ERIC ERICKSON, Social Studies Teacher
• The Como Choirs presented an upbeat Pops Concert on Dec. 17 to an entertained audience in the Como Auditorium. The choirs also performed for young audiences on December 20 at Chelsea Heights, Hamline, and Como elementary schools. Many of the high school choir kids enjoy the experience of singing at their former schools as part of the choir's annual "tour" on the last day of school before winter break.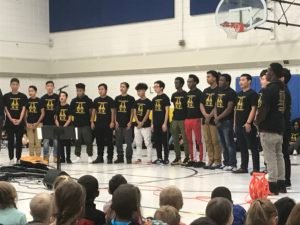 Como has five choirs conducted by Carole Whitney including the Chamber Singers, Concert Choir, Donna di Cantare, Soprano-Alto Choir, and Tenor-Bass Choir. (Photo right by Laura Erickson)
• The Como Bands had two concerts scheduled for January in the Como Auditorium. The Jazz Band performed on Jan. 7. The Band and Orchestra Concert is scheduled for Tues., Jan. 22. The instrumental groups are conducted by Dr. Philip Fried.
• The Como Park Booster Club recently announced the recipients of its grant awards. The following programs and clubs will receive financial support based on their competitive applications: The Technovation Apps Club, Marine Corps JROTC, ELL classes, ELL—Easy English News, Spanish classes, Close Up Washington D.C., Big Brothers Big Sisters, Boys' Volleyball Club Team, the upcoming Como Culture Show and Community Potluck, and the Cougar Journal—Como's literary magazine.
The Booster Club grants will help Como students expand access to a variety of programs, enhance and expand learning opportunities, gain leadership skills, attend events beyond the Como campus, and share their artistic expressions with Como Park High School and the community.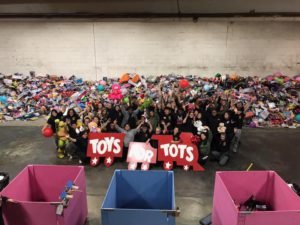 • Forty-eight cadets in the Marine Corps JROTC spent Sat., Dec. 15 volunteering in the Toys for Tots holiday drive. The community service project was organized and led by 11th-grade cadets Arely Sandoval Soto and Rosmery Moran-Osorio. (Photo left submitted)
• Sophomores in the Academy of Finance (AOF) spent a day at the Federal Reserve Bank on Jan. 8. AOF 10th graders all take the "Business in a Global Economy" course. A class project involves developing a business plan for selling an American candy to a foreign country. Students presented their projects to Federal Reserve staff, toured "The Fed," networked, and had lunch.
• The National Honor Society (NHS) at Como is organizing a book drive to support students at Como Park Elementary School. Como's NHS is coordinating with the Children's Book Express, which is an organization that collects picture and chapter books and donates them to young, beginning readers.
Students and staff have begun bringing in books. The community is invited to support as well, so if you have any old children's books that you are no longer using, please consider donating them to the cause! There is a big box in the main office where donations are being collected. NHS students will organize all deposits, and deliver what they hope will be their stated goal of 500 books.
• Progress in the remodeling and construction project within Como continues as the calendar has turned to 2019. Seven refurbished, upgraded classrooms in the west wing of the building along with two sets of new restroom areas were completed in the first half of January. Chemistry rooms are scheduled to be completed by the end of the month as well.
Work in the main office is on the horizon, which will lead to the temporary relocation of administration and clerks into various spaces, including the Athletics Office, starting in February. For more information on the construction project, readers can visit the Facilities Master Plan website at www.spps.org/comofmp.
• After 25 years of teaching social studies at Como Park High School, and nearly 40 years of coaching the Cougars in football, wrestling, and track, Roy Magnuson has retired from his full-time position in education. Magnuson began a new endeavor on Jan. 7 as the Public Information Officer for the Ramsey Country Sheriff's Office.
Magnuson's presence in the halls of Como will be missed in countless ways by staff and students alike. He has impacted the lives of thousands of students who are proud Como Alumni. However, Magnuson is excited about the opportunity to serve St. Paul and the county in a new capacity, and glad the Sheriff is agreeable to Magnuson still helping Como wrestling a couple of times a week.
• Como teacher and coach Jonah Fields was selected as a recipient of the District 10 Community Council's Neighborhood Honor Roll. The annual, citywide recognition pays tribute to individuals who improve the quality of life in their community and make a sustained impact through service.
Fields is not only an educator at Como, but also a youth coach at Northwest Como Rec Center, and the organizer of the highly successful "Soccer Stars" program which connects youngsters in the neighborhood to Como Park High School players who lead fun and joyful soccer sessions. Fields will be recognized at the Honor Roll Ceremony on Jan. 25 at St. Thomas University.
• The Cougar girls' basketball team has continued its winning ways into the new year. The team had a record of 10-1 as the Monitor went to press. The Cougars are ranked #6 in the state's Class AAA rankings and have a team grade point average of 3.6.
Coach Alexis Gray-Lawson was presented the Emerging Leaders Humanitarian Award in a special ceremony at halftime of her team's victory over Minneapolis North.
• Como's Nordic Ski team trained in the Upper Peninsula of Northern Michigan for a couple of days during winter break. Coach Sasha Van Voorhis brought 15 members of the boys and girls teams to the ABR Ski Resort in Ironwood, MI. There was plenty of snow and many miles of groomed trails for skiers of all abilities to improve their technique, improve speed and have a unique team bonding experience.