Lancer takes over Spring Café
For the third time in three years, there will be a change in operators at the Como Park pavilion restaurant. Lancer Hospitality has taken over the Spring Café, which reopens this spring. Lancer is no stranger to Como, as the company has long operated the food service at the nearby Como Zoo.
Lancer, who began in Madison in 1976 as an ice cream truck operator, is taking over Spring Café from Matty O'Reilly. Lancer is also taking over another spot of O'Reilly's, Red River Kitchen, which now operates in a converted grain elevator head house and sack house just out of downtown.
Lancer has assumed the operating contract with the city for the two restaurants, said Parks and Recreation spokesperson Clare Cloyd. Lancer has indicated that it isn't planning major changes at Spring Café or Red River Kitchen, and a specific opening date hasn't been announced.
O'Reilly will continue to own restaurants Bar Brigade in the Macalester-Groveland neighborhood and Republic in Minneapolis. He has announced that he is scaling back his operations to allow for more family time and to complete a master's degree.
Lancer began in 1981 in Minnesota and operates food service at Minnesota Zoo, Science Museum of Minnesota and other venues around the country. The firm was sold in 2017 to Elior North America, a large national food service and catering company.
Como Dockside opened with fanfare in spring 2015, after a legal battle between the city and former pavilion restaurant owner-operator David Glass. Glass obtained an $800,000 settlement from the city after he claimed that his lease for Black Bear Crossings was improperly terminated. It was the third-highest legal settlement in city history.
Como Dockside was operated by restauranteurs Jon Oulman, his son Jarret Oulman and John Mandelnan, the owners and operators of Amsterdam Bar in downtown St. Paul and Minneapolis' 313 Club. Como Dockside closed in November 2017, citing slow business during the winter months.
O'Reilly then took over the pavilion's Spring Cafe in 2018. Lancer will take management in 2019.
Como area residents filled a meeting after Como Dockside closed, to indicate what kind of venue they'd like to see at the pavilion. Split opinions were voiced, with some people wanting a full bar and others contending that a bar isn't appropriate in a family-friendly place.
City staff indicated that the pavilion will continue to be used for entertainment programming, including the Music in the Park series. The pavilion hosted more than 100 events last year.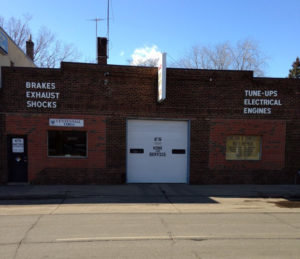 Metro Automotive is sold
Metro Automotive, 675 N. Snelling Ave., has a new owner and new license to do business. The St. Paul City Council approved the business license and conditions on Feb. 6.
Metro Automotive has operated at the Hamline-Midway location for 27 years. Longtime owner Brian McConnon is retiring and selling the business to Ramon Rosas. Metro has a nonconforming use permit; which Rosas and his business manager will assume responsibility for. It spells out operating conditions. The permit was reviewed at a legislative hearing last fall, where one neighbor appeared to complain about noise and vehicles in the alley.
The auto repair license has 11 conditions. Conditions dictate hours of operation, restrict where customer and business vehicles can park, ban exterior storage of vehicle parts, indicate that all repairs will take place inside of the building, and outline steps to mitigate noise. The business can continue to be an auto repair shop, but auto body work and vehicle painting cannot take place there.
Concordia withdraws proposal
Concordia University-St. Paul has dropped its bid for conduit bond financing to purchase the Central Midway building at 393 N. Dunlap St. The City Council was informed of the change of heart in mid-February, so an action item on the Feb. 20 City Council agenda was withdrawn.
Concordia has used space in Central Midway, formerly Central Medical, for several years, and has offices and learning space on 3½ floors. The building is across Interstate 94 from the university's campus. School officials said the space is needed for a growing student body and programs.
But City Council members fought the property sale and the bond issue, citing the potential loss of property tax base and a lack of information before the plan was brought forward. Concordia worked with the St. Paul Port Authority on the bond issue, which needed final city approval.
The Port bond issue was for $5.5 million. Using the bonds would have meant an interest savings of about $60,000.
In letters to the council, university officials said they are taking a different route to the property purchase and won't use the bonds.
The sale will still mean a loss of property taxes for the city, county and school district. The building this year will pay $202,526 in local taxes.
Concordia will still pay taxes on floors of the building with for-profit tenants, but it's not clear what the bottom line will be in the future.
The proposal had the support of Ward One Council Member Dai Thao, whose ward includes the university and Central Midway. But other council members opposed the bond issue and purchase, and it became clear it lacked the votes to proceed. The council laid the matter over twice.
Event space receives approval
A former furniture store at 786 University Ave. can become an event space, the St. Paul Planning Commission decided Feb. 8. The commission approved a conditional use permit for Francesco O'Ryan. The decision became final ten days later when no-one appealed to the City Council.
O'Ryan is using part of the building as an event center. A furniture store operated there until recently. A bakery in the building will remain. The one-story commercial building was built in 1926.
The building is zoned for traditional neighborhoods 2 use. It was rezoned several years ago as part of zoning studied tied to Green Line light rail. It is in the Victoria Street Station area.
The building has 14 parking spaces, which will remain in place. It isn't required to have additional parking, even though it could have more than 100 people at events. That is because it is near the Green Line, said City Planner Tony Johnson. That surprised some Planning Commission Zoning Committee members.
Summit-University Planning Council met with O'Ryan in January and recommended approval of the permit. No one has attended neighborhood or city meetings to raise objections.