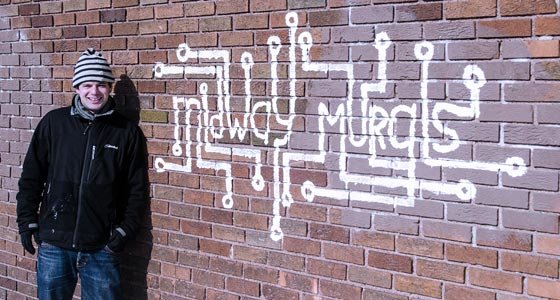 Hamline Midway resident Jonathan Oppenheimer is the Midway Murals project organizer. He says the ambitious project's goals extend well beyond the streetscape. (Photo by Kyle Mianulli)
[/caption]
By KYLE MIANULLI
While Snelling Ave. is in the throes of construction this summer, the Midway Murals project will seek to transform a half-mile stretch of the street between University Ave. and Van Buren Ave. into a vibrant outdoor art gallery that tells the stories of the people, cultures and communities that define the area.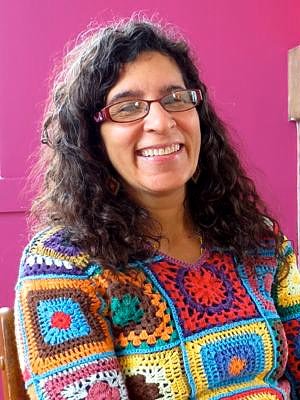 Mural artist Lori Greene is a Midway resident and owner of Mosaic On A Stick. (Photo courtesy Midway Murals)
[/caption]
The installation of four professional murals by four separate artists on the sides of primarily immigrant-owned businesses will connect artists, business owners and the community around the theme "starting anew."
With Snelling Ave. due for major reconstruction in 2015 (see story pg 5), "starting anew" seems an appropriate motif. But project organizer and Hamline Midway resident Jonathan Oppenheimer says the ambitious project's goals extend well beyond the streetscape.
The theme also refers to the changing nature of the Midway area in general, as well as the specific stories and experiences of new residents and immigrant communities, Oppenheimer says. The murals will be installed on highly visible walls at 512, 555, 638, and 689 Snelling Ave. N.
The project officially kicks-off with a public celebration at the Turf Club (1601 University Ave. W.) Feb. 20 from 4-7pm, where organizers will launch an intensive community process designed to gather input and bring together artists, neighbors and business owners to tell their stories.
"The artists will listen and engage with the community to craft their vision," Oppenheimer says. Separate panels made up of business owners, residents and community leaders will review the artist's designs for each location before installation.
Oppenheimer's vision for the project was born of his daily experiences on Snelling Ave. and in the neighborhood. He sensed a lack of connection between residents and businesses on Snelling, he says. Both regularly express interest in beautifying the area and drawing more attention, visitors and customers.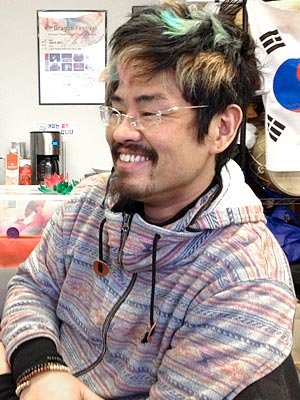 Artist Yuya Negishi. (Photo courtesy Midway Murals)
[/caption]
With more than 30,000 vehicles a day, Snelling Ave. is one of the busiest roads in the state. U like the stretches around Selby and Grand avenues, the high traffic has yet to bring a surplus of customers or investment to the area around University Ave.—one of the most central transit nodes in the Twin Cities.
"If you are at the heart of the crossroads of St. Paul and the Twin Cities, how do you represent that in all its glory and beauty, and make it a place where people want to get out of their car and see what the businesses are all about and see what the neighborhood is all about?" Oppenheimer asks.
The project is not just about appealing to people outside the neighborhood, though. There's also an integral community-building component. Hamline Midway is not exempt from the cultural and racial divides that still mark communities across the city, state and country, Oppenheimer notes.
"I think it's very important that we talk openly about racial and cultural divides…this is one of the toughest discussions we can have—what keeps us apart? In order to focus on this notion of how do we 'start anew,' we do have to recognize some of these divides that exist."
Public art has a unique power to unite cultures and communities, says Lori Greene, one of the four mural artists who is also a Hamline Midway resident and owner of Mosaic on a Stick, 1546 Lafond Ave.
"It shows the beauty and the history of people and culture, and it's out there for everybody to see, and we all recognize ourselves in it," Greene Says.
In addition to Greene, Oppenheimer has enlisted some serious talent from the Twin Cities' public art world for the project. Each artist, he says, has a distinct style, medium, and background, but all represent an important theme of the project's vision. International muralist Greta McLain, spray paint artist Eric Mattheis, and Japanese artist Yuya Negishi, will each install a mural on one of the four walls.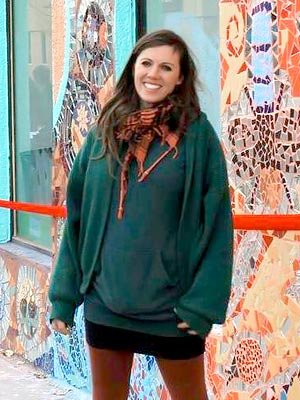 International muralist Greta McLain has worked on numerous Twin Cities murals. (Photo courtesy Midway Murals)
[/caption]
International muralist Greta McLain worked with Greene on the mural at Seward Co-op and was a featured artist on the public television series, "Minnesota Original." City Pages voted her project at Green Central School in South Minneapolis the best mural of 2014.
Spray paint artist Eric Mattheis, also known as Blaster in the Twin Cities art collective Rogue Citizen, brings an important street element to the project, which Oppenheimer says was important to help overcome the stigma of graffiti and spray paint as merely vandalism and blight.
Artist Yuya Negishi, arrived in the Twin Cities art scene with a splash five years ago when he immigrated from the rural Gunma region in Japan. His playful and vivid illustrations draw from classical Japanese techniques, and his work has been displayed in multiple gallery showings, public art installments and commissioned work.
"I'm just so happy to have these four artists from different backgrounds…It's really important that all these murals not look the same and that they represent the diversity that we're trying to highlight and lift up in this project," Oppenheimer says.
In addition to the murals, all four artists are creating original pieces to be auctioned off at the Midway Murals launch celebration at the Turf Club on Feb. 20.
Midway Murals is one of 42 project winners in the 2014 St. Paul Knight Arts Challenge. That $25,000 grant will cover part of the total project budget, which is upwards of $85,000, according to Oppenheimer. He is working hard to raise the remaining funds through other grants, public and private donations, as well as a crowd-funding campaign that will kick-off Feb 16. The project will culminate with a grand unveiling celebration towards the end of August.