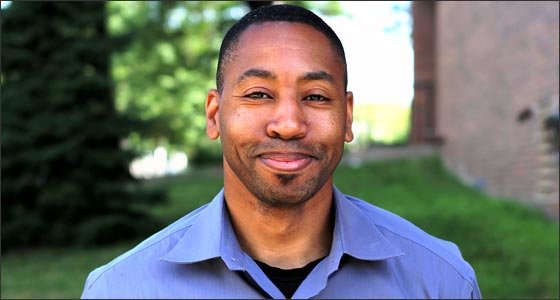 Galtier Principal Shawn Stibbins
[/caption]
By KYLE MIANULLI
Galtier Community School, 1317 Charles Ave., is setting a new course to success. With an innovative building redesign on the way and a new focus on personalized learning, Principal Shawn Stibbins, who started at Galtier this fall, is now looking to the community to help bring the neighborhood school into a new era.
Stibbins was born and raised in St. Paul where he attended St. Paul Public Schools. He comes to Galtier from Meadow Lake Elementary School in Robbinsdale where he was assistant principal.
Coming to Galtier was, in a way, coming home for Stibbins. It was here that he first found his passion for education while working as a mentor for four years while attending Hamline University.
"Having that experience here in the classroom is what gave me the spark to say 'I want to be in education. I think I can make a difference,'" Stibbins said.
With a career of classroom education and school administration experience behind him, Stibbins is working hard to now make a difference at Galtier.
He recognizes the school has not always been the first choice for neighborhood families, partly due, he says, to it having a "rough reputation." With a broad range of improvements and changes coming, that's something the new principal hopes won't last.
"Galtier is changing. It has had a negative reputation and I think that's something we are very intentional about getting rid of," Stibbins says.
When Galtier switched over from a magnet school to a community school, it turned over about two-thirds of its student body, Stibbins said. It remains a racially and ethnically diverse school—something Stibbins says contributes to a rich learning environment.
The student body at Galtier is 60 percent Black, 17 percent Asian, 11 percent Latino, and 10 percent White.
Aligning with the district's "Strong Schools, Strong Communities" initiative, Stibbins says support from the neighborhood is integral to making Galtier a point of pride for the community.
"For us to really have a strong school, the people in the community and in the neighborhood really have to be behind the school," Stibbins says.
There are some exciting new reasons to get behind Galtier, too. The school was recently selected to participate in the American Architectural Foundation's Design for Learning Program, which seeks to advance the value of design in supporting educational innovations, improved learning, and stronger communities.
As part of the program, the school building is undergoing a major redesign with a focus on innovative flexible spaces for learning. The plans will completely overhaul the typical classroom structure.
Instead of a single static classroom, the new "learning studios" will have a spacious center area with movable partitions and garage door-like walls that will allow teachers to hand tailor unique learning spaces and allow students to freely move between different rooms and specialized areas. Movable ergonomic furniture will further provide flexibility in setting up personalized space for different projects and focus areas.
A new media center will also allow students to explore and interact freely with a variety of different technologies on their own terms, Stibbins said.
A greater emphasis on technology integration in classrooms is also planned. An early manifestation of this is a project Fourth and Fifth graders have just finished. Each student created a piece of art, then recorded a Podcast talking about their inspiration.
The pieces will be on display at Groundswell coffee shop, 1340 West Thomas Ave., through the end of the year. On each work will be a QR code that customers can scan and listen to each student talk about their work.
Groundswell has been an early leader in setting a trend of community support for Galtier. The school was made a major focus of their Grounds and Sounds festival last summer. A silent auction at the event helped raise money to support arts programming at the school.
Stibbins knows that part of building community around Galtier means heading out and connecting with people directly. This year, Galtier teachers are participating in the St. Paul Parent-Teacher Home Visit Project. Sans paper and pencils, teachers are regularly making home visits, talking directly with families.
"It gives the teachers a chance to learn about the families and about the students on a different level," Stibbins says.
Stibbins himself is starting a new program to get out in the community as well and champion the school. Starting in December, he will be hosting Coffee with the Principal events—a series of informal conversations with community members and families.
The new Galtier, including plans for the renovation, will be on full display at this year's School Choice Day in January. Stibbins encourages community members to attend, and to stop by for a chat or personal tour of the school.