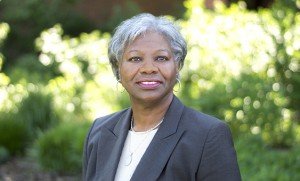 Dr. Fayneese Miller (photo right), President of Hamline University (HU), has joined the Amherst H. Wilder Foundation's Board of Directors. Dr. Miller joins 11 other Board members comprising the governing body of the Wilder Foundation.
Miller joined HU July 1, 2015, becoming Hamline's 20th president. She is the first African-American president in the history of HU and the university's second female president. She has 30 years of academic and higher education experience. Miller was the first coordinator of education studies and the founding chair of ethnic studies at Brown University, where she served on the faculty for 20 years. More recently she served as the dean of the College of Education and Social Services at the University of Vermont for nearly ten years.
Miller is a social psychologist who specializes in the psychosocial development of adolescents, with a focus on socio-political and identity development. She has authored or co-authored numerous books and an extensive number of journal articles, research reports, and conference presentations. She has been an invited lecturer at institutions throughout the U.S. and in Saudi Arabia, Thailand, China, Australia, and the United Kingdom.
As HU president, she serves on the boards of the Minnesota Private College Council, the New American Colleges and Universities consortium, and the Associated Colleges of the Twin Cities. Since coming to Hamline, she has been elected to the national board of the National Association of Schools and Colleges of the United Methodist Church (NASCUMC), and the NCAA Division III Presidents Council. In the Twin Cities, she serves on the board of Twin Cities Public Television.Minnesota Governor Dayton appointed her both to the Minnesota Governor's Residence Council and to the Young Women's Initiative of Minnesota, a public-private partnership with the Women's Foundation of Minnesota to improve the lives of young women.
"We are excited to have Dr. Miller join our Board of Directors," says Alex Cirillo, Wilder Foundation Board Chair. "Her extensive experience in education and youth and her broad perspective will undergird our work with children, youth, and families. We are extremely pleased to have this tie with Hamline University, another longtime Saint Paul institution. Dr. Miller's commitment to community will help guide Wilder's mission and increase its impact today and into the future."