On Aug. 19, 16 St. Paul School district teachers, staff, University of Minnesota representatives in food safety and gardens, and representatives from Urban Roots toured three different SPPS school gardens to learn more about the Garden to Cafeteria (G2C) program.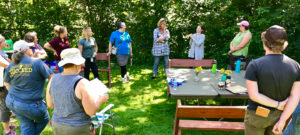 "It is a chance to get the students in touch with their food and know where it comes from. It promotes healthy living, not only nutritionally, but in actively gardening in the fall and the spring," said Kirsten Saylor, SPPS garden coordinator. Garden to Cafeteria is a program that will start this year, where these teachers, trained in the process of safely harvesting and handling food, will start to bring the student grown and student harvested food, like cherry tomatoes, kale, lettuce, spinach, and other vegetables into their cafeteria in a way that is safe for students to eat.
There are 24 of school gardens/orchards in SPPS, and this group of teachers went to visit several of them to learn more about the process of starting a garden, sustaining a garden, and how to properly bring the food into the supply chain of the school cafeteria for the salad bar.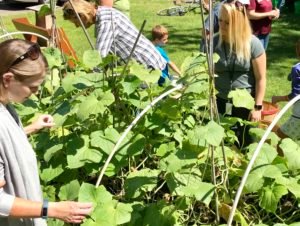 Kris Wirtz, school cafeteria supervisor at Murray, was willing to pilot the protocols last spring at Murray with student grown lettuce. She, along with Mr. Chase, a science teacher who had students grow lettuce in the school, supervised the students in harvesting, washing, and prepping it for the lunch line salad bar. "If we are going to promote sustainability in the district, this is a great way to teach it, and the team has come up with a set of protocols that will assure food safety and provide a paper trail of what food was harvested when and how it was served," she said.
Over the past two years over 500 pounds of produce has been donated to the local food shelf out of the Murray garden. Teacher Tim Chase, who has been working with students on the garden, is excited to bring the food into the cafeteria, and hopes to use food, agriculture, sustainability, and culture to build understanding across the diverse population at Murray.
"We will be inviting several local chefs into the classroom too to tie culture and food together with hopes that the thread of sustainability is a natural way of thinking in many cultures when it comes to food," he said.