By MARGIE O'LOUGHLIN
Our Lady of Peace Hospice Residence is an oasis of kindness at the intersection of St. Anthony and Cleveland avenues. Outside, the traffic roars by on Interstate 94 but inside, the atmosphere is peaceful and calm. Large windows open to a memorial garden at the back of the property; natural light blankets the interior spaces. It is the stated, sacred duty of Our Lady of Peace to provide care, comfort, and compassion to people needing end-of-life services—regardless of social status, religion, or ability to pay.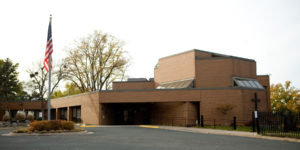 Photo right: The Medicare-certified, residential facility at 2076 St. Anthony Ave. (Photo by Margie O'Loughlin)
In addition to providing a full range of hospice services at their residential site, Our Lady of Peace Community Hospice can come to wherever patients are: in their own homes, in senior communities, long-term care facilities, or homeless shelters. They also bring their Home Health Services to wherever home is, including skilled nursing, psychological support, massage therapy, music therapy, spiritual care, and bereavement support.
Begun by Dominican nuns in 1941, the original Our Lady of Good Counsel Home was a free end-of-life facility that served the city's "cancer poor." By 2009, the self-described "humble organization" had provided care for more than 15,000 patients. At that time, the operation of the home transitioned to the Franciscan Health
Community; in 2015, they underwent a name change to Our Lady of Peace.
While the non-profit organization is Catholic and four nuns are still part of the care team, people of all faiths (or no faith) are welcome. Their mission has expanded over the years to include adult patients with diagnoses other than, but including, cancer, and children with terminal cancer.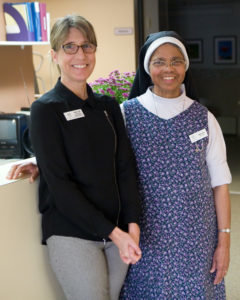 Photo left: Social worker Kelly Pietrzak (left) and nurse Sister Polsy (right) have different jobs at Our Lady of Peace, but share the commitment that no one should be turned away from high quality end-of-life care. (Photo by Margie O'Loughlin)
Residential nursing supervisor and hospice educator Frezgi Hiskias said, "There are a lot of misconceptions about what hospice is. Many people think that patients must be actively dying to be in hospice, but we generally serve patients in their last 4-6 weeks of life. In the 14 years I have worked here, I have seen the turnover rate grow faster. At Our Lady of Peace Home, we now admit 30+ patients per month. We wish that people wouldn't wait until the end, because in hospice we see the patient as a whole person, including relationships with family members and friends. We are very inclusive."
Hiskias explained, "This model of inclusion extends to the way staff members work together too. Every Wednesday we have something called an Interdisciplinary Team Meeting, where the whole care team of doctors, nurses, social workers, and chaplaincy comes together. We maintain 21 beds for patients on two separate floors: one for men and one for women. We are passionate about cleanliness and hygiene. We are passionate about providing care in the most dignified and gracious way possible. Dying is not easy for most people, and when I started I was overwhelmed by the complexity of the dying process. It's a touchy subject, and one that wasn't taught in nursing school."
Social worker Kelly Pietrzak agreed. "On the social work side," she said, "we help to bring things to a close as gently as possible. I work primarily with patients who are in home-based care. Despite the enormity of losing a loved one, rent still has to be paid, and everything goes better when there's food on the fridge. We take care of all those practical things, plus a hundred other details. We provide services in all seven metro counties, and we need volunteers out in the community as well as at the Our Lady of Peace Home. When I started working here ten years ago, we had an average daily census of four patients out in the community. We currently serve more than 60."
"As our patient count has grown, we're fortunate that our volunteer base has too," Pietrzak said. "At this time, we have 70 dedicated volunteers—many of them are family members of loved ones we have cared for. Our volunteers provide the equivalent of two full-time employees, with a variety of skills and interests. We especially need volunteers who are willing to travel beyond our residential facility right now. We serve patients at the Episcopal Church Home and Gardens Facility on University and Fairview avenues, Heart to Home's four residential houses in Mendota, and the Wheeler Ave. Rahkma Home (near St. Catherine's)—which are all nearby. We ask for a time commitment of at least one hour per week for one year. We provide training to get a new volunteer fully integrated into our hospice model, and into what their volunteer role and responsibilities will be."
Finally, Our Lady of Peace has a Bereavement Department that connects with families during hospice care, and for 13 months after their loved one has passed. Grief groups and grief events (like the annual Celebration of Life in December) are open to community members. Check their website at www.ourladyofpeacemn.org for complete details.
For information on volunteering with Our Lady of Peace, call Tara Burns at 651-789-6824 or email tarab@ourladyofpeacemn.org.