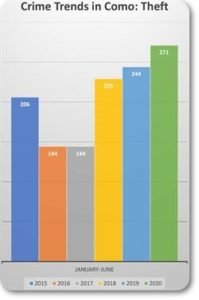 Special elections
Community members in South Como or Energy Park can vote online until 5 p.m. on Tuesday Sept. 15 in a special election to fill a vacancy on the District 10 board.
To request a ballot: Fill out the form at www.district10comopark.org/ballot.html.
Who can vote: All residents age 16 or older who live in Sub‐District 4 are eligible to vote. So are authorized representatives from a business or nonprofit organization with a physical location in Sub-‐District 4. The Sub-­District 4 boundaries are Dale on the east, Snelling on the west, and the two sets of BNSF railroad tracks on the north and south.
The winning candidate will serve until April 2021, filling the remainder of the term left vacant by Bob Jacobson, who is moving out of District 10.
Coffee shop to get STAR Loan
The proposed Sacred Grounds Community Coffee Shop, on Front and Milton, is one of 20 projects that was expected to receive Neighborhood STAR funding when the City Council voted Sept. 2 (after the Monitor deadline). The funding – a $37,500 grant and a $37,500 loan – would help the 28-seat coffee shop finish construction of the retail space and adjacent patio at 883 Front.
The refurbished building most recently housed a Buddhist temple; it started as Fireside Corner (which evolved into Fireside Hearth & Home). Neighborhood STAR money finances capital improvements for economic development in city neighborhoods. Money comes from the city's half-cent sales tax.
6 Projects Seek CIB Funding
Six projects in District 10 remain in the running for 2020-21 funding from Saint Paul's Capital Improvements Budget. Roughly three dozen proposals overall are competing for a share of the $1 million that is available. A public hearing is tentatively scheduled for Sept. 14; final recommendations are scheduled to go to the mayor by Sept. 30. Proposed projects in District 10:
• A marked crosswalk outside Como By the Lake apartments, 901 East Como Blvd.
• Informational kiosks and trail improvements in Como Regional Park
• Security cameras and other safety features along the lake's bicycle and pedestrian paths
• A dog park in Como Regional Park
• Exterior signs for Northwest Como Recreation Center
• Snow-making equipment for a 5K loop of Nordic skiing on the Como golf course
Crime in Como rises
Crime in Como is up in almost every category in the first six months of 2020, compared with 2019, according to city statistics. Nonetheless, Como remains one of Saint Paul's safest neighborhoods.
Residents, visitors, and businesses reported 463 crimes in District 10 from January to June, a 17.2 percent increase from crimes compared with the same six-month period of 2019. That is in line with crime in Saint Paul as a whole, which increased by 16.8 percent from 2019 to 2020, according to preliminary reports compiled by police in the city's Crime Incident Report Dataset.
Among categories of crime that increased in Como were confirmed reports of gunshots; robbery; burglary; domestic assault; and theft, driven by a 40.5 percent increase in stolen vehicles.
The only major category where reported crimes decreased was narcotics arrests.
Como, however, remains one of the city's safest neighborhoods. That is true in actual numbers of crimes and in crime rates, based on population. The neighborhood continues to have the third-lowest crime rate in Saint Paul, a ranking that has not changed. Only Highland and Macalester-Groveland have lower crime rates.
More details and charts are available on the District 10 website: Search for "Crime is Up in Como".
Call or link into D10 meetings
Join board meetings either by video conference or by phone.
To obtain links, phone numbers, or other access information, send a request by email to district10@district10comopark.org. Or, call 651-644-3889. Upcoming meetings:
• Board meeting: Tuesday Sept. 15
• Neighborhood Relations: Tuesday Oct. 6
• Land Use: Wednesday Oct. 7
• Environment: Wednesday Oct. 14
All meetings begin at 7 p.m. Whenever possible, agendas and other relevant documents are posted in advance in the "Board News" section of District 10's website: www.district10comopark.org