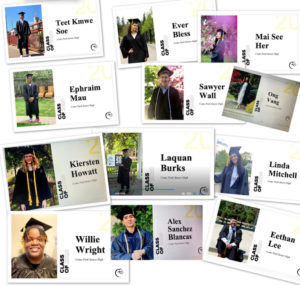 Como's virtual commencement ceremony on June 1 successfully celebrated each of the 248 graduates from the Class of 2020.[/caption]
The 2019-2020 school year has concluded. Distance learning during the coronavirus became even more challenging following the fear and destruction in the community surrounding the death of George Floyd.
The Class of 2020 endured a teacher strike, global pandemic, economic collapse, a societal tragedy and civil unrest during the spring of their senior year without the ability to process with peers and teachers in person.
As many have suggested, 2020 could be a chapter in future history textbooks all by itself, the scope of which has completely overshadowed the accomplishments of a special and resilient class of high school students.
In that context, it was joyful for graduating students to spend the evening of June 1 viewing the Como virtual commencement ceremony with their loved ones. The pre-recorded video featured pictures of every graduate during the pomp and circumstance processional music, followed by messages from Principal Stacy Theien-Collins, district administration, Como teacher David Stahlman, and student speaker Ridwan Yussuf.
After the inspirational messages from the speakers, each of the 248 Como graduates was featured in their own unique cap and gown photo, alongside their name on the screen for several seconds. Enough time for joyful cheers in each home, and enough time for every student to celebrate their friends and classmates when they appeared in the alphabetical rollout.
The graduation ceremony was shared out in a link to all Como families, can be viewed on spps.eduvison.tv, and will be replayed on St. Paul Cable Channel 16 several times this summer.
With the close of distance learning for underclassmen on June 9, eight longtime Como staff members concluded their careers in education. Each retiree has positively influenced countless students, with their own unique gifts, skills, dedication and service.
Kathy Kahn – teaching for 37 years, including the last 30 at Como as a biology instructor.
Maryclare Bade – health teacher at Como for the past 34.5 years. She has spent 36 total years in education.
Carole Whitney – Como Park choir director and theater director for 26 years.
Lori Belair – 26 years with the St. Paul Public Schools. She has been teaching Family and Consumer Sciences at Como since 2009.
Dave Stahlman – social studies teacher at Como for 25 years.
Walt Lofquist – a math teacher at Como for 20 years, and has 21 total years in St. Paul.
Joy Fausone – worked in the Como cafeteria with nutrition services for 30 years.
Ruth McPhillips – educational assistant for 28 years, with fout years of service at Como.
That's 229 combined years of service to kids, all concluding with a retirement year of 2020, a time that no one – in education or any walk of life – will ever forget.