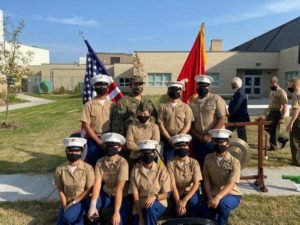 The Como Marine Corps JROTC held a socially-distanced outdoor ceremony to celebrate recent awards and the changing of the guard to the class of 2021's senior leadership.[/caption]
Distance learning for high school students in the St. Paul Public Schools has entered its second month of the 2020-2021 school year. While the scope and sequence of class content is the same as previous years, delivery certainly is not.
Despite challenges, there have been success stories. Many students are gaining familiarity with the mixture of synchronous classes and time built into their day for independent study.
Extracurricular activities have also enriched student experiences. Following safety protocols and state regulations, Como teams, clubs, organizations and individuals are participating in events that keep and build connection.
MCJROTC ranks 4th nationally
The Marine Corps JROTC (Junior Reserve Officer Training Corps) at Como has been recognized as a National Honor School Program for 2020. The award is reserved for the top 20% of all MCJROTC programs across the nation.
In 2019, Como was ranked eighth nationally. This year they rose to fourth place. The ranking is based on several factors including volunteer campaigns, leadership camps, competition performances, grade point averages, MCJROTC academies, and camaraderie.
"We never really understood just how well we were actually doing because for our team this is normal," said Commanding Officer Lieutenant Colonel Ever Bless. "It's normal for the cadets to be working, pushing, competing, serving, traveling, and just doing what we do, so to see our vision come true again was shocking to all of us even under these turbulent times."
Sergeant Major James C. Kirkland is currently serving his 8th year as the Senior Marine Instructor at Como. He has consistently been impressed with the growth of the cadets and the impact of leaders and their resiliency.
"There's a level of maturity built in, and the 'take charge' attitude of the cadets with high motivation is just kind of refreshing during these overwhelming and tumultuous times," Kirkland said.
Outstanding Refugee Award
Ku Mo, from Como's class of 2020, was selected as a recipient of the state's Outstanding Refugee Award. The Minnesota Department of Human Services honored 10 recipients for their actions.
Ku Mo worked on a project to fix computers and give them to families in need, volunteered on additional community service projects, and tutored younger students. Ku Mo is a Karenni refugee who is now a freshman at the University of Minnesota.
Como junior Saylor Landrum competed in the North American Biathlon Summer Nationals and earned first place in the under-17 age group. The event was timed in different regions with race results posted from approved course routes across the continent. Landrum's intense training commitment led her to the winning result.
Beyond the summer biathlon (which combines roller-skiing and target shooting), Landrum is an avid cross-country skier for Como and a member of the Cougars track team.
Sports this season
Como athletic teams in action this fall include girls and boys soccer, girls and boys cross country running, girls tennis and girls swimming. Recently approved seasons for football and girls volleyball began on Sept. 28.