Mary Larson, education coordinator, rubbing shoulders with her sculpture, Max Rabitat. Max was made with the help of children (they created the medallions) participating in summer art classes at the Western Sculpture Park in 2009. (Photo by Margie O'Loughlin)
[/caption]
By MARGIE O'LOUGHLIN
Public Art Saint Paul (PASP), a non-profit celebrating its 28th year, partners with the City of St. Paul to produce art for everyone. The organization has prospered through five different mayors, dozens of city council members and some pretty tough economic times.
Christine Podas-Larson is the executive director and one of the original co-founders of PASP. "Our staff are 'boots on the ground' people who support whatever our artists need to complete their work. We don't just hand an artist a check and say good luck!" she said.
Participating artists are encouraged to think big, to bring forward new ideas made from and within the life-sustaining systems of the city. Partnering with PASP, Wing Young Huie's University Ave. Project exhibited hundreds of large-scale photographs along six miles of this urban thoroughfare in 2010, right smack in the middle of the Midway neighborhood. More than 75 businesses and organizations offered up their store front windows to be part of the gallery. Young Huie's images revealed the everyday lives of neighborhood residents, and celebrated the faces of this ever-changing community.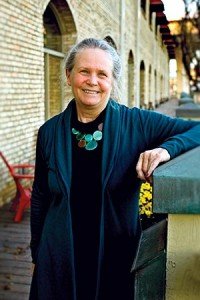 Christine Podas-Larson, executive director and co-founder, in front of Public Art Saint Paul at 351 Kellogg Blvd. E. (Photo by Margie O'Loughlin)
[/caption]
In 2004, the organization brought their first City Artists in Residence (CAIR) on board. In the beginning, they thought the CAIRs would change every 18 months but the positions quickly became permanent. Although PASP pays the artists' salaries, their physical offices aren't located in the artsy Lowertown District. Marcus Young and Amanda Lovelee report to their desks in the Department of Public Works every day, housed in the City Hall Annex. The CAIRs partner across City departments including Parks and Recreation, Planning and Economic Development, Public Works and Libraries.
Artists see and say things differently, and that's what makes their partnership with the City so vital. For instance, each year St. Paul repairs or replaces about 10 of its more than 1,000 miles of sidewalks. When CAIR Marcus Young was invited in 2008 to go on sidewalk inspection with his public works co-workers, he didn't see cracks and uneven walking surfaces. He saw a publishing opportunity!
Young envisioned the replacement sidewalks as blank pages of a book waiting to be written. He organized a poetry contest in conjunction with the libraries, and more than 2,000 poems poured in from St. Paul residents. Twenty poems were selected for sidewalk publication that first year. Poetry contests have been held every year since, and more than 750 poem installations have followed the path of sidewalks in need of repair. There are dozens of poems in the Midway and Como neighborhoods. Go out on a literary scavenger hunt to see how many you can find.
While you're in an adventuring mood, consider hopping on the Light Rail to visit the Western Sculpture Park - a St. Paul treasure many people don't even know exists. Located on busy Marion St., right across from Sears, it occupies a street that was vacated in the creation of Interstate 94. "Over time, the park became known for drug-dealing and prostitution, and received more calls for police intervention than any other address in Ramsey County," according to Podas-Larson.
Dan Fix lived in one of the adjoining apartment buildings with his young daughter, and was worried about the crime taking place outside their front door. He finally got the attention of the city when he attended a Mayor's Design Forum in 1995 and met John Hock - curator of the Franconia Sculpture Park near Taylor's Falls.
The two put their heads together and, with the help of the City, PASP and generous funders, the idea for an urban sculpture park took shape. Now it's home to 15 large-scale sculptures so familiar to kids in the neighborhood that many can name them, and most keep a watchful eye. In the 16 years since the park was created, crime has dropped to nearly zero. As Fix predicted years ago, "Give people a positive reason to be in the park, and things will change for the better."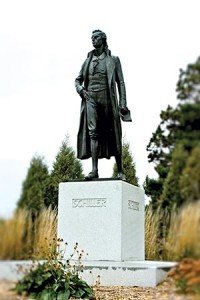 A sculpture of the famous German writer Johann Christoph Friedrich von Schiller (sentinel of the Lexington Avenue entrance to Como Park) was recently restored by the Stewardship Corps of Public Art Saint Paul. (Photo by Margie O'Loughlin)
[/caption]
Every Tuesday afternoon in June, July and August, the park is extra full. Mary Johnson, sculptor and education coordinator, heads up Public Art Saint Paul's Mobile Art Lab. Disguised as a giant spider, it serves more than 500 kids each summer through its drop-in art making workshops. The Mobile Art Lab rolls into the park at 1pm sharp, and unfolds its giant wings. The workshops are free and open to the public - children of all ages (and addresses) are welcome and no reservations are required.
But, it isn't enough to acquire works of art, they must be watched over and cared for as well. Johnson also coordinates the Stewardship Corps, a group of dedicated volunteers who do just that for St. Paul's 30+ works of outdoor sculpture. The sculptures are treated with an anti-graffiti coating, which makes it easier to keep them clean. Twice a year, the stewards give each one a good scrubbing, thanks to hot water transported on-site by the Parks Department.
For more than a hundred years, a sculpture of German writer Johann Christoph Friedrich von Schiller has presided over the Lexington Ave. entrance to Como Zoo. It was commissioned by St. Paul's German American community and gifted to the City in 1907. Having braved over a century of Minnesota winters, this cultural treasure has been completely restored by Public Art Saint Paul. Another sculpture graces Como Park, a bronze bust of the famous Norwegian playwright Henrik Ibsen. This sculpture by Jacob Fjelde had deteriorated and in a harrowing tale of intrigue, was stolen from the park.  It was recovered, restored, and reinstalled by Public Art Saint Paul in 1999. For information on either the Mobile Art Lab or joining the Stewardship Corps, contact mary@publicartstpaul.org.
Public Art Saint Paul is helping link the many diverse neighborhoods of the city together with a common aesthetic. They are one of the driving forces behind making art available and present in everyday life for people in the core city. Podas-Larson concludes, "We're interested in the ripple-effect of public art, not just something pretty or interesting to look at for a few minutes. We want to know, how do art experiences affect people's lives?"