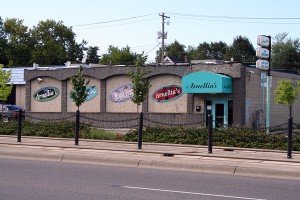 Sixteen of 58 projects submitted for Neighborhood Sales Tax Revitalization (STAR) grants and loans will go forward. Topping the list citywide is a renovation of a University Ave. restaurant and nightclub.
The grants and loans won St. Paul City Council approval in July. The slate of projects approved by the council mirrored the list of 16 projects recommended by the Neighborhood STAR Board. The city had about $1.7 million to allocate. The pot of money for neighborhood projects has grown smaller over the years as sales tax proceeds were directed to city capital projects.
Arnellia's, 1183 University Ave., received a $40,000 grant and a $40,000 loan toward a new patio, sliding windows and interior renovations including a relocated bar and kitchen improvements. Almost $90,000 was pledged as a project match.
The other two area projects winning approval are: $60,000 in renovations to the Tibetan American Foundation of Minnesota building at 1096 Raymond Ave.; and a $10,000 loan and $10,000 grant toward renovation of Colossal Cafe, 2351 Como Ave.
The 58 projects submitted is the highest number seen in some time. Two were withdrawn, so 56 went through the full competition.
Many area projects missed out on funding, including two at 550 Vandalia Ave. The Paikka events and creative space and the St. Paul Neighborhood Network's new community media center there missed the cut. So did ongoing redevelopment efforts at the former Old Home Dairy building at Western and University avenues, Victoria Theater renovations at 825 University Ave. and the planned Can Can Wonderland mini-golf and building renovation at 755 N. Prior Ave.
Three arts and recreation projects also missed out. Those include Joy to the People's new soccer field at South St. Anthony Park Recreation Center (890 Cromwell), and funding for replacement of the ice rink equipment at North Dale Recreation Center (1414 St. Albans St.). Midway Murals' Snelling Ave. project wasn't funded in the competitive round but was later awarded $5,000 from the year-round STAR fund.