By MARGIE O'LOUGHLIN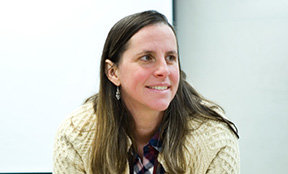 Erin Pavlica, co-founder of Zero Waste St. Paul and longtime Midway resident. During a recent Intro to Zero Waste training, she said, "We're not expecting anybody to be perfect. Come as you are, and do what you can. ZWSP is a way to connect with others who have the same concerns. It can be lonely if you're trying to challenge the status-quo all by yourself." (Photo by Margie O'Loughlin)[/caption]
Zero Waste Saint Paul (ZWSP) co-founder Erin Pavlica has a passion for low waste living. To hear her talk, that passion drives almost every aspect of her busy life.
The longtime Midway resident is an active member of the Hamline Midway Coalition's Environment Committee, one of the driving forces behind the Facebook Barter/Sell page in Midway and Frogtown, and a principal player in the recent successful effort to ban black plastic and Styrofoam take-out containers in St. Paul (effective January 2021).
Pavlica offered a class through St. Paul Community Education on Nov. 19, called Zero Waste Recycling 101. She fielded questions about composting and recycling, and offered encouragement, as well as information. A few students were overwhelmed by the effort they thought was needed to adopt a zero waste lifestyle.
One myth about reducing waste is that householders need to buy a bunch of fancy stuff to get started, and Pavlica was quick to burst that bubble. She said, "Almost everything I use as a zero waster comes from our kitchen, like mason jars. A lot of what we buy for our family of six comes from the bulk section of grocery stores and co-ops. I also carry my own silverware everywhere I go, even to parties. I might look kind of kooky, but I don't care. Most of the events I go to would probably have compostable products, but those take energy to make too. I'd just as soon skip them. We have to be thinking about upstream pollution, as well as downstream."
More than 40% of what goes into the trash is food scraps and other organic waste. Recycling food waste converts it to compost, which puts nutrients back into the soil in about 90 days. Ramsey County collection sites enable people to drop off food scraps that would otherwise be thrown in the trash – these are then processed into compost and used for gardening and landscaping.
Pavlica said, "A lot of people don't think about food recycling, but it's huge. If residents don't use the drop-off organic waste sites or compost on their own, their food waste is trucked to the municipal incinerator and burned. Food waste is wet, heavy, and inefficient as a fuel source. The average American family of four wastes about $1,500 every year on food that's just thrown away, so it's a money issue, too."
Pavlica had a long list of suggestions for people wanting to clean up their recycling as well. Since switching to no-sort (or single stream) recycling, the quantity of recycling in St. Paul has gone up – but the quality has gone down. They suggest downloading the new, more user-friendly app from Eureka Recycling to get the definitive answer on what is and is not recyclable.
Pavlica said, "Don't 'wish-cycle.' Just find out what's true."
Top 10 suggestions for better recycling:

1 Anything smaller than your fist is not going to get recycled, and will likely just mess up the equipment at Eureka Recycling. For example, save reasonably clean tin foil once it is no longer usable. Keep smashing it into a firm ball until it is the size of your fist; then put the ball in your recycling bin for pick-up.

2 If you must use plastic water bottles, make sure they are empty before recycling. If a plastic bottle isn't empty, it's too heavy to be sorted at the MRF (Materials Recovery Facility). They use an air puffer to sort and direct plastics to the right place.

3 If you have a plastic bottle with a cap, screw the cap onto the bottle before tossing it in your recycling bin. The cap alone is too small to be recycled.

4 Recyclables should stay in their original shape (except cardboard boxes, which should be broken down.) For example, don't crush aluminum cans to save space.

5 Do not recycle metal aerosol cans – they can explode. Put them in the trash.

6 Non-food related glass is not recyclable, because it is tempered and melts at a different temperature. Putting it in the recycling is wish-cycling.

7 Many plastic films can be brought to big box stores (CUB, Target, Home Depot) that have collection bins.

8 Dispose of unwanted, expired, and unused medications for free at public drop boxes in Ramsey County. The nearest location is the Ramsey County Law Enforcement Center at 425 Grove St. The CVS at Snelling and University avenues also accepts controlled substances, aerosols, inhalers, illicit drugs, and chemotherapy waste. Do not flush any medications down the drain. Note: CVS destroys the medications; they are unable to redistribute them.

9 When it comes to plastics, only numbers 1, 2, 4, and 5 can be recycled.

10 Holidays are the most wasteful time of the year. Between Thanksgiving and New Year's last year, USPS, FedEx, and UPS together delivered around 2 billion packages in the U.S. Where is all that cardboard and plastic going—and what is it doing to the environment along the way? Buy local, reduce packaging, and skip the wrapping paper.
What can St. Paul residents bring to their Ramsey County drop-off site?
• Vegetables, fruits, meats (including fats, oils and grease), poultry, fish, bones, grains, dairy, coffee grounds and filters, and tea bags.
• Non-recyclable paper including greasy pizza boxes, paper towels, tissues, non-foil wrapping paper, and paper bags.
• Compostable cups, plates, utensils, and bags. Check for the compostable logo from the Biodegradable Products Institute (BPI) on the item or packaging to make sure it is compostable. Remember, composting is a process that requires air. If compostable products are put in the garbage, not the compost bin, they are no better than trash.
Upcoming events:
The ZWSP is offering a six-week Zero Waste Challenge Feb. 2-March 15 at the East St. Paul Mississippi Market. Cost is $45 for members/ $50 for non-members.
For a one-day primer, register for Saint Paul Composting 101 on Jan. 11 from 3-5 p.m. at Fly Freak Studio, 755 Prior Avenue North. Cost is $12. Or sign up for Intro to Zero Waste on Jan. 18 from 1-3 p.m. at Egg|Plant Urban Farm Supply, 1771 Selby Ave. Cost is $20.
For more information about upcoming events and classes, visit www.zerowastesaintpaul.com or check out their active Facebook community, Zero Waste Saint Paul Connections Group.