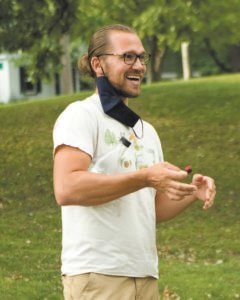 Professional forager Tim Clemens said, "If you want to learn about the trees, herbs, and mushrooms all around you, let's take a walk together. You don't have to travel halfway across the world to discover new experiences of sight, taste, and smell." He offered a free foraging tour at Newell Park in early September in partnership with the Hamline Midway Coalition. (Photo by Margie O'Loughlin)[/caption]
As people use public land more and family budgets get skinnier, Tim Clemens of Ironwood Foraging is helping build more resilient communities.
He does that by sharing knowledge about plants that everyone used to know but has been lost.
"Learning the lifeways of trees, herbs, mushrooms, and animals used to be essential for humanity and by many accounts a return to that knowledge has never been more necessary and rewarding. Foraging can be done in the city, countryside, forest, or even your backyard," said Clemens, who moved from South Minneapolis to the east side of St. Paul last year.
He teaches local workshops on wild mushroom identification, edible and medicinal plants, fruit, nuts, and berries, urban foraging, maple syruping and more.
Clemens founded Ironwood Foraging Co. in 2017. He is the president of the Minnesota Mycological Society, a Minnesota Master Naturalist, and a Certified Wild Mushroom Expert. Clemens holds a bachelor of arts in anthropology from the University of Minnesota and a certificate in environmental education from Cornell University.
The Hamline Midway Coalition offered a free foraging tour with Tim Clemens of Ironwood Foraging in early September, made possible by a grant from the Trust for Public Land's 10-Minute Walk campaign.
Read on for more.
What drew you into foraging?
Foraging is the ancient human narrative of finding and gathering food from the land. We all still have those foraging skills ready to blossom within us and we actually use those skills every time we go to the farmer's market or supermarket. I like showing people how much deeper they can connect with the land using that same skill set.
Growing up I spent a lot of time exploring Minnehaha Falls, Minnehaha Creek, and feral alleyways. Those adventures helped me discover raspberries, gooseberries, and wild plums, but I also got lucky and didn't eat anything toxic, which is the serious risk you take if you don't identify and research everything prior to consuming. My first intentional foraging was for Ojibwe Language and Culture classes at the University of Minnesota where I participated in iskigamiziganing (Sugarbush Camp) and learned to tap maple trees to make maple syrup and maple sugar. I founded Ironwood Foraging Co. in 2017 to bring hands-on foraging education to the Minneapolis/St. Paul metro area and Minnesota at large.
How/where did you get your training/knowledge?
Finding and learning from experts is always the best way to learn, so in the beginning I took every class and read every book I could find and I took a lot of notes. I've spent countless hours and hiked countless miles observing plants and mushrooms wherever I can find them. Foraging oftentimes brings to mind pristine wilderness areas, but urban foraging in the green spaces of a city can be just as rewarding. Plant ID apps for your phone, such as iNaturalist, can be a fun start, but never use an app to decide whether to eat something. They are often wrong and could lead to a potentially deadly misidentification.
What do you appreciate most about foraging?
There are more than 20,000 edible plant species, but fewer than 20 plant species account for over 90% of our food.
A forager has access to foods, aromas, and flavors that simply are not available to someone who doesn't forage.
When I first started foraging I thought "Wow, look at all of this free food," but I quickly learned that with greater knowledge comes greater responsibility. My connection with these plants and the land was calling me to also be a friend and steward - a voice for the voiceless green and natural spaces. Picking up trash, planting native seeds, and protecting the land through outreach and legislation makes me feel good.
When you see a new patch of milkweed spreading or a butternut tree you planted producing its first nuts, you can't beat that.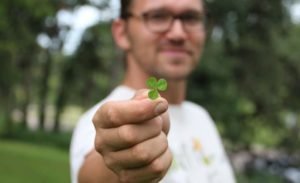 How do you work to be culturally sensitive to the knowledge you give that comes from Indigenous sources?
I have Anishinaabe (Ojibwe) heritage from my paternal line, and I'm an Ojibwe language learner. I am a 'lineal descendant' which means that I can trace my ancestors through genealogy, but my blood quantum (a controversial law), is too low to enroll for federal status.
Since the rest of my heritage is European-American, I've made a point to approach indigenous knowledge as considerately as possible. Centering community knowledge and historical and cultural context is essential. When benefiting from indigenous knowledge, make sure you've given back to the community more than you've taken away.
What benefit does foraging offer in our COVID-19 world?
Foraging is inherently physically distant and occurs outdoors. Discovering new plants and mushrooms allows you to become a tourist again in your neighborhood or state. Planting native pollinator plants for a prairie restoration or harvesting wild cherries is a great way to spend time with friends and loved ones safely outdoors while tending to the health of the land and resiliency of your own health and the health of your community.
I've definitely seen an increase in foraging workshop attendees in the last six months. I think some people have more free time to pursue their interests, and I think others are currently cut off from their typical recreation and they're looking for new outlets.
Why do people take your workshops and what is the value in them?
Some people want to take the edge off their grocery bill and access the most nutritious food on the planet. Others want to grow their understanding for herbal medicine, gardening, dyeing, or photography. Whatever their stated reason is, I think at the heart of it, people take my workshops to connect with the land, each other, and themselves.
How can people safely forage in urban environments?
Always identify every plant or mushroom with 100% confidence before using it to make sure it's not toxic. The best motto to live by is "when in doubt, throw it out." Find an expert and learn from them and when foraging on your own, always compare at least three sources, whether those sources are field guides or trustworthy websites.
Foraging is not legal everywhere and is not uniformly legal where it is. Contact the park you plan to forage at and see if foraging is allowed for what you want to harvest, and also ask them where they spray herbicides and what species they are managing in that way. Never harvest near train tracks, from contaminated waters, and make sure you know the history of the land you're foraging on – i.e.. avoid Superfund sites and other hazardous sites.
Go to www.IronwoodForagingCo.com to sign up for public workshops or to inquire about private bookings. Find Clemens @MNforager on Instagram, and Ironwood Foraging Co. on Facebook.