Theatre 55 provides stage for elder actors
Posted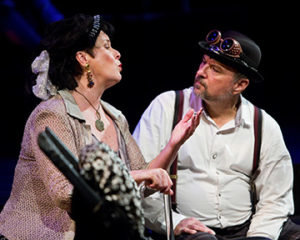 Lola Watson (left) and Brent Berheim (right) anchored the cast of "Pippin," Theatre 55's second production which just closed at Mixed Blood Theatre on the West Bank. (Photo by Margie O'Loughlin)[/caption]
Company enriches lives of people as actors, audience members, and lifelong learners
By MARGIE O'LOUGHLIN
Richard Hitchler spent 20 years managing Stepping Stone Theatre for Youth in St. Paul. When he left that position in 2015, he knew he wanted to start his own theatre company, but the Twin Cities already had so many. What he saw missing, locally and beyond, was an opportunity for people 55+ to take to the stage. Hitchler is now artistic director of the company he founded last year, called Theater 55.
Hitchler said, "I know the ins and outs of running a theatre, and the creation of this one was certainly helped by an 'aha!' moment. I was listening to MPR in my car one day, and heard that it was the 50th anniversary of the Broadway production of 'HAIR.' I was aware that the History Center was also having their 1968 exhibition at that time, and that it was attracting a lot of interest.
"I knew then and there that I going to make Theatre 55 happen, and that it was apropos to launch ourselves with a revival of the musical 'HAIR,'" he said.
Their inaugural production was proudly advertised as "HAIR, by those who lived it," and there's a lot to be said for artists who bring life experience to their performance. Who could interpret the turbulent 1960s better than those came of age then?
"HAIR" sold out performance after performance last winter, and its success encouraged Hitchler to mount a second show.
"Pippin: a Mid-Life Crisis" just finished a run at the Mixed Blood Theatre in Minneapolis. Told by an ensemble of actors, "Pippin" is the story of a prince searching for his purpose in life. The protagonist dabbles in warfare, romance, and politics, only to discover that true happiness is more complicated than it appears.
All levels of experience
Theatre 55 is what Hitchler calls a semi-professional ensemble. The actors bring a mix of experience levels from first-time to seasoned. Staging, choreography, artistic direction, and instrumental musician roles are all filled by professionals.
Hitchler created Theatre 55 to enrich the lives of elders as artists, as audience members, and as lifelong learners.
He said, "There's a natural mentorship that happens between the more experienced actors and those that are cast in their first play. Our auditions are friendly and easy to do. We publicize them through MN Play List, and also at senior centers and care facilities. Every show we do stands alone, and is cast separately. It's important to me that our actors, no matter what their experience level, are paid a stipend made possible through ticket sales."
There is a third production planned for 2020, with auditions scheduled for the first week of December. The name of the show will be released at that time.
Being onstage is empowering
Hitchler is frequently asked what it's like to work with senior citizens after two decades of working with teenagers. He said, "In some ways, it's not that different. Everyone is vulnerable and has a fear of being judged at first, but older actors bring so much life experience and wisdom with them. And every person finds a new, stronger voice when they're on-stage.
"The process of being on-stage is very empowering. "
There are many ways to be involved in the work of Theatre 55 in addition to acting. Hitchler said, "We welcome volunteers in every capacity from helping in the box office, ushering, managing the front of house, assisting with costuming, lighting, and set construction. Whatever your contribution to the production, it's a community building thing."
Learn more at www.theatre55.org.