By JAN WILLMS
At the Sunrise Market that opened about two months ago at 865 Pierce Butler Route in St. Paul, a portrait of Guilio Forti hangs on one wall. In 1910 he left his native Rome and moved to America, up on the Iron Range.
Planning to earn his living as a miner, the nearly fifty-year-old Guilio soon discovered that job would be too difficult for a man of his age. So he returned to what he knew best, baking, and in 1913 opened a bakery in Hibbing, beginning the family business of Sunrise Creative Gourmet Foods.
Each generation has continued and expanded the creation of Italian food, with the Sunrise Market the latest innovation. It is operated by Tom Forti, Jr., the great-grandson of Guilio, and his wife, Emily.
"Friends ask why we opened a retail here," Tom Jr. said. He said the building, which is shared with Oriental Foods, features a commercial industrial kitchen with ovens, coolers and walk-in freezers. There is a room designed for presentations, and the plan is for cooking classes, tastings and chef demonstrations to be held there.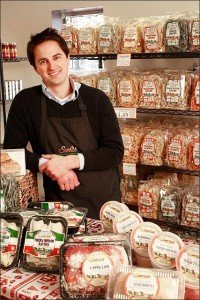 Tom Forti Jr.
[/caption]
"The kitchen was here first, and this is where the opportunity existed," Tom Jr. explained. He is a managing partner with Food Crafters, which will rent out the kitchen to small companies.
"We're hoping to evolve, and add premade sandwiches and cured meats to our store products," Tom Jr. said. Currently, the market offers the pastas and bakery products made in Hibbing. Sunrise also plans to make gluten-free pasta.
It has been a continual path of growth for the family-owned business that started as a bakery in 1913.
Guilio and his wife, Virginia, delivered Vienna and Italian bread by horse-drawn carriage to the mines. Their children assisted with making deliveries and translating recipes from Italian to English.
A son, Vince, expanded the business to include pastries, cakes and ethnic specialties for other Iron Range immigrants. Pasties, meat pies filled with vegetables, and potica, thinly rolled sweet bread with a walnut filling, were added to the product line.
Vince's children continued to work in the business. Son Tom and his wife, Mary, purchased a theater for sale in Hibbing that belonged to singer Bob Dylan's uncles and in 1984 opened Sunrise Deli, which focused on hot foods and imported groceries. They continue to run that operation today, while a cousin and aunt operate the bakery, according to Tom Jr.
"One thing that I remember from growing up is that my parents would be home, and we would eat together as a family every night," he recalled. "My parents would sit around and talk business while we kids would do the cooking and cleanup. I also would help with deliveries for the deli, and I learned how to make everything."
Having worked in the business growing up, Tom Jr. graduated from the University of St. Thomas with a degree in business. He went out to Sun Valley and worked in a brewery, returning to Minnesota in 2004.
"The business drew me back," he said. He worked with his family for a couple years, building accounts on the Iron Range for them to sell their products.
"I moved to Minneapolis in 2006 and worked for some specialty food distributors," Tom Jr. continued. He helped the family wholesale business expand in the last 5-6 years, with products today being sold in 250 grocery stores. Sunrise Creative Gourmet Foods are in stores in Iowa, the Dakotas, Illinois and Nebraska as well as Minnesota.
Tom Jr. said his experience working with food distributors, as well as his presence at Farmers Markets in the Twin Cities for the past several years, has been very helpful.
"Making contacts is a huge part of the business," he said.
Although this has been a rough winter to start up a business, Tom Jr. said he has been very pleased with the reception Sunrise Market has had from the local community, as well as loyal Iron Rangers who stop in.
The store is open 9am-5:30pm Monday through Friday and 10am-3pm on Saturdays.
Besides the pasta, Sunrise Market sells Stromboli, and Philly Rolls. Also for the first time, products only found at the Sunrise Bakery are available in the Twin Cities. Coffee cakes, pastries, specialty breads and Potica are available daily.
Tom Jr. and his wife, who now live in St. Paul with their two children ages 5 and 1, are currently the only employees at Sunrise Market. He said that once they start making gluten-free pasta, they plan to add more staff.
With a glance at his great-grandfather's portrait, Tom Jr. said, "I look up at his picture and wonder what he would think."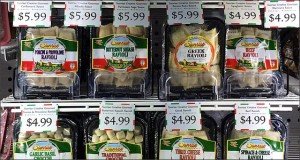 When he started his small bakery in 1913, Guilio may have never thought his family would continue to expand and build on the family business for generations to come.
But it is not that surprising to Tom Jr.
"I was raised in a small family that had good values," he said. "My parents worked very hard, and they still do."
With that work ethic in place, Sunrise Creative Gourmet Foods will likely continue to flourish and grow with each successive generation.