Story and photo by MARGIE O'LOUGHLIN
A different kind of library is opening this fall in the former American Can building, 755 Prior Ave. N. The St. Paul Tool Library will be the first of its kind in the city. The North East Minneapolis Tool Library (NEMTL) opened 15 months ago, and the two will share a common board, tool inventory, and membership base.
The new home for the St. Paul Tool Library was announced at a launch party/fundraiser Aug. 16. The event was held to further the St. Paul Tool Library's crowd funding campaign that runs until Sept. 17. The goal is to raise at least $12910 including a $5,000 community support match grant from the Knight Foundation.
What exactly is a tool library?
A tool library is a space filled with tools that can be checked out and taken home by members for a set period. Like a book library, a tool library gives members the freedom to use the tools they need without having to buy them. A tool library also offers skill-building classes to help members learn to use new tools, and the chance to meet other members working on projects in the shared workshop space.
Power tools, hand tools, automotive tools, and yard tools will all be available when the Tool Library opens. Skill-building classes will include basic electrical wiring, and introductory woodworking projects such as how to build a bee-box, a raised garden bed, or picture frames.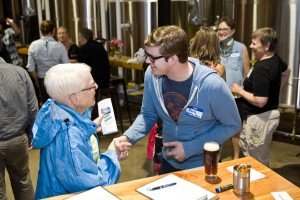 Photo left: Zach Wefel, of the North East Minneapolis Tool Library, greeted a prospective St. Paul Tool Library member at the launch party at Monster Lake Brewing. The Minneapolis and St. Paul tool libraries will be two branches of the same organization, sharing a common board to advise their growth and development.
If the success of the NEMTL is any indication, a lot of people believe in access over ownership when it comes to tools.
Zach Wefel, founder and president of the NEMTL, said, "The response in our neighborhood has been fantastic. We exceeded our membership goal of 250 in the first year, and are on track to exceed our goal of 400 in the second year."
Wefel is an enthusiastic promoter of tool libraries. "My wife and I bought a 115-year-old house when we moved to Minneapolis. There were so many repairs that needed doing, and I would have had to buy a bunch of tools that were only needed for one or two special projects. The idea for a tool library just made sense."
John Bailey has been instrumental in getting the St. Paul Tool Library up and running. A independent consultant by day, he claims to be, "neither a 'tool -head' nor a maker/builder." Bailey said, "Mostly I like to find ways to organize things better. I helped to start the City Car Share in San Francisco in the 1990's.
When creating a shared economy, like car sharing or tool lending, it's a question of using resources efficiently. I see it as a way to practice good environmental stewardship, and I'm also kind of cheap."
The new location for the St. Paul Tool Library is in the heart of the city's Creative Enterprise Zone. The zone stretches from Prior Ave. to Highway 280, and from University Ave. to Energy Park Dr. The Creative Enterprise Zone is successfully attracting and fostering small, artist-owned businesses, capitalizing on a long history of small manufacturing and hard work. The zone's motto is, "We make it here." That motto hits the nail right on the head for the St. Paul Tool Library.
For more information about membership, when the doors will open, or to contribute to the St. Paul Tool Library crowd funding campaign, email StPToolLib@gmail.com, or visit facebook.com/SaintPaulToolLibrary. The crowed funding page can be found at www.ioby.org/project/saint-paul-tool-library.