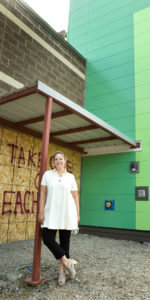 Executive director Laura Zabel stands outside the new headquarters for Springboard for the Arts in Frogtown. A second renovation is in progress, following extensive property damage sustained last month. (Photo by Margie O'Loughlin)[/caption]
Springboard for the Arts is a one-of-a-kind resource for working artists, connecting artists to each other and to the broader community. The organization operated out of their offices in Lowertown, St. Paul for 25 years. In 2018, Springboard purchased and began renovating a used car dealership at 262 University Ave. W. Renovation had progressed far enough for the 16 employees to move into their new building in February.
One month later, when the Governor's Stay-at-Home order was implemented, everybody went home.
Executive Director Laura Zabel said, "We had so much planned for this spring and summer. Everything changed in mid-March when the bottom fell out for the creative community. We switched into high gear and started fundraising fulltime for our Artist Emergency Relief Fund."
That assistance fund has an average annual budget of $10,000. It is meant to provide a small amount of gap funding, should artists lose a revenue stream in an emergency.
This year, Springboard staff raised one million dollars in record time for artists – because there was record need.
Zabel said, "We were able to provide grants for more than 2,000 artists in the early stages of the pandemic. There's no safety net for artists, and people get that. Donations came in from existing donors and foundations, but there was also an outpouring of support from donors we had never heard from before. To me, that shows that people were understanding the role and importance of artists in a new way."
On Thursday, May 28, Zabel watched on security camera footage as the Springboard building was broken into and set on fire. She said, "Two things are true here. First, and most importantly, that George Floyd's murder illuminated the deep racism in our cities and in our systems. At the same time, it was heartbreaking to witness damage to the communities and spaces we care about so much.
"As for our building," Zabel continued, "the good news is that our newly installed sprinklers put out the flames. The bad news is that the building suffered a lot of water damage." If all goes as hoped for, insurance should cover the full costs of repair.
Once the second renovation is complete, Springboard will be a tremendous asset for the community. With its third floor deck view of the Capitol dome, treetops, and neighborhood church spires, it's not hard to imagine that this could have been prime luxury condominiums instead.
Zabel said, "We feel the urgency of holding space for the community in Frogtown right now. The concerns about who is going to acquire property in the burned and damaged parts of the neighborhood will become even more pressing in the months to come."
The building will offer several spaces for artist use including a second floor resource center and lending library. Work is under way to transform the parking lot on University Ave. into a public green space. Zabel said, "We hope it will feel like a neighborhood front yard. That's our priority right now, because of the need for people to be able to safely gather outdoors."
The Artist Emergency Relief Fund has dominated the development work of Springboard since March. Prior to the pandemic, money had been set aside to fund a major public arts project in the neighborhood. Springboard just completed an RFQ (Request for Qualifications) process, and will select artists for these projects later in the fall. The projects will prioritize artists who live in, work in, or have a deep family connection to Frogtown or Rondo.
Zabel concluded, "The multiple crises we've all experienced in the last five months have been very intense. What keeps us going here is seeing the inventiveness, the many ways that art and artists are bringing people together. We were able to support 10 Black artists to make murals in response to the Uprising. All of the murals on our building are still up for viewing.
"We're moving forward at Springboard. Our Community Green Space will be completed this fall, and we're hoping for a grand opening of our building in spring of 2021. I'm an impatient optimist; I believe deep, positive change is possible in our community – but I'm ready for it right now. "
For more information on the work of Springboard for the Arts, RFQs, services, online workshops and their job board, visit www.springboardforthearts.org.