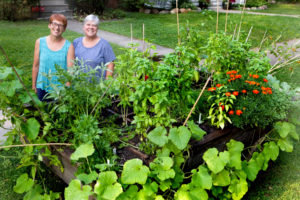 Coleen Gregor (left) and Joan James (right) with one of their signature garden beds. The co-owners of "A Backyard Farm" are dedicated to growing healthy food in the city. (Photo by Margie O'Loughlin)[/caption]
What do Green Zebra, Black Russian, and Amish paste tomatoes have in common? They are all a type of heirloom tomato offered to customers by Joan James and Coleen Gregor, co-owners of "A Backyard Farm."
Spouses Joan and Coleen started their urban farming business 11 years ago, determined to share the experience of farming fresh, high quality organic vegetables with other city dwellers. Their home in Mac-Groveland is filled to bursting with seedlings, especially in March when as many as 4,000 tiny plants are under grow lights in the basement – ready for an early start each planting season.
That jump start is one of the guiding principles behind the success of "A Backyard Farm". Imagine a full-on, food production system in your back yard that is productive from mid-May through the end of October. How is this possible with the relatively small yards most home owners have in the city?
"A Backyard Farm" works from the square foot gardening method, where a different vegetable or herb is planted in every square foot of a 4 x 8 foot bed. That means that 32 different plantings are being rotated throughout the growing season, with early, mid, and late summer harvests.
In their partnership, Joan is responsible for sales and marketing. She does a site evaluation for each prospective client, determining if the site receives at least seven hours of direct sun daily. She said, "You can still grow a garden with less sun than that, but the plants won't produce abundantly like we want them to."
Once a client signs up for the season, they receive a plant list with 75+ different plant varieties to choose from. They also choose whether they want a raised bed that sits on the ground, or one that is elevated on sawhorses for easier access.
Joan explained, "We use cedar to construct all our beds, so they last at least 15 years. We also install everything the customer could possibly need: rabbit fencing, deer fencing, drip irrigation, a trellis on one end of the bed for climbing crops, and specialized soil mixture. All of this is theirs to keep as part of the first year's cost."
Coleen is, by her partner's description, a vegetable savant. She was born and raised on a farm in southern Minnesota, back when farm families grew and preserved the majority of their own food. She still believes in living that way, even in the middle of the city.
Another guiding principle of "A Backyard Farm" is that people should know and trust where their food comes from. Joan said, "There was just another salmonella outbreak on the west coast. Food safety, in my opinion, is not going to get better any time soon. I haven't bought a bag of lettuce from a grocery store in more than four years. We freeze about 75% of what we grow, and can the rest. We have a standing freezer, and eat out of it all winter long."
Joan, Coleen, and their staff of up to 10 farmers coax a formidable harvest out of each backyard garden for their clients. They currently care for backyard gardens across the Twin Cities metro area, regularly working 8-12 hour days to keep up with the planting, mentoring, and maintenance.
Some clients want to learn to garden better. Coleen is available to help them as a garden mentor, meeting once or twice a month. In that situation, the health of the garden is up to the client but Coleen is there to offer guidance. Joan explained, "Using our intensive method, each plant has to be "trained" to stay inside its square. It's a little like having a puppy."
If a client signs up for weekly maintenance (and no mentoring), the health of the garden rests on the farm team. On the regular maintenance schedule, all customers have to do is look for the weekly harvest neatly packed on ice in a cooler outside their door.
Joan said, "There are environmental benefits to the client on several levels. We start all our own plants with organic, non-hybridized seed from Seed Saver's, Johnny's or Baker Creek. We source our compost and worm castings locally. The client's carbon footprint is reduced by not having to drive to buy fresh, organic vegetables."
In a year without a global pandemic, "A Backyard Farm" would be offering classes to many different school and community groups. Joan said, "Our business had grown to the point where about 50% of our income came from teaching, but of course that's all on hold right now. Another big change this year is that clients are more careful about making big purchases. Maybe a new client will invest in one garden bed, when they really wish they were ordering two."
Still, it has been a good season. Joan said, "I have an heirloom tomato on my dining room table right now that must weigh four pounds. It's one of my favorite heirloom varieties, called Brandywine. It's a real beast – kind of misshapen, pink on the inside, just delicious." For more information, email gardens@abackyardfarm.com.