Betsey Giles started knitting last May and creates her double knit scarves and hats on flat or circular looms. Through her business Three Bears Fun Fur, she has been crafting ultra-warm, faux fur hats for years.
Story and photos by MARGIE O'LOUGHLIN
BlackStack Brewing hosted 33 artists during business hours on Oct. 27-28, once again lending support to the community arts movement Prior Affair. The weekend event, called "Meet your Maker," introduced emerging and established artists to shoppers in a friendly, face-to-face exchange.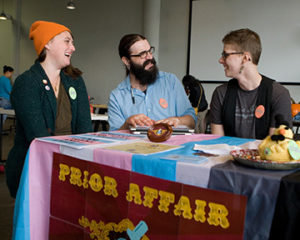 Photo right: Prior Affair organizers (left to right) are Elizabeth McAllister, Skot Rieffer, and Addison.
Prior Affair has been organizing events like this for the past year. Co-founders Skot Rieffer, a sculptor, and Addison, a papermaker/book illustrator, met through theater work, learned they both were practicing visual artists, and decided to collaborate. Prior Affair was born, and they have hosted nine events so far—all at BlackStack Brewing (755 Prior Ave. N.) Painter and textile artist Elizabeth McAllester recently joined them as part of their planning team.
The three will convene a community meeting at 6pm on Sat., Dec. 8 at BlackStack Brewing. Artists and neighbors are invited to discuss where Prior Affair is headed in the New Year in a casual, round-table conversation. One of the items for consideration is whether Prior Affair will move forward in filing for non-profit status in 2019.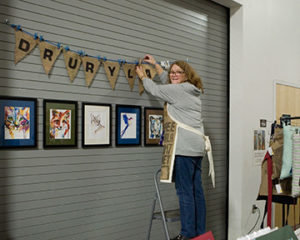 Photo left: Rita Drury of Drury Lane sews pillows and every size of bag imaginable. She uses empty coffee sacks provided by True Stone Coffee Roasters to create globally sourced, one-of-a-kind products that are impeccably well sewn.
Prior Affair organizes two large spring and fall events annually, and smaller, monthly events that present artists and neighborhood businesses before mutual audiences.
Rieffer said, "Addison, Elizabeth and I had all participated in art and craft shows before, but didn't particularly like the way they were organized. My favorite thing about Prior Affair is that we're approachable—artists can come to us and suggest ways to make our events even better."
Photo right: Shoppers responded to clay works by Ollie Schminkey of Sick Kitty Ceramics. They make molds of fingers and teeth, and use them to adorn hand thrown cups and bowls. They said, "Dentists are always interested in my work, but never buy anything because it might scare their patients."
These are some of the neighborhood businesses that have lent support to artists in the form of product donations for events, or contributing space for event hosting: Work It, Celtic Junction, Pura Vida Massage, True Stone Coffee Roasters, Vistabule, Flanneljax, MN Tool Library, Brady Studio, Hamline Midway Coalition, Expertise Fitness, BlackStack Brewing, and the landlords of 755 Prior Ave. N., Rod and Michelle Musson.
Photo left: Painter Kelsey Oseid owns Kelzuki Art and Goods and heard about the Prior Affair event through local "art murmurings." Her medium is gouache, a paint somewhere between watercolor and acrylic.
The next event is scheduled for Sat., Nov. 24, 2-7pm at (of course) BlackStack Brewing. Each of the Prior Affair events is loosely themed, and November's theme is gratitude.
Email prior.affair@gmail.com to inquire about participating as an artist. There is a $25 application fee, negotiable in the case of financial hardship.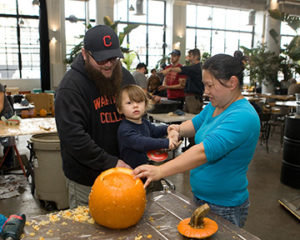 Photo right: MN Tool Library brought in 100+ pumpkins, sold them for $8, and provided tools for people to create Halloween masterpieces. Egg beaters were used to scoop out the insides, which were then brought to the county compost site a few blocks away.