By MARGIE O'LOUGHLIN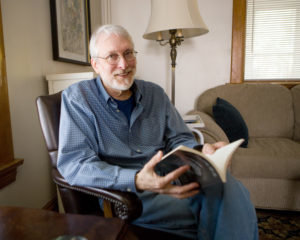 Local poet Jim Bohen (photo right by Margie O'Loughlin) just experienced something that doesn't happen every day. Not only did he publish a poem, but he also published 82 of them in a newly released collection called, "I travel in rusting burned-out sedans."
"I submitted my collection to more than 20 publishers before getting picked up by Unsolicited Press in Portland, OR," he said. "There are a tremendous number of good poems in this world that don't get published."
Bohen has lived in the Merriam Park neighborhood with his wife, Bonnie, for 34 years. They raised two children there, and are now helping care for their 16-month-old granddaughter. At 71, Bohen has been writing poems and songs for more than 50 years. He writes quietly at his desk and prefers longhand on real paper for early drafts.
He doesn't multitask much. If he goes for a walk, he takes a notebook with him and jots down ideas for poems—but he stops walking while he does it. He said, "I do something related to poetry every day, whether it's writing myself or reading other poets."
He held is first book launch event on Nov. 7. His second will be Tues., Nov. 13 (7pm) at Merriam Park Library, 1831 Marshall Ave.
In addition, on Tues., Nov. 27th at Common Good Books (38 Snelling Ave. S.), and on Wed., Nov. 28 at Subtext Books in downtown St. Paul (6 W. 5th St.), Bohen will have a shared reading with local poets Joyce Sutphen, Sharon Chmielarz, and Norita Dittberner-Jax. He said, "I'm so pleased to be reading with these women who, in addition to Michael Bazzett and Ethna McKiernan, are some of my favorite Minnesota poets."
A Minnesotan through and through, Bohen has stayed pretty close to his roots. "I grew up four blocks from where we live now, attended St. Mark's Catholic School, St. Thomas Academy, the University of St. Thomas, and finally the U of M."
He went on to have a long career as a writer, but it didn't always involve poetry. Looking back, he said, "I first got published in my 20's, and that maybe wasn't so good for me. When I was a graduate student at the U of M, the editor of the student newspaper gave me a front-page box in the Arts and Entertainment section. That set up an unreasonable expectation that I would get paid for writing poetry."
As it turned out, poetry soon got put on the back shelf. In different chapters of his life, Bohen would go on to play in a rock band and a folk trio, work as program director for the Irish American Cultural Institute, learn the ropes of book publishing, and finally begin freelance writing in 1993. "Most notably," he said, "I wrote about cars for the Star Tribune and articles for various trade magazines. I didn't love it, but sometimes I got to write stories on things I cared about—like car seat safety for children."
Bohen continued, "A few years ago, a poet friend invited me to join her writing group and I quickly got back into writing poetry. I had lived a lot of life by then, and I realized that it was okay to write about that. When I was young, I thought poetry was supposed to be profound, and grandiose—with high toned language. Suddenly I was writing about ordinary stuff, like preparing for an estate sale after my Mother's death."
By his description, Bohen writes three kinds of free verse (which means no formal rhyming pattern): short, lyrical poems; "prosier," sometimes humorous poems; and more difficult, obscure pieces, ones that sometimes even he doesn't understand.
Laying in for winter
By James Bohen
Tell me a story, any story,
so I have something to pocket,
something to pull out one dark
day, the kind when you clean
out every nook, every place,
then look for more, to find
something – anything –
you can use.
For more information about upcoming events or to schedule a reading, contact Jim Bohen at 651-645-4797 or email him at jamesbohen@yahoo.com.
Copies of the book "I travel in rusting burned-out sedans" will be available for purchase at any of the scheduled events. Discounts are available for book clubs and other large orders.