Surprise - there's Pierce Butler Meadows just before the Snelling Ave. crossing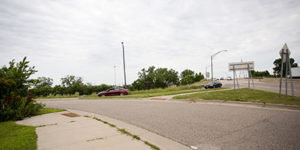 By MARGIE O'LOUGHLIN
The Pierce Butler Route is known as a short cut through the Midway and Central neighborhoods of St. Paul. It runs, usually without congestion, all the way from Prior Ave, to Dale St. The surrounding area is mostly industrial, but just before Pierce Butler Route crosses under Snelling Ave. – there's a surprise.
Pierce Butler Meadows is a small patch of native prairie growing on the southwest corner of that intersection. It starts along Pierce Butler Route as a cattail-lined pool, and gives way to swamp white oak and serviceberry seedlings, interspersed with 1,500 native plants and grasses, rising up the hillside.
Planted in October 2017 by teachers and students from Hamline Elementary, Hamline University, and the Hmong Preparatory Academy, countless Hamline Midway neighbors, and Hamline Midway Coalition staff (HMC), the newly-established Pierce Butler Meadows is in full bloom.
Prairies once stretched across western and southern Minnesota; less than 1% of the Minnesota native prairie remains today.
Prairies are sometimes called upside-down forests because much of the plant and animal life they support is below ground. Many prairie plants have roots five feet deep or more.
Extensive root systems improve the ability of water to infiltrate soil, which reduces runoff. Deep roots decrease erosion by anchoring soil. Prairie plants also store carbon, which keeps the soil healthy.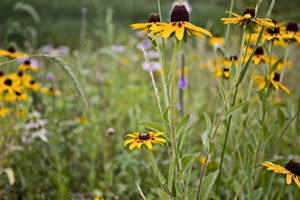 Attend prairie events
With the help of a partnership grant from the Capitol Region Watershed District, HMC is hosting three events called "Pies on the Prairie" at Pierce Butler Meadows this summer. The dates are Aug. 17, Sept. 21, and Oct. 5 from 10 a.m.-noon.
Each of the Saturday programs will offer different activities. Hear neighbors share their expertise about prairie flowers, prairie birds, bee keeping, water use in a prairie eco-system, and more. All ages are welcome, and the zero-waste event promises PIE. There is no cost to attend, and no registration is needed. Attend one or all of the programs.
HMC's Melissa Michener said, "'Pies on the Prairie' is part of our work to build community engagement through clean water education. This is one of the ways we connect with residents, by showing how we can support cleaner water in the Hamline Midway neighborhood."
For their ongoing efforts at the Pierce Butler Meadows, HMC received a Watershed Project Award from the Capitol Region Watershed District. The award recognizes a project that demonstrates excellence in protecting, managing, and improving local water resources within the watershed. The Pierce Butler Meadows came out of more than a decade of community interest in and activism on the site. Without the dedication of HMC's Environment Committee and resident Steve Mitrione, the project would not have happened.
Contact Melissa Michener at Hamline Midway Coalition with questions about "Pies on the Prairie."(Melissa@hmc.org) There will be parking on nearby Taylor Ave., and volunteers to help at the crossing on the west side of Snelling Ave.