Group seeks historic status for church turned school, gathers petition signatures, places lawn signs, and more
By TESHA M. CHRISTENSEN
A neighborhood group has formed to save the historic St. Andrew's Church building.
The future of the former church building built in 1927 is in jeopardy as the Twin Cities German Immersion School (TCGIS) has proposed razing it to construct a larger, 3-story facility in its place.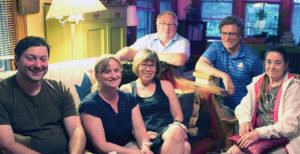 Photo right: Save Historic St. Andrew's (SHSA) group members include (left to right) Anna Mosser, Bonnie Youngquist, Ron Greene, Steve Greenwood, and Teri Alberico. They are concerned about tearing down a beautiful historic building and replacing it with another structure the school might grow out of, as well as traffic, parking and noise issues. (Photo by Tesha M. Christensen)
For years, Warrendale/Como neighbors have sought to resolve concerns about parking, traffic and pedestrian safety near the school through dialogue facilitated by the Land Use Committee of the District 10 Community Council.
"Unfortunately, the proposed expansion plan offers little or no solution to these issues, only particulars that would exacerbate these problems—and elimination of a significant historic structure that has served as a meaningful anchor and visible symbol of stability for nearly a century," said Save Historic St. Andrew's (SHSA) founder Teri Alberico, who has lived in the neighborhood since 1986.
600 sign petition
SHSA is a neighborhood coalition focused on the preservation of the historic and residential character of the Warrendale/Como neighborhood.
"SHSA is working to find solutions that will meet the needs of the school without negatively impacting the surrounding community," explained Alberico.
The group has about 25 members and recently circulated a petition asking that the TCGIS school board hold off on making changes until 2020. (See related story on page 1.)
In all, 600 people signed the petition. SHSA has also distributed hundreds of flyers and placed more than 65 signs on lawns throughout the adjoining neighborhood.
"SHSA believes that language immersion programs are important to child development and genuinely support the programs and the families that make up TCGIS," she added. "However, the proposed expansion has not included sufficient community engagement, adequately addressed impacts on the residential character of the Warrendale/Como neighborhood, or considered the cultural importance of the historic St. Andrew's building and its significance to our surrounding community."
A historic site?
Save Historic St. Andrew's is pursuing a historic designation for the church building, which can be done with or without the cooperation of a landowner.
In a 1983 formal assessment, the Historic Resources Survey, this Romanesque church building was declared "worthy of consideration for the National Register of Historic Places," and listed as a "Site of Major Significance."
The building is described in Larry Millett's American Institute of Architecture Guide to the Twin Cities as, "one of St. Paul's best Period revival churches."
The design of the St. Andrew's building is believed to have been done by a small pool of excellent 1920s architects, according to committee members Anna Mosser and Steve Greenwood who have been delving into historic documents.
A history of the St. Andrew's parish lists Charles Hausler as the church's architect, and an entry in a ledger dated 1927 shows payment of $1,000 to C.A. Hausler. However, city documents do not include a specific architectural attribution. Millett's AIA Guide to the Twin Cities attributes the design to either Frederick Slifer and Frank Abrahamson or John W. Wheeler.
Charles Hausler was St. Paul's first city architect (1914-22) and apprenticed under Clarence Johnston, Harry Wild Jones, and Louis Sullivan.
He designed many libraries, churches, commercial buildings, and homes. Six of Hausler's buildings are now on the National Register of Historic Places. A significant part of Hausler's practice involved churches where he used to experiment with Gothic, Romanesque, and Byzantine Revival styles. One of these, St. Mary's Catholic Church in Hague, ND, built in 1930, is listed on the National Register as part of a historic district.
To get St. Andrew's listed on the National Register of Historic Sites, several studies are needed. The initial one will cost about $1,500, and the more in-depth study an estimated $8-10,000. SHSA is fundraising through Go Fund Me to pay for these studies.
If listed on the National Register, the structure could not be torn down, and improvements and changes would need to be approved ahead of time. Grants would be available for preservation work.
"St. Andrew's is a unique structure that is not like anything else," stated Greenwood, who has lived in the neighborhood since 1983. "I support keeping the building because it's so beautiful and elegant."
He added, "Never, in the 42 years that I have lived in St. Paul, ever witnessed such a divisive project."
School shares block with 11 homes
Committee members range from lifelong St. Andrew's church members to atheists who never attended church there.
Kevin Dahm is a former District 10 board member who still serves on the land use committee. He got involved in the issue after hearing from neighbors concerned about how noise from the playground affected a house 10 feet away. Neighbors have also talked about how difficult it is to park on the street as the school does not have adequate parking for staff and parents, and how dangerous pick-up and drop-off time is on the streets around the school when about 350 cars are coming and going.
"Eighty percent of the kids are driven here and 20% bus," observed local resident Ron Greene, who is concerned about traffic safety.
While schools today typically take up an entire city block, the TCGIS shares the block with 11 houses, according to 25-year neighborhood resident Bonnie Youngquist.
When it was a church school, the student population ranged from 100-300. When the tuition-free, K-8 German Immersion School moved into the neighborhood in 2013, it had 370 students. This year, that number has reached 548, and it is projected to top out at 648.
Alberico pointed out that while school officials have said no attrition has taken place, that isn't entirely accurate. Students have left. But rather than keep the space empty, staff have pulled in a new student to fill the space even in the older grades.
Dahm is concerned about the school's lot size and the number of students on it. "That amount of space seems small to me for that many students," said Dahm.
SHSA has suggested that TCGIS consider partnering with the nearby Central Lutheran School (775 Lexington Pkwy. N.), which faces closure due to a low student enrollment. The school has a gymnasium, which is one of the main reasons TCGIS is considering a new building.
"We're trying to work with the school on solutions," stated Youngquist.
Enough space?
Given the popularity of the German Immersion School and how it's currently turning away students, Dahm isn't sure that the school's current plan will work for the long-term and he thinks the school will once again find itself outgrowing its buildings.
"They could easily grow out of that space and we'll lose a historic building in the process," he pointed out.
Alberico is concerned that the school seems willing to spend $5.7 million on a new facility instead of $1.2 million on maintaining the old building—but it has not addressed the maintenance costs needed later on at that new building.
The cost to demolish the church building, issue debt, and create a contingency fund is estimated by the school to be $2.2 million.
In order to move forward with the tear-down and construction project, TCGIS will need to seek a variance request from the St. Paul City Council. The District 10 Community Council will state its opinion on the request before it goes before the city's zoning board.
"One way to stop this from happening is to deny the various requirements," observed Dahm.
Should residents get a say?
Some people have asked SHSA members why they think they have a say in this school project.
"It's a public school funded by our taxpayer dollars, and I feel that as a resident I have a say," responded Mosser.
GoFundMe
The group has set up a GoFundMe page at www.gofundme.com/savehistoricstandrews. By Monitor press time they had raised $3,775 of their $10,000 goal.