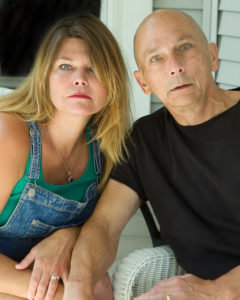 In the last line of Frank Sinatra's classic love song, "My Funny Valentine," Old Blue Eyes sang, "Stay little Valentine, stay, for each day is Valentine's Day."
Hamline Midway residents Jen Maren and Pete Simmons have been together for almost a decade. Valentine's Day came and went this year and not long after, every day became Quarantine Day. People who lived together had to stay together 24/7 – because suddenly there was nowhere else to go.
The two longtime actors watched as their theater work ground to a halt. Maren said, "Like so many other things, the performance industry collapsed under the weight of COVID-19. Pete and I have spent our lives building careers in the theater, and we aren't exactly spring chickens. In early March, I went through a period of grieving. I'm an entertainer; I'm an educator; I try to bring joy to people. I had no idea what to do."
Feeling the effects of the Stay-at-Home Order, Maren and Simmons found their way to doing what they do best. They created a play about being quarantined – and its effects on their marriage.
Simmons said, "The play had a quick gestation. It caused a few birth pangs and some post-partum depression, but it's here."
'Why don't we do something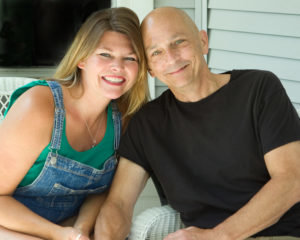 together?'
The early visioning process went something like this. Realizing they couldn't work with any other theater professionals, Maren said, "Why don't we do something together?"
Simmons answered, "No!" and disappeared into a room. Four days later he had written the first draft of the play.
Maren and Simmons are both energetic and clearly have strong independent streaks. Simmons said, "Before the pandemic, we worked for the Science Museum of Minnesota through their Science Live Theatre Program during the day. I was acting in Park Square Theatre's 'Romeo and Juliet,' and would been in their production of 'Holmes and Watson' right now.
"Jen was performing in 'Dixie Swim Club' at the Old Log Theater in March, and would have been performing as Marjorie Congdon Caldwell in the History Theatre's production of 'Glensheen,' followed by a statewide tour of that show."
Simmons said, "We've never spent more than a week together this intensely, and that would have been when we were on vacation."
'We believe there is value in laughter...'
Both agreed that creating "My Funny Quarantine" has given them a renewed sense of purpose. They worked on it for two months and were ready to bring it out into the world when the Uprising exploded.
They didn't know if it made sense to perform a comedy anymore. After some serious conversations, they decided that it did.
Maren said, "We believe there is value in people coming together. We believe there is value in laughter, in taking a break from the hard stuff, so you can come back and continue the fight. In light of our commitment to racial justice, we donated 50% of proceeds from our show until July 31 to Black Lives Matter and the Alabama-based Equal Justice Initiative."
Maren and Simmons premiered "My Funny Quarantine" in their own driveway on June 17. They've since performed it across the Twin Cities metro 18 times. The show is 35-40 minutes long, depending on what kind of improvisation happens. During a recent performance in St. Paul, three neighborhood dogs joined the actors on-stage which made for a slightly longer show.
"My Funny Quarantine" contains five original songs inspired by the work of Richard Rodgers, Irving Kahal, Dolly Parton, Jimmy Buffet and Sara Bareilles, several narrated pantomime stories, and culminates with a dramatic sword fight. There is no bloodshed, and the show is considered appropriate for children ages 5+ (though babies are welcome, too.)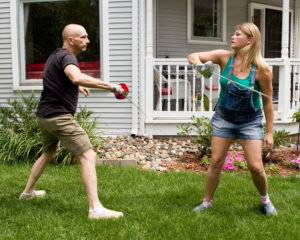 "My Funny Quarantine" brings live theater, original music and swordplay to backyards and alleys across the Twin Cities. (Photo by Margie O'Loughlin)[/caption]
A donation of $5-10 is suggested per person.
Maren said, "It seems like people are really hungry right now for something that isn't on a screen. Watching our play is a chance to be outdoors with other people. You can still have a social experience together, even if you're 6' apart. We prefer the term 'physical distance' to 'social distance'. We've all been through a lot lately, and being catapulted into uncertain times means we need each other more than ever."
To learn more about "My Funny Quarantine," visit www.jenmaren.com/unmasqued. To reserve a show for a group of up to 25 people, email jen@jenmaren.com. Shows can be performed anywhere that has a 10'x20' space for the performers, and room for physical distancing for the audience on a lawn or driveway.