The Virtual Mississippi River Institute blends online and hands-on outdoor learning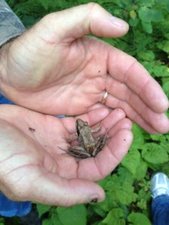 Last February, more than 30 educators from Minnesota and Louisiana were looking forward to a special river journey. They were making plans to come together on the banks of the Mississippi River in the Twin Cities for the 16th annual River Institute, an intensive, highly experiential learning event focused on America's greatest waterway that is offered by Hamline University's Center for Global Environmental Education (CGEE) in St. Paul.
Then the COVID-19 pandemic sent the teachers, along with their peers across America, scrambling for online learning resources and strategies to use for distance instruction. CGEE, drawing on the an extensive multimedia and video archive about the great river, quickly adapted the institute to a breakthrough hybrid format that combines online and hands-on experiences.
"We were uniquely positioned for doing a very quick pivot," said Tracy Fredin, CGEE Executive Director. "We had content and pedagogical expertise, decades of experience in hands-on education as well as distance learning, plus a huge online media library. Out of COVID-19 chaos, we created a new model of professional development that celebrates and educates students about our most important river. And from the results, I'd say this is only the beginning."
CGEE's The Mighty Mississippi (http://electronic-field-trips.wyes.org/), an award-winning public television special about the Mississippi featuring student reporters, gave Institute participants a rich documentary introduction to the river from its headwaters to Gulf. This program was complemented by three of CGEE's modular online multimedia learning programs about the Mississippi and its watershed: the wide-ranging Waters to the Sea® Mississippi River Adventure program (https://waterstothesea.org/mississippi/); Big River Journey Online (https://bigriverjourneyonline.org/), which focuses on the Mississippi River in the Twin Cities region and was developed in collaboration with the National Park Service; and Adopt a Drain Interactive (https://waterstothesea.org/AADInteractive/), which engages citizens and schools in reducing urban water pollution by keeping harmful debris and pollution out of storm drains.
"CGEE is an international leader in creating interactive educational resources that are free for educators everywhere to use, and many of them focus on the Mississippi River," Fredin continued. "We have hours and hours of online activities about multiple subjects in our award-winning Waters to the Sea® programs about North American waterways."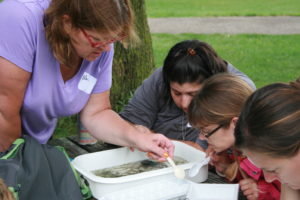 "Learning to use Waters to the Sea® is always an important part of the River Institute," said Robinsdale School of Engineering and Arts Program Coordinator Cara Rieckenberg, who has led CGEE Rivers Institutes for nine years. "But by the end of the school year, everyone was tired of sitting in front of their computers all day. So, we created a virtual institute that used video conferencing for building community, presentations by content experts, and sharing among participants. Exploring CGEE's online learning resources were balanced by several hours of outdoor, hands-on activities each day. This hybrid approach to distance learning really resonated with our 50 participants, who are excited to use the same strategy with their students this fall."
The successful hybrid River Institute program will be offered again this fall with a special focus on the Mississippi Delta region. It will be available to teachers nationwide at no cost.
"I will use the Waters to the Sea website with students - a lot. Our students do a Mississippi River Project each year and web adventure touches on so many great topics. I'm planning to rewrite much of my curriculum in order to incorporate much of this," said Katie Humason, middle school science teacher at Minnehaha Academy.
"Inquiry activities are possible! Connecting students to their actual environment is possible! There are lots of resources available if we're willing to look!" remarked Anwatin Middle School science teacher Laura Kimball.
Educators were inspired by the connections they made with colleagues across the Mississippi's enormous watershed, despite only interacting with each other via video conferencing.
When asked about the top take-aways she left the Institute with, Mill City Museum Education Curriculum Coordinator Wini Froelich said, "Students can handle a lot more depth and scaffolded activities digitally than I thought. CGEE is pretty amazing. The stories of the Mississippi are varied and vast. It is alright to have a narrow focus at one point but make sure to consider it as "One River" as well."
"The collaboration with other teachers in Minnesota and Louisiana on this topic is an eye-opening experience," said a New Orleans Middle School teacher. "As a teacher from Louisiana, I realized there is much more to the Mississippi River… have not learned all about the watersheds and how precious the Mississippi really is from North to the South."
"We're excited about the impact that our new hybrid Institute had on educators," Fredin said, "especially in a time when these skills and resources are more important than ever."
In addition to Waters to the Sea® Mississippi River Adventure (https://waterstothesea.org/mississippi/), CGEE has an extensive archive of interactive, multimedia educational resources available for free online that span the country from Hawaii to Texas to Georgia to Minnesota (https://www.hamline.edu/education/cgee/youth-resources.html).