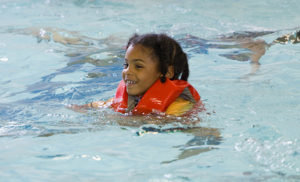 Children enrolled in school-aged childcare at the Midway YMCA enjoy swimming for an hour every day, a huge plus when beaches and pools are closed across the city this summer. (Photos by Margie O'Loughlin)[/caption]
When the pandemic first hit in March, it was clear there was going to be a huge need for child care for essential workers. Midway YMCA executive director David Dominick said, "We thought we were a natural to fill that void. There are several CEOs from hospitals and insurance companies on the YMCA of the Greater Twin Cities board. We knew we could count on getting the best advice for how to structure our childcare program with COVID-19 safety measures. We also worked closely with the Minnesota Department of Health, and the governor's office."
The YMCA fitness facilities at 1761 University Ave. W. closed before the COVID-19 Peacetime Emergency Executive Order went into effect. They quickly evolved into being a community response hub, and were among the first to offer childcare for children of essential workers ages newborn through grade six.
In the beginning, the definition of essential workers was limited to front-line health care workers, firefighters, police officers, and journalists. It would soon expand to include working parents responsible for keeping the city's infrastructure going: grocery store clerks, sanitation workers, mail carriers, and more.
The Midway YMCA has been able to offer childcare Monday-Friday from 6 a.m.-6 p.m. for a nominal fee. There is still room for more children to enroll.
According to Dominick, "Our childcare staff is masked. We meet the kids at the curb in the mornings and bring them out again in the late afternoon to minimize social interactions with parents or caregivers. We try to practice social distancing while giving the kids age-appropriate experiences, so they can have fun together safely."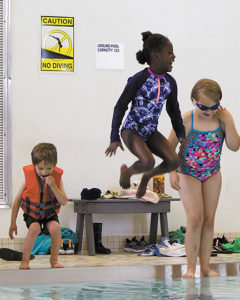 Children enrolled in school-aged childcare at the Midway YMCA enjoy swimming for an hour every day, a huge plus when beaches and pools are closed across the city this summer. (Photos by Margie O'Loughlin)[/caption]
Much more than a pool, gym
When he started as YMCA executive director 17 years ago, Dominick could never have imagined how many hats he would be wearing. He said, "Not long ago, I realized I'd been working 16 days straight without a break. It's been very challenging, but I wouldn't want it any other way. If there's a chance to support our members and our neighbors, I want to be there. We are way more than a swimming pool and a gym."
While some Midway YMCA staff are busy caring for children of essential workers, others are reaching out to older members. The stay-at-home order brought social isolation for many, especially those who live alone.
Joan Schimml, the YMCA's senior communications and marketing director, said, "More than 130,000 wellness checks have been made to 44,000 Forever Well program participants across the metro area. We want members of all ages to feel supported. We have come to see each YMCA as a community response hub, providing multiple critical services."
Since the start of the pandemic, the Midway YMCA has been offering fresh, healthy meals to families in need at no charge. The corporate kitchens of United Health Group are being used to prepare 300 dinners each day, as well as 120 bag lunches for the Midway YMCA. They also make meals for many other YMCA locations across the metro. The local non-profit Loaves & Fishes is in charge of all deliveries.
Dominick said, "After the unrest last month, we really beefed up our essential needs supplies: toilet paper, diapers, baby wipes, feminine hygiene products and canned goods. Many of the YMCAs from throughout the metro area, and even other parts of the state, have brought donations here because our need is great in the Midway. Bix Produce is also donating 250 boxes of fresh produce to us every week."
He continued, "Many of the people who come here for meals and other supplies have never been in a position to ask for this kind of help before. Everyone appreciates not having to supply proof of residency or other kinds of documentation. There have been 60,000 meals distributed here since the pandemic started. We will continue distributing food and other supplies through Labor Day."
In addition to providing childcare for essential workers, wellness checks for older members, and free food for anyone who needs it, the Midway YMCA has recently re-opened on a limited basis as a fitness facility. According to Dominick, the Midway YMCA is operating at about 30% capacity right now. He said, "Many of our members chose to keep their memberships active when we had to close. We'll be issuing statements for the IRS at the end of 2020, making it possible to claim the money spent on memberships during the closure as a charitable donation."
Racial equity and systems change
Lastly, the YMCA has just received a $5,000,000 grant from United Health Group to expand the work of their Equity Innovation Center of Excellence. Located in downtown Minneapolis, their educational experiences provide information and insights to advance racial inclusivity and system change.
Registration is currently open for three free online training sessions being offered in the next month on implicit bias, authentic community engagement, and transforming workplace culture. There are other educational experiences available for a fee as well as customized trainings for organizations.
For more information about the upcoming online sessions, contact equity@ymcamn.org or register at www.ymcamn.org.
Schimml concluded, "At the YMCA, we believe that, in partnership with our communities, we must eliminate racial disparities and injustice. Toward that end, we offer programs that build healthy spirit, mind and body FOR ALL. For nearly 165 years, we've been listening and responding to our communities. We're committed to pressing on with that – now more than ever."