How spray paint and broken glass can beautify a neighborhood
Article and photo by MARGIE O'LOUGHLIN
It's been a long, hot summer of road construction, detours and delays along Snelling Ave. But when the dust clears on Aug. 22, there will be a new street, new lighting, new sidewalks and the beginning of a new era for Snelling—once considered the Main Street of Minnesota.
On Sat., Aug. 29 from 12-6pm, folks will have a chance to gather at Hamline Park (Snelling and Thomas avenues) to celebrate the changing face of the neighborhood at the Midway Arts Festival. There will be live art such as the Poetry Mobile, where you can talk to real, live poets; and Jon Reynold's Street-Corner Letter Press, where you can experience printing done the old-fashioned way. Enjoy the food and culture of African, Vietnamese and Korean businesses in the neighborhood, and leave plenty of time to take a self-guided walking tour of the four new public art works brought to you by Midway Murals—one of the winners of this year's Knight Arts Challenge Grant.
According to Jonathan Oppenheimer, project lead for Midway Murals, "Snelling Ave. is due for its renaissance."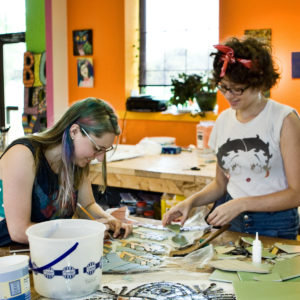 Photo right: Adrienne Sherman (left), Mosaic on a Stick employee, and Julie Dapper, volunteer, are two of the many pairs of hands helping Greene's mural come to life. The ten or so volunteers who have contributed time are all experienced mosaic makers – some putting in as many as 20 hours/week on the project, as it comes down the home stretch.
"The intersection of Snelling and University," Oppenheimer said, "is one of the busiest in the state, and that busy-ness has been a big part of its identity problem. A lot of people have a negative perception of Snelling and University. Our hope with Midway Murals is that people will be intrigued by what they see here. We hope the murals will enliven the neighborhood, inspire people to get out of their cars, and start experiencing all the great things we have to offer."
Oppenheimer ought to know the strength and weaknesses of this neighborhood; he lives only a block away from Snelling and University. As a resident, he couldn't help noticing how many times local businesses were "tagged" by graffiti and had to be repainted. As a public policy student at the Humphrey Institute and an intern at the Council on Crime and Justice, he started to wonder what kind of project could be a catalyst for change—especially during this time of reconstruction.
A series of murals seemed like the most impactful choice. The project set out with three goals in mind:
—to create an artist-led initiative that would engage the local community;
—to build a bridge across cultural divisions; and
—to bring new opportunities for economic growth.
Midway Murals was made possible with a $25,000 Knight Arts Challenge Grant.
Oppenheimer and his creative team were able to raise matching funds through an enthusiastic Indiegogo campaign.
Once the money was in place, Oppenheimer invited four local artists to design and create the project murals. Along with the addresses where their murals can be seen, they are:
—Lori Greene, mosaic artist (555 Snelling);
—Greta McLain, painter and mosaic artist (512-520 Snelling);
—Eric Mattheis, graffiti-style spray painter (638 Snelling); and
—Yoya Negishi, traditional Japanese and American idiom painter (681-89 Snelling).
With the artists on board, Oppenheimer began the process of meeting business owners along Snelling Ave. He walked from door to door over several months explaining how public art can be a powerful medium, and how it can be used to connect with people on the streets. "Placing these murals in our neighborhood will be a way of reclaiming it," he told people, "of demonstrating that this place where we live and work is valued and cared for."
There's nothing small about the dream of Midway Murals, and there's nothing small about their size either. Lori Green, owner of Mosaic on a Stick at the corner of Lafond and Snelling, has been working on her project seven days a week since early July. Once completed, it will measure 50' wide by 10' tall.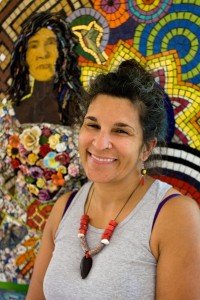 Photo left: Lori Greene, a full-time mosaic artist for 17 years, specializes in public and community art projects. Her bold colors and forms evoke a sense of strength, power and memory.
Greene, who draws her artistic inspiration from the African and Native American cultures she was born into, has been partnering with Ethiopian business owner Hassan Hussein of the Gennale Barber Shop for Midway Murals. Hussein is excited to see the Ethiopian-inspired images Greene has created with her cadre of volunteers that will soon cover the wall on the north side of his business.
Hussein explained that his barber shop is named for the Gennale River in Southern Ethiopia and that, "while many people think of Ethiopia as a desert, it is a place of great beauty." He went on to address the complexity of his birth-country, saying, "In Ethiopia, everybody speaks Amharic—that's our national language. But there are as many as 80 other nationalities within Ethiopia, each with their distinctive language, culture and traditions."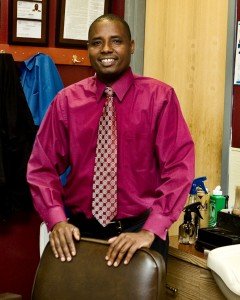 Photo right: Hassan Hussein's Gennale Barber Shop and the African Plaza at 555 Snelling will receive Lori Greene's mural of Ethiopian images. He said of the Midway Murals project, "I like the idea of taking pieces of broken glass, and putting them together to make something beautiful."
The other business owners whose walls will be home to Midway Murals are also Ethiopian, Eritrean or Oromo. As part of the creation of the Little Africa cultural corridor here, the highly visible murals should help business owners market themselves and their neighborhood together, and hopefully serve as a bridge across cultural differences.
Jon Reynolds, project support artist, said, "With Midway Murals, everybody has dared to dream big. In the beginning, in the middle and in the final stages, it's always been about bringing people together."
Despite having met the challenge of the Knight Grant, Midway Murals is still seeking to raise $8,000 to ensure the artists are paid a fair and living wage. Donations can be made online at www.midwaymurals.com, or by sending a check to the Hamline Midway Coalition, with "Midway Murals" written in the memo line.