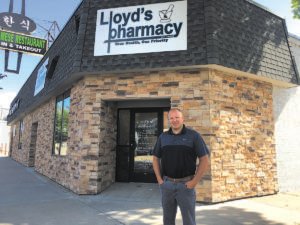 Owner and pharmacist Jim Stage stands in front of the temporary location for Lloyd's Pharmacy at 694 Snelling. (Photos by Tesha M. Christensen)[/caption]
Six weeks after Lloyd's Pharmacy burned to the ground, the longtime Midway business is operating down the block at 694 Snelling Ave.
"This is our home," said owner Jim Stage. "We love being back in the neighborhood."
By the beginning of August, Stage expected to be offering all of their services again, including compounding and vaccinations. They will not be offering COVID-19 testing as that requires more space than they have.
Lloyd's customers are delighted their neighborhood pharmacy is back in the community. It had operated at 720 Snelling Ave. N. for 102 years before burning down on Friday morning, May 29, 2020 during the civil unrest that followed the murder of George Floyd by a police officer in Minneapolis.
"Some are so excited they cry," stated Stage. "It's like a reunion."
Stage pointed out that customers come in regularly to pharmacies, and they have a lot of repeat business as people refill their medications. It is much more convenient to have the pharmacy nearby for residents so they don't have to drive far.
"Thanks again for being back," said one customer as they left the store on July 23.
Stage has spent most of his career at Lloyd's, and he was devastated when the business burned down. His second job out of college was for former Lloyd's owner Ron Johnson at his Rochester location, and Stage transfeRred to Lloyd's in 2011 when a position opened up. In 2014, at age 33, Stage purchased the pharmacy and its building when Johnson retired.
Building had been used for storage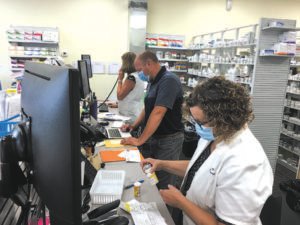 Pharmacist Jim Stage (center) and staff work in the new temporary location for Lloyd's Pharmacy, located down the block from the original site. "When customers come back in, "It's like a reunion," said Stage. (Photo by Tesha M. Christensen)[/caption]
The temporary Lloyd's location is at the corner of Van Buren Ave. and Snelling in 450 square feet that Lloyd's had been using for storage.
To open as the temporary pharmacy, the main level was updated, and a bathroom and breakroom added in the basement.
The renovation work was completed for a July 13 opening date.
During the interim, customers were served at Setzer's, a sister pharmacy owned by Stage that operates independently (1685 Rice St. in Roseville). Lloyd's staff shared the space there.
Thirty-seven employees are back at Lloyd's.
Site to be cleared soon
Down the block at the original site, there was still a pile of rubble surrounded by a fence. Stage had a company lined up in mid-July to clear the site but Ramsey County pushed him to find another. There is asbestos in the old building that is complicating the clean-up and adding another layer of regulation.
Once the site is cleared, Stage is ready to start rebuilding. He hopes to begin yet this summer.
The new building will sit on the same footprint as the historical one. In fact, it will look the same both inside and out, said Stage. The new building will be two stories with a basement. This time around, there will be a full basement under the whole structure.
According to Stage, there is a gap between the replacement cost the insurance company is paying and the cost of building new. The GoFundMe campaign that has raised $113,325 so far will help cover the difference.
The planning process has been made easier as Stage is using the same architect and builder who did the renovation and addition a few years ago. Dennis Batty and Associates along with Joe Beitler Construction's familiarity with Lloyd's made the process move quickly.
"We can't wait to get that building set up for the community," said Stage. "I'm excited to get it built."
Menopause Center opens at temporary location near Setzer's in Little Canada
On Aug. 1, the Menopause Center of Minnesota opened at a temporary location near Setzer's Pharmacy, at 80 County Road C West, Suite 802, in Little Canada. The phone number remains 651-698-0891. The center lost its building to fire with Lloyd's Pharmacy on May 29.
The Menopause Center is offering telemedicine visits because of COVID-19, and will continue with them until the federal government lifts that allowance, according to Advanced Practice Registered Nurse/Certified Nurse Midwife Catherine Mascari.
Since March, the Menopause Center's two staff have been working from home, processing refills, answering phone calls Monday to Friday from 9 a.m. to 5 p.m., and holding telemedicine appointments Tuesday to Friday from 9 am. to 5 p.m.
"The initial plan seemingly is to move quickly on rebuilding Lloyds Pharmacy and our practice will once more share space in the same building," said Mascari.
The Menopause Center of Minnesota will be expanding services with the ability to order screening for labs, bone scans and mammograms and will add well-women care. "We are working with a credentialing and billing/coding specialist to facilitate contracts with additional insurance companies to grant access and decrease barriers to the expert care the Menopause Center provides to women age 35 and older experiencing hormonal changes," said Mascari. "As one client said: No one has the leverage in the quality care, time and resources you provide."