By MARGIE O'LOUGHLIN
Ellen Keane and Cathy Wind have co-directed the Keane Sense of Rhythm dance studio and company for 22 years. They recently won a $5,000 grant from the UCare Foundation to expand the curriculum of their wildly successful Tappy Hour, which is offered free of charge at Can-Can Wonderland every Friday from 4-6pm. During Tappy Hour, anyone can borrow a pair of tap shoes and take to the dance floor for free tap dance lessons.
The focus of the UCare Foundation grant is health equity—with the goal of addressing wellness, lifestyle, and health improvement. In this case, Keane will use the grant to continue broadening the Tappy Hour mission of getting people to tap who wouldn't normally come to a dance studio. The expanded curriculum will be developed into a series of classes and offered through St. Paul Community Education later this year.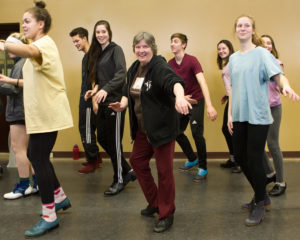 Photo right: Ellen Keane (center) led the advanced class through a tap routine at the Keane Sense of Rhythm Dance Studio. (Photo by Margie O'Loughlin)
How does tap dance improve health? "It integrates new neuropathways in the brain," Keane said, "and helps people improve or maintain balance. It's an aerobic way of moving; it requires strength and coordination."
There will be two beginning classes offered at Central High School in the summer, and one beginning and one advanced beginning class in the fall.
Keane continued, "I want more people to have access to this way of expressing themselves, and to be able to socialize while improving their health."
Tappy Hour attracts dozens of new and returning tappers every week. Both there and in her studio classes, Keane said, "I work hard at finding music that people instinctively want to move to. My roots are in jazz, but I've got a great collection of funk, country swing, and lots of old rock and Motown, as well as music from around the world."
In another community initiative, Keane Sense of Rhythm has developed a comprehensive school program incorporating tap dance to enrich students' after-school experiences. Their outreach in the St. Paul public schools introduces students to a new form of art. They've worked with over 2,000 students since the program began in 2008, and have expanded to six schools with Title I designation (a high percentage of low-income students).
Keane noted, "The improvisational and collaborative nature of tap dance and culture allow us to teach problem-solving skills, respect for diversity of voices and talents, how to accept leadership roles, and how to share knowledge by kids teaching peers."
Keane Sense of Rhythm will be hosting their annual National Tap Dance Day Festival at Como Park Pavilion on Sun., May 19 from 1-3pm. The festival showcases percussive dance styles including African traditional, Irish step, Hollywood swing, and contemporary rap. The event is free and usually draws a full capacity crowd. "It's a big deal for the kids," Keane said. "Principals, teachers, and parents come to see our students from the studio and the after-school programs. There will be tappers of all ages and abilities performing, and dancers from other studios and affinity groups besides ours."
Keane Sense of Rhythm is located at the Celtic Junction, 836 Prior Ave. Check the website at www.tapcompany.org for class times, or talk with Ellen Keane on Fridays between 4-6pm at the weekly Tappy Hour class at Can Can Wonderland, 755 Prior Ave. N. Kids are welcome too.