Local woman, Olga Zoltai, recognized for life-long achievement and contributions to helping immigrants flourish
By MARGIE O'LOUGHLIN
International Women's Day was celebrated in the Hamline-Midway neighborhood on Mar. 13. The International Institute of Minnesota (IIMN) hosted their second annual afternoon tea celebrating the achievements of women worldwide and in Minnesota. The event was sold out.
The global theme this year was parity, or equality, especially as it pertains to social status and income. The World Economic Forum has estimated that at its current pace, parity for women won't be fully realized until 2133. That's 117 years, or nearly four generations away.
Close to home, the International Institute of Minnesota (IIMN) is helping women and men achieve self-sufficiency and full participation in the community every day. Located at 1694 Como Ave., staff and volunteers there help refugees, immigrants and political asylees discover not only a new home—but a new future.
Jane Garner-Pringle, admissions and client services manager for the Nursing Assistant Program, explained, "We offer several career pathways at IIMN. The Nursing Assistant Program is just one of them. A tuition-free course of either eight or 11 weeks duration, it can be a final destination or a springboard to further advancement in a medical career for new Americans."
"In addition to technical training," Garner-Pringle said, "students receive English language classes, coaching around American workplace culture, community resources, and if needed, mental health support."
The Nursing Assistant Program is open to anyone, but, according to Garner-Pringle, "We serve many more women than men."
A graduate of the program, Samerawit Gebremariyam, was a featured speaker at the event. A native of Ethiopia, she in now working toward completion of her LPN degree. While juggling work and school responsibilities, she also cares for her family which includes three children ranging from 13 months through college age.
"When I started in the Nursing Assistant Program," Gebremariyam said, "all of us were from different countries and different cultures, but we understood each other. I would not have gotten the education that I have without the support of the other students, the staff and the volunteers at IIMN."
Hamline-Midway resident Olga Zoltai, creator of the Nursing Assistant Program and many other IIMN initiatives, was the guest of honor at the International Women's Day Tea. Zoltai worked at the IIMN from 1971 until 1993. Upon her retirement, the Minneapolis Star Tribune dubbed her the local "Patron Saint of Immigrants" in a front page tribute to her career.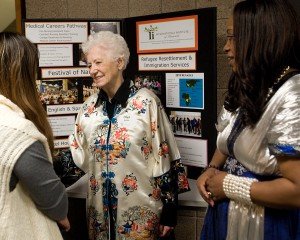 Photo left: Olga Zoltai (center) greeted well-wishers at the International Institute's annual tea celebrating the accomplishments of women. She received the first-ever Olga Zoltai award, which will be given out each year. The award honored Zoltai's extraordinary contributions to helping new Americans flourish. Samerawit Gebremariyam, a featured program speaker, is pictured at right. (Photo by Margie O'Loughlin)
The IIMN has created an award to be given each year at this event, called the Olga Zoltai Award. Its purpose is to acknowledge outstanding service within the community to new Americans. It was fitting that they decided to give this first year's award to Zoltai herself, in honor of her extraordinary contributions to helping new Americans flourish.
Born in Sopron, Hungary, Zoltai learned the struggles of being a refugee early-on. In 1944, Hungary was invaded by advancing Russian troops at the close of WW II. With bombs falling from the sky, Zoltai, then 14 years of age, and her family fled on foot to safety in Austria.
The family was eventually able to emigrate to North America. They were accepted in Alberta, Canada, but had to sign an indentured service contract for two years. "My two brothers, mother, father and I hoed sugar beets from sun-up until sun-down every day to repay the Canadian government for our resettlement fees, but we were grateful," Zoltai said.
Olga (then Wagner) married a fellow Hungarian, Tibor Zoltai, and relocated to Boston, where her husband pursued his Ph.D. in mineralogy. When he was offered a position at the University of Minnesota some years later, they moved to Roseville.
Zoltai began her 22-year career at IIMN following the birth of their third child. She started as a social worker, and eventually became Director of Refugee Services and Resettlement.
Sam Myers, an immigration lawyer and a former colleague of Zoltai's, said, "She was tireless in her advocacy and innovation on behalf of new Americans: a sweet bulldozer of a human being."
As already mentioned, Zoltai created the Nursing Assistant Program in 1991. The program has graduated more than 3,000 students who earn a sustainable, living wage.
Zoltai was the first to advocate hiring bilingual case managers at the IIMN, something which is now considered essential practice throughout the state and beyond.
In partnership with Myers, she created the immigration law clinic between William Mitchell College of Law and the IIMN, which ran for several years. Because of her pioneering efforts, Zoltai received the "Immigrants of Distinction Award" from the American Immigration Lawyers' Association in 2012.
Of Zoltai's many legacies, Myers lingered over one he affectionately called, "The Olga Case." He explained that "the situations of immigrants and refugees are often heart wrenching and difficult to solve. Olga became known for tackling the toughest cases. She would look for, and find, loopholes in the law, and convince government officials to bend the rules when humanitarian needs were at stake. She would always argue politely, and invariably she would win. To this day, when we hear a nearly impossible story at the legal clinic, we refer to it as an 'Olga Case.'"
To learn more about the broad spectrum of services provided by the International Institute of Minnesota, go to www.iimn.org. To donate to the ongoing work of International Women's Day, make a "Pledge for Parity" at www.internationalwomensday.com.