LEARNING TO GIVE BACK
The Friendship Club was started by Gary and Jean Ales over 50 years ago. Gary and Jean both graduated from Central High School. Now a new Central Sophomore student Satya Mamdani from Central and her sister Rosanna decided to be a big part of the Friendship Club by giving out Roses to the community.
For the past four years, Joseph Lallier, a junior at Eagan High School, organized with Eagan Sam's Club to collect roses not sold on Valentine Day and give out to the community.
Satya and Rosanna Mamdani wanted to get involved in bring a little smile to people in their community. They asked if they could pass out roses at the Midway YMCA.
After they pass out roses at the Midway YMCA, the group went on to reach out to about 1,000 people by delivering them to 11 Senior Centers, police, fire and five schools.
People receiving a rose from either Satya or Rosanna could not believe that these girl took the time to give back to their community in this very special way of kindness.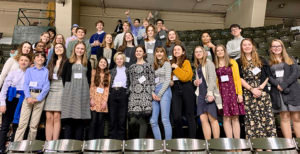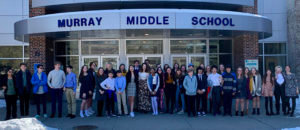 Murray Middle School students at state science fair
Murray students get ready to board the bus to the Minnesota State Fair's Rose & Lee Warner Coliseum where the Twin Cities Regional Science Fair was held Feb. 28, 2020. The State Science Fair will be held at Benilde - St. Margaret's School, St. Louis Park March 26-28, 2020. Chittra Xiong (Senior) has submitted a research paper, "Formation of Nanopores in a Polymer Monolith Through Cleavage of Bulky Side-Groups" and qualified for the Junior Science and Humanities Symposia (JSHS) Program. (Photo submitted)
Database of mass shooters released for public use
The Violence Project, a nonpartisan think tank has released the largest, most comprehensive database of mass shooters in the United States.
This new database, funded by the National Institute of Justice, the research arm of the U.S. Department of Justice, was developed by professors Jillian Peterson and James Densley and a team of students at Hamline University in St. Paul, Minn. It includes 171 mass shooters from 1966 to 2019, each coded on 100 pieces of life history information. The entire database is downloadable for free at www.theviolenceproject.org.
"Mass shootings are a complex issue, requiring multiple avenues of prevention," says Dr. Jillian Peterson, "The goal of this project is to ground our public policy discussions in data and develop evidence-based policies to prevent these tragedies."
The mass shooters in the database each shot and killed four or more people in a public space, including schools and houses of worship. They are 98% male and 52% white, with an average age of 34.
Most mass shooters were in crisis prior to the shooting and suicidal, and almost half of them leaked their plans in advance. 62% of mass shooters had a criminal record and 57% had a violent history. 70% of mass shooters knew at least some of their victims.
This database is the first to look closely at the mental health histories of mass shooters. Among the 171 mass shooters, two-thirds had a mental health diagnosis or presented mental health concerns. This is only slightly higher than the 50% of people in the general population who will meet the criteria for a mental illness in their lifetime. However, a mental health diagnosis does not mean that the actions of mass shooters are directly motivated by their symptoms. The database shows that 16% of mass shootings are at least partly motivated by psychosis – which is less than the percentage of shootings motivated by domestic issues, employment changes, interpersonal issues, and hate.
This is also the first database to look closely at how many shooters obtained their guns. The majority of mass shooters use handguns (77%) and 25% used assault rifles. Of the known data, 77% of shooters purchased at least some of their guns legally, 13% made illegal purchases, and 19% stole guns.
"Mass shootings have increased in recent years, both in the number of incidents and the number of people killed", Dr. James Densley explained. "Mass shootings are rare but routine events. We now have the data to understand that routine and disrupt it before it's too late."
Get to know local organizations
Hamline Midway Elders
By Laurel
Collins
laurel@HMelders.org
651-209-6542
Monthly Luncheons – Second Tuesday of each month, 11:30 a.m–1p.m., at Hamline Church United Methodist (1514 Englewood Ave.). Chef Erik Hendrickson will prepare a wonderful meal, blood pressure checks will be provided, and new attendees are always welcome at our "Second Tuesday" luncheon events. Suggested donation $7.
• April 14 – Panel of area organizations: Animal Humane Society, NeighborWorks, Veterans Services, Handi Medical
Jody's Documentary Film Series: March 25, 1 p.m. at Hamline Midway Library. Check website for film description (www.hmelders.org/events.html).
Cards & Games: Feb. 11, 1-3 p.m. (after luncheon), Hamline Church United Methodist.
Tai Chi for Health with Bruce Tyler: Mondays, March 30 – May 11, 11 a.m.–noon, Hamline Church United Methodist. Students will practice an easy-to-learn set of Tai Chi movements that can be done both seated and standing. This gentle, flowing exercise fosters mind-body connection and coordination; build strength and flexibility; improves balance and cultivates mental clarity, awareness and calm.
Gentle Exercise Class Series: Tuesdays and Thursdays, 1:30– 2:30 p.m., March 19 – May 7, Hamline Church United Methodist. Joni leads this arthritis-friendly exercise class for older adults, utilizing her unique Irish sense of humor to create a welcoming and motivating atmosphere. New attendees are always welcome.
Knitting & Crochet Group: Mondays from 1 to 3 p.m. (ongoing) at Hamline Church United Methodist. Hamline Midway Elders provides the yarn and needles, tea and cookies.