Peace bubbles
By Melvin Giles
peacebubbles@q.com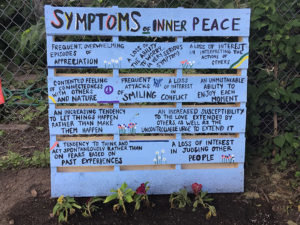 Hello Greater Hamline/Midway Community,
Like many I started this year with a New Year's Resolution. My resolution has been very challenging due to not seeing the results. In fact, it seems I have been seeing the exact opposite results. My resolution was to take a minute every day to thoughtfully say the Universal Peace Message of May Peace Be In Our Homes & Communities and May Peace Prevail On Earth with a focus on May Peace Be In Our Local Communities and to encourage others to do the same. It is documented that if 1% of neighbors collectively repeat a peace message daily then that neighborhood will begin to see increase peace and if a critical mass of 10% are participating in the daily peace message then less crime and senseless acts of violence will occur.
Although, COVID-19, the senseless murder of George Floyd, the record number of homicides, the continual questionable police accountability in our country, and the dysfunctional national leadership has been very discouraging and simply unbelievable; I am still hopeful and inspired to encourage myself and others to believe and take action towards working and making Good & Necessary Trouble for increasing the peace in our communities.
My former student and now summer garden intern, Ashley Davis, recently reminded me that peace must first start within ouselves. I am including a photo of an assignment she completed this summer. Her creative work of art will be traveling to the Urban Farm & Garden Alliance (UFGA) community garden sites for the remainder of the growing season (http://urbanfarmandgardenalliance.org/). I will start using her expressions for food for thought, in particularly, I will meditate greatly on "the tendency to think and act spontaneously rather than on fears based on past experiences" and "a loss of interest in judging other people."
My hopefulness is also from the wonderful and pro-active energy of our young people. I and others of my generation are so proud of the young rising-up to take positive and peaceful action of bending the arc of justice forward and assisting everyone, particularly the powers in civic positions to get out of denial of systematic and institutional racism. I love that the young and others are embracing and coming to terms that truly Black Lives Matter!!!!
I close with an opportunity for our youth to participate in promoting May Peace Be In Our Communities; however, this is a simply action that we all can participate in our own way. Have a great August and be the change you want to see. Peaceful, wellness, and grateful thoughts….
A Call for the Voices of our Youth
Peace Pals International has been invited by our friend Philip Hellmich of The Shift Network to submit videos for this year's International Day of Peace
This year the Shift Network will be partnering with UnityEarth and the SINE Network. Peace Pals International Youth have been invited to share a 2-3 minute video message saying:
"Hello from __ _ _ _ _ _ I'm _ _ _ _ _ _ _ And I am celebrating the International Day of Peace 2020.
My message of peace is _ _ _ _ _ _ _ _ " Please close your video with "May Peace Prevail on Earth" OR "May Peace be in (the name of your country) - May Peace Prevail On Earth."
It would be great if you can have anything in the background that is representative of where you live.
How to submit your videos
If you would like to participate in this project, it's easy. The next steps are:
1. You can use your phone, zoom or any other video method that is easy for you.
2. Please submit your peace message by Aug. 17, 2020 to peacepals@worldpeace.org
3. In the subject line, please state the country where you live and Video for Peace.
4. Also, please share your video on social media #internationaldayofpeace - #unitetheworld and #maypeaceprevailonearth.
This is a beautiful way to celebrate The International Day of Peace for 2020 (Sept. 21) and to help uplift our global community.
If you have any questions, please feel free to send me an email at: peacepals@worldpeace.org.
May Peace Prevail Be In Rondo, Frogtown, & Hamline/Midway Communities
May Peace Be In Our Homes & Communities
May Peace Prevail On Earth (MPPOE!)