By JAN WILLMS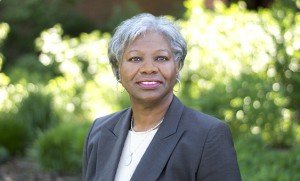 During some of the protests this past year after the shootings of black men in the community, Dr. Fayneese  Miller (photo right), president of Hamline University, was an eyewitness observer.
"I live on Summit Ave., across from the governor's mansion, and I started talking to the protestors," Miller said. "They were carrying signs that said 'Justice Now.' I said 'You know there will be no indictment of a police officer today. If you want justice right now, what would it look like? What kinds of things could you bring to the table and propose to have a more just community?'"
Those questions led her to form an idea of having community conversations around the topic "What Would Justice Look Like?"
"I talked with Eric Jolly of the St. Paul Foundation and said I wanted to bring people together to have a statewide conversation about race and do it freely and in a variety of places and ways," Miller said. And so with funding from the St. Paul Foundation, plans began to formulate for talking about "What Would Justice Look Like?"
Miller said it is a topic that we as a state and nation have not addressed for a long time. "The last time was when President Bill Clinton convened for us to come to Washington, DC, to talk about it, and there were some results," she said. "The Civil Rights Commission came out of that."
She searched for what role Hamline University could play. "As a higher education institution, we need to engage and be part of us moving forward," she explained. "Higher education should be at the center of a conversation like this. But we need more than a conversation. We need to determine what we should be doing and what outcomes we want to see."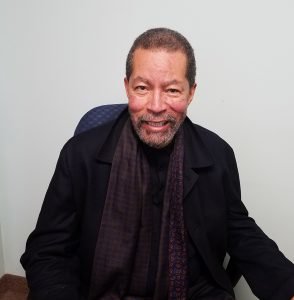 And this is the point where Miller enlisted the help of The Circle of Peace Movement (TCOPM) to facilitate these conversations. TCOPM has grown from an effort begun in 2010 by Russel Balenger (photo left) and his wife, Sarah, to organize a community response to growing violence.
"We started out as a small community conversation with gang-related families," Balenger said. "Our mission is to stop the violence and promote racial healing." But as the circles of conversation grew and branched out, Balenger attempted to pull in voices from many different communities, races, ethnicities and religions. "We want to try and hear each other and therefore create more understanding," he said.
TCOPM recently celebrated its 300th circle, and there have been over 5,000 participants. Balenger said the group has grown from just working with gang-related families to wanting to change the relationship with police and the courts and the prosecutors and corrections in general. Balenger's prior experience has involved a lot of work with correction activities. "Right now, Circle facilitates conversations in a restorative fashion," he said, 'but we have other things going on."
TCOPM operates out of Unity-Unitarian Church at 732 Holly. A recent project has focused on putting individuals in a co-pilot's seat of an airplane and letting them pull back on the controls, with a pilot beside them. Balenger said the first to participate in this project was a homeless young man who has now received a scholarship to start pilot school. He has an apartment and a new car, rather than the beat-up old vehicle he had been sleeping in. "It's been amazing watching his life change," Balenger said.
TCOPM has also brought together groups of police and community residents, going as a group to theater and movies, and the DC opening of the African American Museum of History and Culture and the 50th anniversary of the Selma march. The organization has brought in people from Egypt, Palestine and Macedonia and 25 African leaders who are Mandela Fellows. "It's been big learning for all of us," Balenger claimed.
He described the changing relationship between a police officer and a young man who had been in Totem Town, a juvenile lockup. "The young man told the police officer he did not like him and he did not trust him," Balenger explained. "The officer told his story and was open-minded. He said he understood the young man's feelings." Six years later, the two met up again when TCOPM went to the museum visit in Washington, DC.
"Following that trip, the young man, who is now at the University of Minnesota, texted the police officer, who is now a deputy chief. He told him how much he enjoyed their time together in Washington, and he wanted him to have a safe day on his job," Balenger related. "I think it's all about relationships, and it makes a difference. We always say if you know somebody's story, you don't have to be afraid of them."
Balenger said it was explained to him that Miller heard about the work of TCOPM and wanted the group to come and help facilitate the conversation on justice at Hamline.
"We want everyone to listen to everyone, and everyone to have a chance to be heard," Balenger said. The first conversation is planned for Mar. 15, with others to follow in April and May. "We're going to have four or five circles of 20 to 25 people per circle on each night," he said. The conversations will be open to the community and include a cross-section of people from the neighborhood, the college, social services, law enforcement, and corrections. There will be representatives from the Asian, Latino, Muslim, and Native American communities.
"We have a talking piece for the conversations, and the first rule is that you have to have the talking piece to be able to speak. Another guideline we have is that everyone is equal, so you have the right to say whatever it is you need to say."
Balenger said he believes the conversation about "What Would Justice Look Like?" is an ongoing conversation, and now is a perfect time to get it started. "Everyone will have a little different slant on what justice looks like," he said. "If nothing else, this will ignite a fire that will keep people talking. We're thinking of doing this on three different nights, but I feel this conversation needs to happen every month or every week. People will filter in and filter out, and they'll take these stories with them."'
According to Balenger, the exchange of ideas is not always easy. "When we first came together as the community and the police, it wasn't all warm and fuzzy," he admitted. He said everyone comes with expectations and with their viewpoint of what a group of people represents because of the actions of one person. "But as individuals begin to share experiences, things get softened up on both sides."
Balenger said he thinks "What Would Justice Look Like?" is a fascinating idea for Hamline to come up with. "We are hopeful other schools will do the same thing. I think it's important for young people to know these discussions are going on and become a part of them," he said.
For her part, Miller said she believes higher education is for the public good. "We have to be willing to address those issues that concern and impact the public and not just our campus."
Miller said she is very excited about the upcoming conversations. "One of the things that higher education leaders have to do is to be willing to lead," she explained. "Sometimes everyone doesn't like the direction a leader goes, but if it is helpful or of benefit to the community, they must go that way."
"Hamline is not an island unto itself. We need to address issues that are critical to our country and our state, as well as our community," she continued. "These issues won't go away."
"What Would Justice Look Like?" will be held from 5:30-9pm on Wed., Mar. 15, at Klas Center, 1535 Taylor Ave. Besides Hamline University and The Circle of Peace Movement, other partnering organizations are Minneapolis NAACP, Minnesota Women's Consortium, St. Paul Police Department, St. Paul Public Schools and Ujamma Place. To register for the event, visit: hamline.edu/center-justice-law/community-dialogue.