By CARRIE POMEROY
Need a cozy place to hang out, take a breath, and connect with your neighbors as the fall turns toward winter? Stop in at the Hamline Midway Library, 1558 W. Minnehaha Ave., this November and December to enjoy great programs and Internet access and get access to portable Wifi hotspots, books, CDs, DVDs and more, all free with your library card.
Programs for families and kids
Preschool Storytimes in English happen Fridays, 10:30-11am, with upcoming events on Nov. 9, 16, and 23 and Dec. 7. Storytimes feature stories, songs, puppets, and more. They're a great way for caregivers to bond with children and build social skills, listening comprehension, and letter and number recognition while creating a solid foundation for lifelong learning. Children of all activity levels are welcome!
Evening Storytimes in English are happening Tuesdays from 6-6:30pm starting on Nov. 27 and continuing Dec. 4 and 11.
Sat., Nov. 10, from 1:30-3pm, the Science Saturday series of STEAM (Science, Technology, Engineering, Art, and Math) activities for school-age children and their families will feature the theme "Simple Machines." Learn about wheels, axles, levers, and other simple machines and make clothespin race cars. The theme of the Dec. 8 Science Saturday, also from 1:30-3pm, is Spinning.
The Show and Tell Book Club for grades 1-4 meets on Sat., Nov.17, 1:30-2:15pm, to share books and do fun literacy activities together.
On Fri., Nov. 23, 11am-5pm, kids from preschoolers to teens and their families are invited to skip the mall and the lines at the local big box store and spend a relaxing Black Friday making creative gifts at the library.
WCCO Meteorologist Mike Lynch brings his popular Star Party program to the library on Thur., Nov. 15, 6:30-8pm. Marvel at the moon, constellations, planets, galaxies, and more in this event for all ages. The program will begin with a presentation inside followed by a chance to view the wonders of the night skies through telescopes. Dress for the weather!
For adults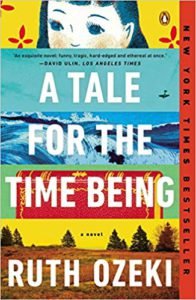 The Novels at Night Book Club meets on Thurs., Nov. 29, 6:30-7:30pm. This book club is aimed at adult fiction enthusiasts who will discuss Ruth Ozeki's "A Tale for the Time Being." (Photo left: Internet photo capture) The novel is about a Nao, a Japanese schoolgirl who intends to write in her diary the life story of her great-grandmother Jiko, a Zen Buddhist nun. She ends up writing her own life story, and the diary eventually washes up on the shore of Canada's Vancouver Island, where Ruth, a novelist, finds it and begins to unravel its mysteries.
On Wed., Nov. 28, 1-3pm, Jody's Documentary Film Series will show the film "93Queen" by filmmakers Paula Eiselt. This documentary tells the story of a small group of Hasidic women from the patriarchal Hasidic enclave of Brooklyn. They're determined to go against everyone and everything to create the first all-female volunteer ambulance corps in New York City. Watch the film, enjoy snacks, and stay for the discussion afterward facilitated by Jody. This is a collaboration of the award-winning PBS POV series, the Hamline Midway Library, the Hamline Midway Coalition, and the Hamline Midway Elders.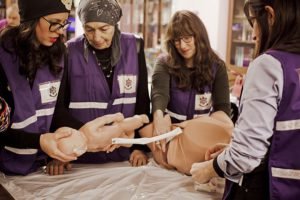 Photo right: A still from the documentary "93Queen" showing at the library Wed., Nov. 28, 1-3pm, during Jody's Documentary Film Series. (Photo by Nina Weinberg Doran)
The Saints and Sinners Mystery Book Club meets on Sat., Dec. 1, 1-2pm, to discuss good mystery novels. Contact volunteer G. Balter for book list or more information at gerribalter@gmail.com or 651-224-5570.
Chair Yoga with Nancy Giguere of the Hamline Midway Elders Association returns on Thur., Nov. 8, 10:30-11:30am and continues on Nov. 15 and 29 and Dec. 6 and 13. All movement is done while seated or standing using a chair for balance.
On Thur., Dec. 6, 7-8:30pm, the library presents "Writing Immigration: Past, Present, and Future" with Twin Cities novelists Peter Geye, John Reimringer, and Dan Darling with Anta Thosaengsiri and Iya Xiong, two writers from the anthology "Green Card Voices: Immigration Stories from a St. Paul High School." The event will feature a reading and discussion of the role of immigration in writers' work and lives. This program is a collaboration of the St. Paul Public Library and the Friends of the St. Paul Public Library.