By JESSICA KOPP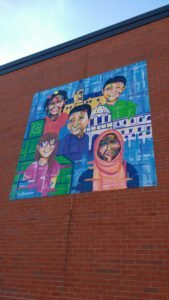 A big thanks to Midway Public Art Working Group for helping Hamline Elementary become the home of the latest mural in the Midway (photo right submitted). This beauty faces Snelling Ave. and was created by Hamline U graduate Sarah Lentz. The mural is the final piece of a more extended partnership that brought Sarah into Hamline classrooms to talk to students about how to take a small picture and make it mural-sized and gave students an opportunity to create their own vision for the mural. We're grateful to everyone involved for a beautiful experience.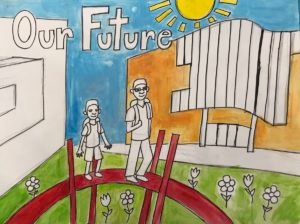 Drawing left: A student-generated concept for the mural that was eventually put onto Hamline Elementary School. Students took part in the educational part of the process prior to the final design and painting. (Photo provided)
All members of the community are invited to Hamline Elementary's 2018 Welcoming Days on Nov. 13 and Dec. 11, 9-10:30am. We've made these no-appointment, drop-in daytime hours available to introduce our neighbors to the people, partnerships, and programming that make Hamline one-of-a-kind in St. Paul. Children are always welcome on welcoming days. As always, school tours can also be scheduled at any time by calling the school at 651-293-8715.
Hamline Elementary is collecting cold weather gear for students and families. Donations of new or gently used coats, snow pants, boots, hats, mittens, and scarves can be dropped off at the school or arrangements for pick up can be made by e-mailing the Hamline PTA at hamlineelementarypta@gmail.com. Items in need of repair can also be donated thanks to our partnership with Mobile Menders.
For neighbors who shop Amazon, please consider using Amazon Smile and designating Hamline Elementary PTA to receive a percentage of eligible purchases. Our fundraising dollars support school-wide learning, enrichment, and family-supporting activities and fulfill teacher and staff requests for everything from classroom supplies to field trips to weighted blankets. Your support makes a world of difference—thank you!