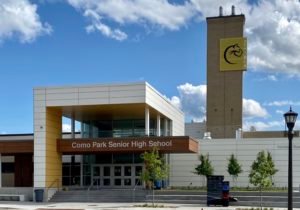 New signs are ready to welcome Como students back – whenever in-person classes are deemed safe by state metrics and SPPS. (Photo by Eric Erickson)[/caption]
Social studies teacher
St. Paul Public Schools (SPPS) started the school year with staff training on Monday, Aug. 31. On Sept. 8, instead of Como students walking through the school's new front entrance and into classrooms, they logged in for distance learning from home.
It's a challenging way to start an academic year, but with COVID-19, public health has been prioritized.
Science teacher Robyn Asher felt relief with the SPPS decision. "Starting the year in distance learning relieved so much of my anxiety around safety fears for our community. We don't know enough about COVID-19 long-term effects and the health of students, staff and families is most important," Asher said.
Jill Wielgos, an English Language Learner teacher, is optimistic that distance learning can be effective for as long as it's needed.
"Understandably, the district, teachers, families, and students rushed to adapt last spring, and did a pretty solid job," Wielgos said. "But I'm hopeful that we'll have more structure in place this fall with the time to prepare. We can control some aspects of this otherwise tumultuous experience, which should bring structure to our students' lives."
The desire for structure is strong. Missing our regular routines has challenged all of us, in society and in our schools.
As a junior last spring, Justine Wulff missed daily instruction and interactions. She hoped to start her senior year with at least some in-person learning.
"The decision to go all online for the beginning of the year was much to my disappointment, but I understand that the school year will have to be different than past years due to the pandemic," Wulff said.
Delaney Register-Brown was initially disappointed to get the news about distance learning. She has come around to appreciate the safety aspect, but her experience with distance learning at the end of her junior year was challenging.
"I found it very hard to feel motivated. I struggled to keep social contact with my peers, which made me feel really sad and alone," said Register-Brown. "I'm hopeful that we will be back in school at some point this year, so I will at least get to have some fun senior year experiences as opposed to being stuck at home."
Senior Mabur Bility shared that she supports distance learning for this fall, even though she longs for school routines. "I was very happy with the district decision. I have not been affected by COVID-19 personally, and I would like to keep it that way," Bility said.
As for extracurricular activities, a modified athletics schedule was approved by the Minnesota State High School League (MSHSL) with fall sports commencing on Aug. 17.
Soccer, cross country running, girls tennis and girls swimming are under way at Como and across the state with new safety protocols in place.
Football and volleyball were moved back to spring with a plan to play from mid-March through mid-May. Like everything else these days, the situation is fluid.