By JANE MCCLURE
Lumberyard site transformation goes on
The transformation of the old Weyerhaeuser Lumberyard site into the Legends of Berry housing goes on, as the St. Paul City Council and the city's Board of Zoning Appeals (BZA) acted on various aspects of the project in October.
St. Paul Leased Housing Associates is redeveloping the site at 777 and 778 Berry St. into two buildings, one of workforce housing and one for seniors. The project won a needed variance Oct. 22 from the BZA.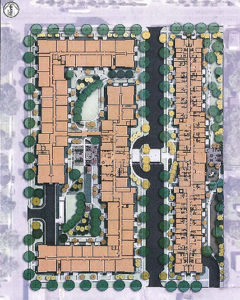 Photo right: The concept drawing for the Legends of Berry at 777 and 778 Berry St. The two buildings would be across the street from each other and is moving forward through City of St. Paul Council approval. (Illustration provided)
The two buildings will have front entrances directly across the street from each other. The zoning code requires a front yard setback of at least 10 feet. The proposed developments each have a covered front walkway with a zero setback, driving the need for a variance.
The variance request drew no opposition and had a recommendation of support from St. Anthony Park Community Council.
Earlier in October the St. Paul City Council approved a financing and spending plan for the Department of Parks and Recreation for $323,191, to use parkland dedication funds for the creation of a new park at 700 Emerald St.
The city requires that new developments provide funding for park space, donation of property, or do a combination of both.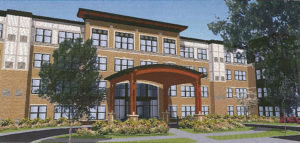 Photo left: The concept drawing for the Legends of Berry front entrance at 777 and 778 Berry St. The proposed developments each have a covered front walkway with a zero setback, driving the need for a variance from the regulation requiring a 10 foot setback. (Illustration provided)
The new development will have three lots, tow parks and three streets, in a plat approved by the council in May. Park space has been called out as a need in this part of West Midway, in various land use studies dating back to 2008.
University-Dale project moves ahead
Redevelopment of the northwest corner of University Ave. and Dale St. continues to pick up needed support. In October the Metropolitan Council and St. Paul City Council, acting as the Housing and Redevelopment Authority (HRA), gave the project needed approvals.
Northwest University and Dale received $949,250 in Metropolitan Council Livable Communities grant funds to support affordable housing near existing and planned transit service. The project was one of four that split almost $4.5 million.
"The Livable Communities program goes a long way toward supporting and promoting economic growth and prosperity in the region," said Council Chair Alene Tchourumoff. "A critical component to achieving prosperity is the availability of affordable housing. These grants all support the creation of affordable housing that's close to transit and other types of transportation. Each project focuses on a different group of people in need of affordable housing."
The mixed-use development would replace commercial and office buildings, along with a vacant lot that was once the home of the Flick, an X-rated theater. The Flick and its across-the-street neighbor, the Faust, were part of a cluster of "adult" businesses in the University-Dale area, along with the Belmont Club. The city bought out the business owners in the 1980s.
The Flick was torn down years ago and has been green space since then. The mixed-use development eyed for its site and adjacent properties could create 32,000 square feet of office and commercial space and 40 affordable housing units near a plaza and green space.
Since the Livable Communities program became law in 1995, the council has approved grants totaling nearly $375 million to assist projects that have created or retained more than 52,000 jobs, cleaned up 2,300 acres of polluted property for redevelopment, created or preserved nearly 22,000 affordable housing units, and leveraged billions in additional public and private funds.
Northwest University Dale is led by Wellington Management and will be owned by University and Dale Limited partnership. It will include 40 housing units from single rooms to three bedrooms, at varying rates of affordability based on area median income.
The project cost is estimated at $13.5 million including private funds, housing tax credits, and Metropolitan Council, state, and Ramsey County grants. The project was one of two on University Ave. that received Low-Income Housing Tax Credits from the HRA in October, and one of four citywide. The Federal Tax Reform Act of 1986 created the Low Income Housing Tax Credits Program, which provides a reduction in federal tax liability to owners and investors of qualified low-income housing developments that comply with federally-imposed rent and tenant income restrictions for 30 years. The credits are coveted by developers.
Northwest University Dale has up to $298,793 in reserved credits for 2019.
Northwest University Dale is also in the hunt for additional dollars, and was one of six projects the city submitted to site cleanup and tax base revitalization dollars.
Other area development
PPL Ain Dah Yung Supportive Housing has $217,700 earmarked for its new housing for homeless Native American youth at 769 University Ave. The $13 million project includes 42 housing units.
Another $366,266 is allocated for the St. Paul Preservation Project, which includes some multi-family properties around the city including two in the 800 block of Englewood Ave.
Another area project submitted was for work at 641 N. Fairview Ave. and at Raymond Station, a development near Raymond and University avenues.