By JANE MCCLURE
Large Midway building complex to be renovated
A longtime Midway industrial/commercial property has a new owner. Minneapolis developer Hillcrest Development has purchased 641-655 Fairview Ave. The large complex has Prior and Fairview avenues as its west and east boundaries, and is two blocks north of the University-Prior intersection.
Work has already gotten underway inside the building, which is now the Hillcrest Business Center. It has had several different users over the years. Built in 1952, it was a printing facility for the Banta company many years ago. More recently it served as a warehouse.
"We're very excited to own this property and excited about its potential," said Scott Tankenoff, managing partner at Hillcrest. Work is already underway inside the building, to abate asbestos and renovate the interior. The intent is for the building to be renovated for shorter-term commercial uses, possibly with an eye on destination retail or hospitality. Parts of the building could also be used for medical or light industrial uses. Its underlying zoning allows for a variety of commercial, industrial tenants.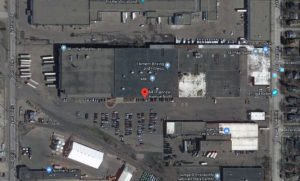 The building at 641-651 Fairview Ave. is a sprawling complex (in center of photo) that has Prior and Fairview avenues as its west and east boundaries, and is located two blocks north of the University-Prior intersection. (Photo courtesy of Google Satellite imagery)
"The Midway area is an up-and-coming area," Tankenoff said. "It's a solid neighborhood with a lot of good housing, good transit, and amenities." Hillcrest, which has been working with St. Paul city officials on its plans, has already state and Metropolitan Council environmental cleanup grants for the property.
The property was owned for the past several years by Living Word Church and World Outreach Center, which is moving to a Hillcrest property, Mid-City, in the St. Anthony industrial/commercial area. Living Word bought the Midway building several years ago and used part of it as worship and child care space. Some space was rented out, but other space remained vacant.
Element Gym and St. Paul Ballet are among the tenants who will remain, but in different spaces. Murphy Warehouse has moved out.
The property is being advertised as ready for occupancy in the first quarter of 2019. It has drive-through space and as many as 25 locking dock spaces. It has most of its parking along Prior and along the southern edge of the building.
Tankenoff said the renovated building will be a good fit with other new or repurposed structures in the area. Hillcrest will host an open house at the building in the spring when work is further along.
Bars under new ownership
Big V's Saloon (1567 University Ave. W.) and Hot Rods Bar and Grill (1553 University Ave. W.) have new owners. Changes are expected before the Minnesota United FC makes its debut at Allianz Field to the south.
Tolch Properties, which already owns the nearby Ashton Building, is the new owner of the two longtime University Ave. establishments and their adjacent parking lots. Tolch also owns a vacant lot between the two bars. The ownership is under a new entity, Midway Entertainment Group, which is going through the city licensing process.
Hot Rod's had been closed for several months. Vic and Jeanne Masanz, longtime owners of Big V's, decided to retire. They had owned the business for more than 40 years.
Gibson's was granted liquor and entertainment licenses Feb. 6 by the St. Paul City Council. Hamline Midway Coalition recommended approval. Big V's is to become the Midway Saloon. Its liquor and entertainment licenses are up for approval Feb. 13.
The Allianz Field stadium received its liquor and entertainment licenses Feb. 6 from the City Council.