By JANE MCCLURE
Changes great and small are coming to the Midway Center superblock, where the Allianz Field Major League Soccer stadium is going up. Those changes include the announcement of Mortenson as lead developer of the Midway Center property.
Also, city officials are taking steps to make traffic signal and signages changes in and near the property. It's part of a flurry of activity before the stadium opens for Minnesota United FC games next year.
RD Management LLC, as representative of RK Midway LLC, announced the selection of Mortenson to lead the redevelopment of its property for office, retail, entertainment, hospitality, and residential use. That includes the remaining sections of Midway Center and its parking lots.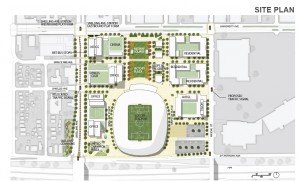 A master plan for site redevelopment won St. Paul City Council approval two years ago. The site is about 25 acres in size.
Illustration right: The vision for the superblock from just two years ago that won approval from the St. Paul City Council. It was called a master plan, but it was only a suggested concept of what the superblock could be around the new Allianz Stadium. (Illustration provided)
The $250 million stadium itself is more than 50 percent complete and is scheduled to open in the spring of 2019. Allianz Field has been hailed by team officials and city leaders as a catalyst for redevelopment.
Over the years numerous redevelopment plans were floated for the shopping center, the former Metro Transit bus garage site, and parking lot at Pascal St. and St. Anthony Ave. The possible plans included hotels, movie theaters, a National Guard Armory, and headquarters for the healthcare company Allina. But none moved forward. The center has sat unchanged since it was built in the 1950s and given a facelift in the 1980s.
In a press release, Richard Birdoff, the principal at RD Management and owner of the property for over 25 years, said he has long wanted to redevelop the site and the construction of the iconic, architecturally-significant Allianz Field provided a reason to move forward.
"Great future developments will be linked to transportation-supported locations that foster accessibility, higher densities, and interesting amenities for businesses, residents, and visitors," Birdoff said. "The Midway is centrally located in a dynamic and growing community that offers a great foundation for future enhancements. We are pleased to be part of this exciting redevelopment effort in such a great community and are particularly excited that Mortenson is leading the effort."
"Urban redevelopment opportunities of this scale are rare. Rarer is the case that a redevelopment is kick-started by a $250 million professional sports stadium. In these exceptional situations, our development experience at the intersection of sports and entertainment tells us that powerful new opportunities are in store for the Snelling Midway area," said Jeremy Jacobs, director of real estate development at Mortenson.
Mortenson continued, "We look forward to partnering with an incredible team, the City of St. Paul, RD Management, and the local community, to continue to transform this important piece of the St. Paul fabric."
S9 Architecture, a national architecture firm based in New York City that has designed large-scale mixed-use projects across North America, is the lead architect for the partnership.
It could take several years beyond the stadium's construction for the changes to be made and could include the addition of park space, streets, and interim parking. The proposed move of the Big Top Liquors to the former Midway Perkins site as an interim step is before the St. Paul City Council this month, with a decision as soon as June 13.
Development has always been discussed in the context of moving west to east on the site. Businesses in what is left of Midway Center have leases in place.
Changes to infrastructure around the Allianz Field soccer stadium got a green light May 23 from the St. Paul City Council. The council allocated an additional $355,000 in Municipal-State Aid funds toward the project, which is also drawing on $750,000 in tax increment financing and $612,000 in Minnesota Department of Transportation trunk highway funding.
A big change, which was debated in area neighborhoods for several months, is to remove the traffic signal at Snelling Ave. and Spruce Tree Dr. A signal would be put at Snelling and Shields, which will be extended east through the superblock bounded by St. Anthony, Snelling and University avenues, and Pascal St. Median changes would be made on Snelling, as well as traffic signal changes at St. Anthony and Pascal.
The city's Long-Range Capital Improvement Budget committee recommended approval of the changes in May.
A third change coming is city ordinance changes to allow sports sponsorship signs at Allianz and at the Treasure Island Minnesota Wild practice facility downtown. For Allianz, zoning code changes are sought to allow sponsorship signs at the main spectator gate entrances and on wayfinding kiosks. The zoning code changes would allow the sponsorship signs.
The St. Paul Planning Commission June 1 recommended approval of the changes, which now go to the St. Paul City council for a final public hearing and approval. No date has been set.