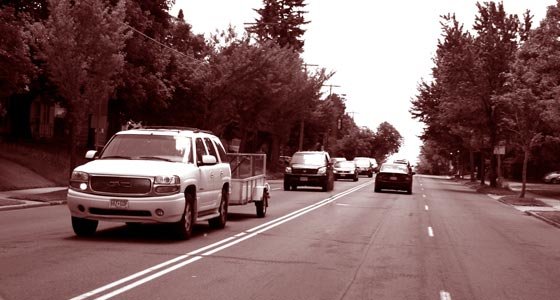 Driving down Dale Street gives you an idea of what might happen if the proposed restripe project is approved by Ramsey County officials. The current four lanes would be reduced down to one lane in each direction, with a turn lane in the center. Parking would be prohibited. The county maintains that the project would reduce speeds, reduce accidents and be safer for pedestrians as well as create space for bicyclists. Many neighbors were worried that the project would further slow traffic and cause motorists to cut through residential neighborhoods.
[/caption]
By JANE MCCLURE
A proposal to restripe Dale Street from four lanes to three later this summer is hitting a roadblock of community opposition. Ramsey County Public Works officials met with almost 100 people who filled a meeting room May 28 at North Dale Recreation Center. Many were in opposition to the project, weighing in at times in a raucous fashion.
County officials would like to convert the current four-lane street to three lanes, with one through lane in each direction and a center turn lane. Road shoulders would also be striped. Dale's curb line would not be moved and no street trees would be lost.
The project would extend from Larpenteur Ave. to Simon Ave. Simon is a diagonal street just north of Como Ave. and the Como-Dale-Front intersection.
The county has about $49,000 in grant funds to do the restriping, as part of a mill and overlay project slated for later this summer. A decision on the restriping is needed by the end of June, which several neighborhood residents said does not allow enough time for an informed decision.
The mill and overlay project would proceed regardless of what is decided about the lane configuration. County officials made it clear that if there isn't support the three-lane configuration plans could be shelved. "Turning back money is not the worst thing in the world," said Ramsey County Public Works Director Jim Tolaas.
District 6 (North End) Community Council's Land Use Committee will review the project and make a recommendation at 6:30pm Tues., June 24 at North Emanuel Lutheran Church, 301 Hatch Ave.
Erin Laberee is project manager. "The main focus of this project is safety," she said. Laberee outlined the benefits of street restriping, including a reduction of rear-end, head-on and right-angle crashes; creation of striped road shoulders to create space for bicyclists and pedestrians; and reduced vehicular speeds.
According to Laberee, another plus would be making it easier to cross Dale on foot. "Dale is very difficult for pedestrians to get across," she said.
Streets with two lanes of traffic in either direction can be dangerous because pedestrians are not as easily seen. In late May two Macalester College students were hit and injured when they tried to cross Snelling Ave. south of Grand. Motorists in one lane stopped for them but the motorists in the second lane did not.
Dale Street carries 12,000 to 10,000 vehicles per day. The section that would be restriped is largely residential. It does include Elmhurst Cemetery, North Dale Recreation Center, two churches, a school and several small businesses. The Dale-Maryland area, which is one of the busiest intersections in the project area, may need to stay at four lanes or have a northbound right turn lane.
St. Paul and Ramsey County have restriped other streets successfully, said Paul St. Martin of St. Paul Public Works. He said restriping does reduce speeds and crashes. But many Dale Street residents said that restriping and other traffic calming projects, including on Rice St. and Lexington Pkwy., have only served to push more through traffic to Dale St. Several neighbors said the street has become a major north-south route for commercial vehicles, including semis and garbage trucks.
Many people present May 28 said they agree with the need to make Dale St. safer, and they would like improvements for pedestrians. Some said they'd like to see bike lanes for the street explored.
But they question if restriping the street is the way to proceed. Many neighborhood residents and business objected to the loss of on-street parking, which currently is time-restricted. Others said the restriping would cause further slow traffic and cause motorists to cut through the surrounding neighborhoods. One worry is that funeral traffic, which already can back up vehicles, would cause even more slowdowns if there is just one lane in either direction.
"If anything is done on Dale St. it needs to be done through a community process," said Ramsey County Commissioner Janice Rettman. "We need to include everybody." She questioned whether "we got a little bit ahead of ourselves" in seeking the grant funding before holding the community meeting.
District 10's Land Use Committee voted on Mon., June 2, to recommend that the Council send a letter opposing the proposed Dale Street lane conversion project.  Their recommendation—which must be approved by the full Council before it can be passed on to the county—will be discussed and acted upon at the Council's June 17 meeting.
In opposing the project, the Land Use Committee cited that the current proposal had not been developed with the specific challenges of Dale St. in mind (hills, driveways, parking, possible cut-through traffic, funerals, trucks, etc). They also felt that the current plan does not pay sufficient attention to the needs of bicyclists, pedestrians, and transit users. They also noted that the public input process was cursory and did not include many stakeholders due to very poor notification on the part of Ramsey County, including omitting to notify either of the two neighborhood newspapers that serve the District 10 area.
In the letter, the committee requested that the county commit to engaging in a meaningful dialog about Dale St. in the near future to ensure that a comprehensive, specific, and well vetted proposal for the street can be developed.