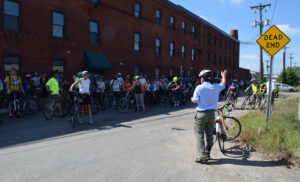 Saint Paul Bicycle Coalition Co-Chair Andy Singer, who led the five-mile bike tour, shows riders the rail line (behind him) where the Greenway would be. "The Greenway is really important for providing this East-West connectivity," he said. (Photo by Jill Boogren)[/caption]
More than 250 riders and supporters gathered at Lake Monster Brewing in St. Paul on Sept. 15 for the Sierra Club's 24th annual bike tour and a community rally to extend the Midtown Greenway into St. Paul.
"We're trying to keep the momentum going in our effort to extend the Greenway over the river and through St. Paul," said Soren Jensen, executive director of the Midtown Greenway Coalition.
A feasibility study released in June found that the Short Line Bridge over the Mississippi River, where the Midtown Greenway currently ends in Minneapolis, could be rehabbed into something structurally sound that could accommodate bicyclists and pedestrians – even if the once-daily train left running to the ADM mill on Hiawatha Ave. continues. Its potential has galvanized people and organizations on both sides of the river who are eager to make this connection.
"On board are organizations representing tens of thousands of people," said Jensen. "People are excited."
In addition to creating a link from the heavily used Greenway in Minneapolis to St. Paul, its continuation would improve bike access to Allianz Field, the Minnesota United FC soccer stadium. Further, with St. Paul Mayor Melvin Carter's proposal in August to convert two (of four) lanes of motorized traffic on Ayd Mill Rd. to bike and pedestrian paths during its upcoming mill-and-overlay resurfacing project, it opens the possibility of creating a seamless bike route from the Midtown Greenway all the way to downtown St. Paul.
Alex Burns, chair of the Sierra Club's Land Use and Transportation committee, spoke to the crowd assembled on the Lake Monster patio before the tour.
"How we develop, build and connect people and places has huge environmental consequences," he said, naming transportation as the number one source of carbon emissions in the country, including in Minnesota. "This is a real plan. Transportation solutions have to be central to any plan to address the climate crisis."
St. Paul City Council Member Mitra Jalali Nelson, who represents this area, said she was seeing just what it takes to get a bike lane in the city.
"Inertia has not been kind to what we care about changing," she said. "I see piece by piece how you're shaping our infrastructure." More people riding means fewer people in single occupancy vehicles, she added.

East-west connectivity
Saint Paul Bicycle Coalition Co-Chair Andy Singer, who led the bike tour, spoke of the neighborhood's transition from heavy industry to housing and light industry. The brewery itself, at 550 Vandalia St., is located in a building reflecting this mix.
"The Greenway is really important for providing this East-West connectivity," he said.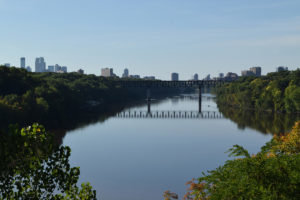 The five-mile tour approximated the route of an extended Greenway, traveling from Lake Monster east to Allianz Field, then west toward the river and back. Several St. Paul officials rode along, including Chief Resilience Officer from the Mayor's Office Russ Stark, Ramsey County Commissioner Trista MatasCastillo and Council Member Jalali Nelson. Riders experienced firsthand protected bikeways, a road marked with sharrows (streets painted with bike symbols indicating a bike route), and some quiet streets. But there were also some treacherous crossings, underscoring the need for infrastructure that allows people to safely ride.
At Allianz Field, participants heard from David Zeller, spokesperson for Minnesota United FC Soccer Supporters Dark Clouds. A bike commuter himself from the Hamline-Midway neighborhood, Zeller said Dark Clouds advocated for as much bike infrastructure as possible around the stadium, right down to permitting people to bring their helmets inside the stadium.
"We have the ear of the team," he said.
Back at Lake Monster Brewing, Co-Founder Matt Zanetti said the greenway would roll right past his brewery, and its location – at the crossroads of two cities – could make this the most bike-friendly epicenter in the country.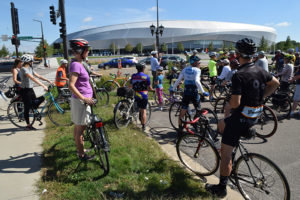 A matter of equity
Commissioner MatasCastillo stressed the importance of improved infrastructure as a matter of equity and accommodating all abilities. She called for investing and prioritizing not just in striped lanes, but in protected bikeways.
"We know more women use the paths when they're protected," she said.
St. Paul City Council Member Dai Thau told the crowd he grew up in North Minneapolis and would bike to Minnehaha Falls, sometimes 2-3 people to a bike.
"There's a joy about being on a bicycle, the wind is coming at you, you're riding with your friends," he said. As an Eagle Scout, he said improved bicycling was also a matter of environmental justice and that it is important to protect the environment and to have equitable transportation.
Council Member Thau also brought up Ayd Mill Rd., a portion of which is in the ward he represents. After hearing the mayor's proposal, he had publicly expressed concern about reducing traffic lanes on the resurfaced road, calling for further study. He told rally goers he was surprised by the announcement and called for transparency in decision making.
"If we're gonna make Ayd Mill Rd. work for everybody, let's all be at the table," he said.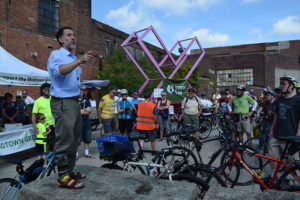 Speaking next, Minneapolis City Council Member Cam Gordon said he was also surprised by the mayor's announcement, but "My surprise became Woo HOO! Yeah! It's about time!" This he yelled with a fist pump, to huge applause.
"It's time we started thinking of it as the Twin Cities Greenway," Council Member Gordon said. "Let's connect it up."
Chief Resilience Officer Stark reminded people that this proposal is "literally 20 years in the making," the original idea for which was to make it a long linear park.
"Ayd Mill Rd. is the most studied road in St. Paul. We know exactly what will happen with Ayd Mill," he said. "The road will still be able to carry lots of cars. It'll also carry lots of bikes and pedestrians."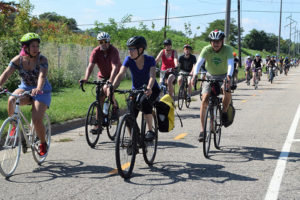 A Boost for Electric Vehicles
Falling during National Drive Electric Week, the Bike Tour and Rally to Extend the Greenway featured an electric vehicle display that gave people a close look at more than a dozen zero emission electric vehicles on the market and the opportunity to talk with their owners.
Minnesota may soon see more options for purchasing electric cars. On Sept. 25, Governor Tim Walz announced that he has directed the Minnesota Pollution Control Agency to implement clean car standards which would require manufacturers to deliver passenger cars, trucks and SUVs that produce lower -- as well as zero – emissions.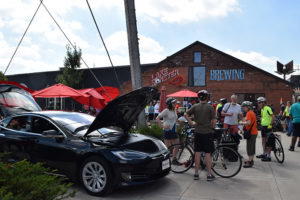 The new standards are intended to increase consumer choice in Minnesota by providing more access to vehicles with better fuel economy and by increasing the availability of used electric vehicles. According to Gov. Walz, initial estimates indicate that these two policies combined could reduce annual greenhouse gas emissions by two million tons by 2030.
"
Climate change threatens the very things that make Minnesota a great place to live, from our magnificent 10,000 lakes to our farmable land and clean air," said Gov. Walz in a public statement. "If Washington won't lead on climate, Minnesota will. That is why we are taking bold action to reduce carbon emissions in a way that increases car options, protects public health, creates jobs, and saves Minnesotans money at the pump."