Booster Club fundraiser, community events, field experiences
Compiled by ERIC ERICKSON, Social Studies Teacher
• The Como Park Booster Club is hosting its 5th annual fundraiser at the Urban Growler on Sun., Mar. 3, from 4-8pm. Como parents, alumni and community members are all invited to be part of the fun at a great event with fantastic food, music, and entertainment.
All proceeds from the event benefit Como students. The Booster Club is committed to enhancing educational opportunities and all extracurricular programs, clubs, activities, and athletics that need financial support. Information about ordering tickets is available in the Booster Club advertisement in this edition of the Monitor. Any questions can also be emailed to comoparkboosterclub@gmail.com.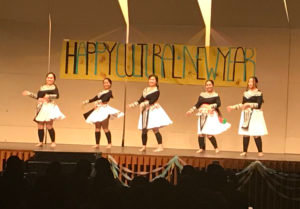 • The Como Park Asian American Club (CPAAC) sponsored the CPAAC Multicultural Fair on Jan. 11 in the Como Auditorium. Members of the community joined Como Park student performers to provide a variety of performances for a packed house. The celebration concluded in the cafeteria with a delicious spread of ethnically diverse and delicious food offerings. (Photo right by Eric Erickson)
• After final exams for the first semester concluded on Jan. 24, a talent show featuring Como students was held in the auditorium. A dozen musical and dancing acts were selected to perform after open auditions were held the previous week. It was a fun stress reliever for the supportive audience and a showcase of creative and talented Como students. The talent show was sponsored by Como's Link Crew (student leadership team) and Tri-M (music honor society).
• Faith Jackson, a St. Paul attorney and creator of the scholarship and recognition program called "Minnesota Black Girl Magic Showcase" visited Como to speak with students who are interested in STEM careers (Science, Technology, Engineering, Math). Two representatives from the STEM community and the National Society of Black Engineers also shared their stories with students and gave suggestions for successful preparation in STEM careers.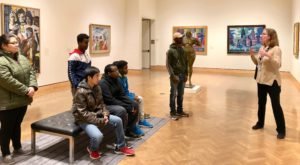 • As part of their studies about art and social movements, students in Mademoiselle Teefy's level 2 French classes took a field trip to the Minneapolis Institute of Arts and the Walker Art Center. Museum docents provided tours of French art and provided information about Francophone artists. Students engaged in a discussion about the pieces and made connections to their classwork preparation. (Photo left by Patricia Teefy)
• Fifteen Como students participated in the Youth in Government Model Assembly program at the state capitol from Jan. 10-13. The program gives high school students from across the state opportunities to serve as legislators, judges, attorneys, lobbyists, government officials, and media representatives in the sessions that are conducted by the youth themselves. Como seniors Asha Hassan and Pa Nhia Vang have enjoyed the assembly so much that they've participated in multiple years. It was an impactful and inspiring experience for all of Como's participants, organized by Ms. Liz Paone, who teaches in the social studies department and the Academy of Finance.
• Cadets from the Marine Corps JROTC spent a couple of cold January days at the Minnesota National Guard training facility at Camp Ripley near Little Falls. The bitterly cold temperatures did not deter the determined cadets from adventure. Activities included winter skills training, ice fishing, nighttime cross-country skiing, and fat tire biking.
• The public is invited to attend and participate in the Como Community Input Meeting on Mon., Feb. 25 at 6pm at Como Park High School. The purpose of the meeting is to gather information and feedback about potential enhancements to Como Park's athletic facilities.
A brief overview of current resources will be provided by both Como staff and district leadership. The presentation will be followed by a discussion related to what neighbors and stakeholders envision and desire for athletic facilities at Como Park High School to serve the best interests of the community.
• The National Honor Society (NHS) at Como is continuing its book drive to support students at Como Park Elementary School. Como's NHS is coordinating with the Children's Book Express, which is an organization that collects picture and chapter books and donates them to young, beginning readers.
Students have brought in over 100 books thus far, but the stated goal is 500. The community is invited to support as well, so if you have any old children's books that you are no longer using, please consider donating them to the cause! There is a big box in the main office where donations are being collected. NHS students will organize all deposits, and deliver the books to the elementary students at the end of April.
• The Como Park Cougars' wrestling team clinched the St. Paul City Conference championship on Feb. 4 at Como with a 56-20 victory over Humboldt. The Cougars' regular season conference record of 5-1 secured the title for the first time since 2004. Senior Alonte Johnson placed second in the individual tournament for his weight class. Three Cougars became city champions by winning their respective weight categories including senior Mu Ku Shi, sophomore Stone Frasl and sophomore Sully Lucy.