Article and photos by MARGIE O'LOUGHLIN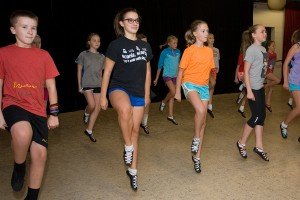 Celtic Junction is a junction in the best sense of the word. It's a building, located at 866 Prior Ave. But, it's also an intersection—a meeting place for all manner of Irish traditions and a means for passing those traditions on to the next generation of students.
Photo right: The O'Shea School of Irish Dance teaches the requisite seven levels of competitive training. Co-founder Cormac O'Shea said, "The fifth level is called the 'prize winner' level. From there on up, things get pretty intense."
There's a lot happening behind the unassuming white stucco facade. The building has three tenants: The O'Shea School of Irish Dance, founded by Cormac and Natalie O'Shea; The Center for Irish Music, managed by Norah Rendell; and the offices of the Irish Fair, an event that takes place each August on Harriet Island.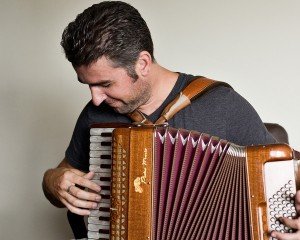 Photo left: Cormac O'Shea, executive director of the O'Shea School of Irish Dance, is also an accomplished accordion player.
The O'Shea School of Irish Dance offers classes in traditional Irish dance for all ages.
"When Natalie and I first moved to the Twin Cities," Cormac O'Shea explained, "we were teaching in both downtown Minneapolis and St. Paul. It was hard for parents to drop off and pick up their kids. We imagined a space of our own that was centrally located, with a welcoming waiting area for families."
The O'Sheas started looking in 2008 (right about the time of the mortgage collapse) and learned there were more than five million square feet of commercial space available in the Midway area. It was the perfect time to buy. They purchased the building which houses Celtic Junction, and immediately set about a major renovation.
Three years later, the south half of the building was destroyed in a fire and had to be rebuilt. That same year, a sewer line broke under the street, adding more energy and investment to an already considerable project. Cormac admitted, "that was a tough year." But the Irish are a persevering people….
Cormac was born in Dublin, Ireland. His parents still run their Irish dance school there, where they've been training elite international competitors for more than 30 years. Two of Cormac's siblings are international champions. Cormac and 16 other students from his parents' school joined the original cast of River Dance—the wildly popular traveling revue that put Irish dance and music on the world map.
With that experience, Cormac went from training 2-3 days a week, to training and performing six days a week and seeing the world at the same time. He had, as he said, "the best possible view in those six years—of what it's like to be an artist and a performer at the highest level."
The O'Sheas have three children now and are passing their love of Irish culture on to them. Their eldest, 14-year-old Adrienne, flew to Sligo, Ireland this summer to compete in the Irish Music World Championships. She entered in five categories: flute, tin whistle, piano and singing (in both English and Irish Gaelic).
Cormac and Natalie, and the staff of the O'Shea School of Irish Dance, encourage personal excellence, but not at the expense of academics. "I tell the kids all the time that your schooling comes first," Cormac said. "If your homework isn't done, you'd better go out in the lobby and do it before coming into the dance studio."
The Center for Traditional Irish Music held their Fall Open House at Celtic Junction on Aug. 23. Every 15 minutes, they offered up a different class sampler so prospective families could get a taste for what they teach there.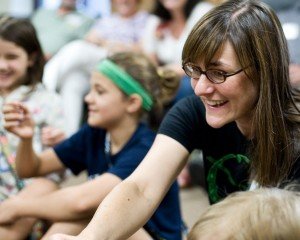 Photo right: Nora Rendell, executive director of the Center for Irish Music, is a gifted vocalist, tin flute and whistle player, as well as a teacher.
Fall classes include: Celtic Cuties (singing for 2-4 years); Singing Sweeties (4-6 years); Tin Whistle Troupe (6-9 years); Budding Bodhrans (7-10 years); Write a Tune (8-12 years); and Irish Gaelic Singing (10-14 years). There also are adult song, instrument and language classes, and all kinds of ensembles (called "sessions") for kids, teens and adults.
Celtic Junction is a full-fledged music school with eight individual rooms for lessons and practice, and one larger gathering space for sessions. The Center for Irish Music has 18 professional musicians on staff and serves more than 250 students of all ages. Year-round instruction in fiddle, whistle, flute, bodhran, harp, Uilleann pipes, button and piano accordion, piano, bouzouki, guitar, and song is available. The staff is a who 's who of local instrumental and vocal talent (see their instructor's page for current bios at www.centerforirishmusic.org).
Additional music groups use Celtic Junction for practice and performance. Those groups include the Great Northern Irish Pipers Club, New Music Arts, and the Traditional Singers Club.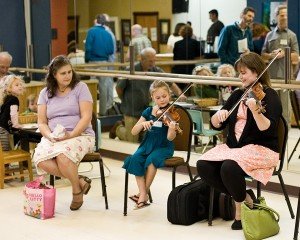 Photo left: A mother and daughter took part in an informal session at the Center for Irish Music, which involved fiddles, guitars, drums (bodhrans), concertinas, whistles and more.
And, Celtic Junction has a stellar line-up of Celtic artists in performance, from close to home and around the world. Check out the schedule at www.celticjunction.com.
Other dance groups that kick up their heels at the junction are Scottish Highland Dance, Community Tap with Keane Sense of Rhythm and the Mooncoin Ceili Dancers.
Whether or not you've got a drop of Irish blood in your veins, consider coming out to a class or a concert at Celtic Junction. Through their dance and music offerings, they're adding a rich dimension of Irish culture to the Midway District—and a way for students of any age to learn and grow.