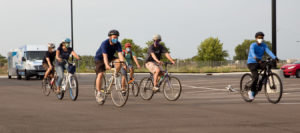 The group rolled out, maintaining physical distancing while practicing safe bike skills in traffic. First stop on the night's ride was the Express Bike Shop on Selby Avenue, a community partner with the Lexington-Hamline District Council. (Photo by Margie O'Loughlin)[/caption]
Do you want to improve your bike riding and repair skills before the snow flies?
The Lexington-Hamline District Council is partnering with the Bicycle Alliance of Minnesota and Concordia University to offer several bike events through the end of September. Bikes and helmets are provided, and there is no cost to attend.
Bike MN Education Coordinator CJ Lindor said, "We're offering these events to encourage people to ride their bikes more often. We chose our meeting spot near the Skyline Tower in hopes of reaching residents from neighborhood high rises, and others who might have limited access to bikes and bike education."
For safety, physical distancing will be practiced at all times at these events – but socializing is encouraged. Participants and instructors must wear face masks. Advance registration is suggested, because attendance is capped for COVID safety.
Two program assistants (18+) are needed for the classes and community rides. A stipend is available for each assistant. Contact CJ Lindor at cj@bikemn.org, if interested.
The Adult Learn-To-Ride classes are meant for adults who have not previously ridden a bike, or who feel unsteady and need extra help. One-hour group lessons will offer a structured learning sequence with trained instructors in a traffic-free setting.
The Community Group Rides include free use of bikes and helmets during the ride, or you can bring your own. These are for adult riders interested in urban biking. Participants get an overview of bike safety. Ride leaders accompany participants through neighborhoods, explaining best routes for transportation and recreation. Rides are planned for approximately five miles at a moderate pace comfortable for all riders, and last about 90 minutes.
In the Mobile Bike Repair Clinic, experienced bike mechanics welcome walk-ups for bike repairs and adjustments, with limited parts provided at no cost (as available). Sizing, shifting, braking, wheel adjustments and other repairs are provided on a first-come-first-served basis. Bike owners cannot leave bikes unattended before or after repairs are being done – you must stay with your bike.
DATES:
Sept. 9 from 5:30-7 p.m.: Community Rides
Sept. 10 from 5:30-7:30 p.m.: Mobile Bike Repair
Sept. 22 from 5:30-6:30 p.m.: Instruction for adults
Sept. 23 from 5:30-7 p.m.: Community Rides
Sept. 24 from 5:30-7:30 p.m.: Mobile Bike Repair
All activities meet/start at the Ries Tower on the Concordia University North Campus: 393 Dunlap (corner of Griggs and St. Anthony avenues).
These activities are funded through Met Council grants with the goal of reaching recently arrived immigrants, people of color, persons of lower income, and women.
The bikes being used are from Erik's Bikes. The company has donated 80 bikes to Bike MN so far, and their bikes are used by approximately 15,000 riders each year. They have also donated two 24' trailers for transporting bikes to teaching locations throughout the state.
Lindor said, "I appreciate being able to support people learning to ride, or finding new and different ways to use their bikes. We always get a range of people on our rides and in our classes. There's more to learn about biking than balancing and pedaling. I enjoy sharing skills that can help people be less fearful about riding in traffic, and more enthusiastic about riding in general.
"As the Bike MN education coordinator, I'm usually on the front lines delivering classes. I had early, positive experiences with biking and I love sharing that with people who might be learning later in life. A bike is a simple, powerful machine, and it can take you just about anywhere."